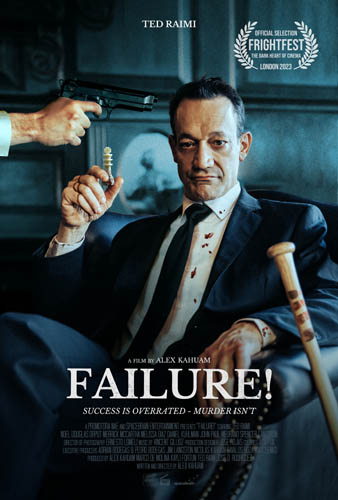 UK-French sales agent, distribution and production company Alief has announced that the Ted Raimi led psychological thriller, Failure!, will have its World Premiere at FrightFest on August 28th 2023. Alief picked up worldwide rights at the Cannes Film Festival in May after Failure! made its debut at the Fantastic Pavillion. To mark the occasion, a teaser trailer and poster have been revealed.
Failure! follows business tycoon James (Raimi – The Quarry, Ash v Evil Dead, Creepshow), a loving family man who has a crushing bank debt which he must resolve within an hour or lose his business. Greedy associates, back-stabbing friends and even ghosts from his past, all force him to choose between financial ruin… or murder.
As well as Raimi, the film also stars Merrick McCartha (Senior Year), Melissa Diaz (Ruthless), John Paul Medrano (Seven Days) and Daniel Kuhlman (Voodoo MacBeth) and Noel Douglas Orput.
Director Alex Kahuam returns to FrightFest after his 2021 genre film debut, Forgiveness. His psychological thriller Failure! is shot in a single 87-minute take, making him the first Mexican director to do so in the United States. Portrayed in three acts, the film's one shot take brings comparisons to 2022's intense BAFTA-winning Boiling Point, and 2015's Victoria.
Kahuam spoke about the movie, "In 2021 I had the incredible opportunity to have the world premiere of my previous film Forgiveness at FrightFest and now this year we are coming back with Failure! I'm very grateful to Alan, Paul, Ian and Greg for believing in different films who break the traditional and normal form of narrative. The British audiences have always been outstanding supporters of the genre films and we are looking forward to giving them a one-take thriller with black comedy starring brilliant horror icon Ted Raimi."
"Failure! is a story about a middle-aged man who is struggling due to a huge debt with the bank. Except it's deeper than that — it's an exploration about one's legacy and pride, and how that plays out being a father versus a business owner and ultimately committing a murder in order to protect his family. I'm intrigued by the human condition under desperation and how it controls us, more so having witnessed it in someone close to me."
"It was my mission and commitment to shoot this story in one single take without any cuts as I wanted the audience to experience all the stages of how desperation unveils its layers and the aftermath that follows. I have previously shot long-takes within feature and short films, except it took me the story of Failure! to truly take up the challenge of shooting a one long take film."
Raimi added, "Insanely excited to show British audiences this film — I really am — as I'm mostly known to my fans as 'the horror guy'. I'm proud of that, but this movie is going to show a different side of me that the fans will really dig. Also, it's at FrightFest, the biggest horror and thriller event in the UK — my kind of moviegoers!"
Kahuam and Raimi produced Failure! along with Marco De Molina, Kayli Fortun and Jose D. Rodriguez via Kahuam's Promotora NAE and De Molina's Spacebrain Entertainment.