I.D. (1995)
Directed by: Philip Davis
Written by: Jim Bannon, Vincent O'Connell
Starring: Perry Fenwick, Philip Glenister, Reece Dinsdale, Richard Graham, Sean Pertwee, Warren Clarke

I.D. (1995)
Certificate: 18
Directed by: Philip Davis
Written by: Jim Bannon and Vincent O'Connell
Starring: Reece Dinsdale, Sean Pertwee, Richard Graham, Philip Glenister, Perry Fenwick and Warren Clarke
[youtube]https://www.youtube.com/watch?v=5Y26VMm4L7o[/youtube]
Four East End coppers, John (Reece Dinsdale), Trevor (Richard Graham), Eddie (Perry Fenwick) and Charlie (Philip Glenister), are assigned to go undercover as football hooligans to unearth the leaders of a the Shadwell FC football firm.
The group ease themselves into the Shadwell firm's local pub and are soon joining in with the fights that the firm get themselves into. Soon the four coppers are proper Shadwell 'dogs' and enjoy the job they have been given. However, John (Dinsdale) enjoys his new role a bit too much and the line between his two lives starts to blur as he spirals ever deeper into the dangerous Shadwell firm.
There have been a fair few football firm films released such as Green Street, The Football Factory and The Firm, just to name a few, but none compare to I.D. Starring Reece Dinsdale, who is better known recently as Coronation Street's Joe McIntyre, the film packs a punch and shows how people can fall into the dangerous, compelling unit that is a football firm. With strong characters such as Sean Pertwee's, Martin, and Warren Clarke's landlord, Bob, John feels safe and stronger with them by his side. He feels powerful and finds physical violence gratifying and exhilarating. Have you ever been part of a group or a club and know that they've got your back and you've got theirs? A bit like when animals hunt in the wild. A pack is more forceful than one man alone. The feeling of belonging, along with the adrenaline of being in a fight is too alluring for John and he immerses himself in it so much that he comes out the other side as a different person altogether. His fellow officers, Richard Graham, Perry 'Billy Mitchell' Fenwick and Philip 'Gene Hunt' Glenister are having a whale of a time, getting to watch football and get drunk in the pubs as part of their job. However, where the fighting is concerned, they'd rather be elsewhere, and they still know their roles as police officers.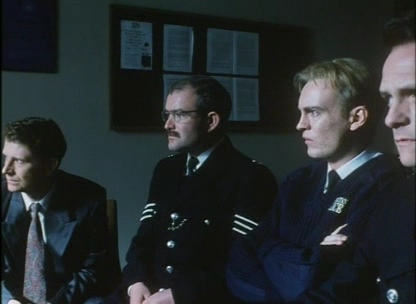 The film is gritty and feels real. The thuggish behavior is never glamorised, although there are odd times where I seemed to be enjoying what was happening on screen a little too much. The change in John's personality and behavior becomes starkly obvious when he returns home to his wife and when out for social get-togethers with his wife and co-workers. He changes from a smart dressed guy to a bomber jacket wearing, long haired ruffian who's constant bad temper hampers his relationship between his wife and his comrades. His circle of associates also changes as he sets his eyes on a new girl and counts Martin, Gumbo and Bob as his new friends.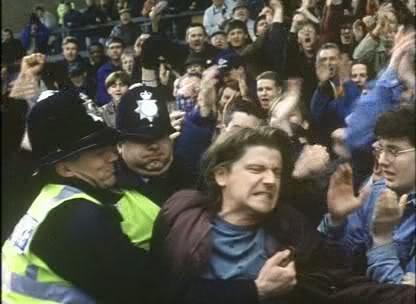 This is a strong, British film, brilliantly directed by one of the best British actors, Philip Davis. Philip also makes an appearance in the film as the Duty Sergeant.
The film is edgy, gritty… everything you could possibly want in a true football gang film. Forget your Danny Dyer rubbish, get your hands on I.D. and see how it's really done!
Rating:
[pt-filmtitle]ID[/pt-filmtitle]