Unknown (2011)
Directed by: Jaume Collet-Serra
Written by: Didier Van Cauwelaert, Oliver Butcher, Stephen Cornwell
Starring: Aidan Quinn, Bruno Ganz, Diane Kruger, Frank Langella, January Jones, Liam Neeson, Sebastian Koch

Directed by Jaume Collet-Serra
Written by Oliver Butcher, Stephen Cornwall and Didier Van Cauwelaert
Starring Liam Neeson, January Jones, Diane Kruger, Aidan Quinn and Frank Langella
[youtube]https://www.youtube.com/watch?v=I-lDfKb2SBA[/youtube]
Liam Neeson plays Dr Martin Harris, a biological scientist who, along with his wife (January Jones), travels to Berlin for a biotechnology summit where he is giving a speech. When they arrive at the hotel, Martin realises he's left his briefcase at the airport so he jumps in a taxi to go back for it, whilst his wife is waiting at the desk clueless as to where and why Martin has disappeared. Martin is involved in an accident and awakens 4 days later in hospital with little memory of how he ended up there. He checks himself out of the hospital and goes to the hotel, where he expects his wife to be worried sick. When he eventually finds her, she has no recollection of him and introduces him to her 'real' husband, Martin Harris (Aidan Quinn). Is Martin losing his mind or is there something more sinister going on?
Liam Neeson is not my favourite of actors. I find him quite monotonous in all honesty, but was wildly surprised at this performance in this. His character was likable and you felt the confusion and paranoia that he feels throughout the film. Liam does himself proud as Martin, as we follow him through Berlin as he tries to piece back together his life, with the aid of Bosnian taxi driver, Gina (Diane Kruger). The two make a cracking team and the chemistry between them works quite well, with the underlying sexual attraction growing as the film progresses. Their partnership reminds me of the one between Harrison Ford and Emmanuelle Seigner in the Roman Polanski mystery, Frantic. Diane Kruger looks quite like Emmanuelle too.  Martin and Gina find themselves in danger when they are hunted down by two men, who appear to know most about this whole mystery and want nothing more than to kill Martin.
Filmed in Berlin, Germany, Unknown has quite a European feel and has a fantastic supporting cast, a few of which are German including Bruno Ganz who stars as Ernst, a retired spy who Martin asks for help, and Sebastian Koch, who plays Professor Leo Bressler. Frank Langella joins the cast as Rodney Cole, a fellow scientist and work colleague at Martin's university. The cast do a superb job and the film feels really authentic because each stick to their designated role and make it their own.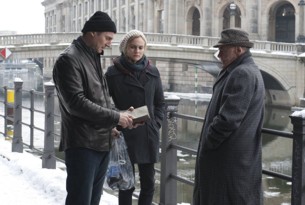 Something I really enjoyed about this film is that it had the right amount of action and it was believable. I read somewhere that Diane Kruger did all her own driving stunts and also the scene in which she rescues Martin from the sinking taxi. Diana has an action flair to her and I'd love to see her in another role like that. Liam proved he could do action too and has some driving scenes in the film as well as some fight scenes! Being an ex-boxer, he certainly knows how to throw a punch.
It's been a long time since I've enjoyed a story but Unknown definately put an end to that dry spell. It's interesting, it's fun and quite beautiful to look at. "What do you mean?!", I hear you cry. Well, for someone who hasn't been to Germany, you can definately get a feel for the amazing country from this film. Instead of being based in one or two locations in the city of Berlin, we are treated to an unauthorised tour with action and suspense situated in many parts of Berlin. Unknown has done well to use the surroundings, I wish many more films were like this.
If you're purchasing Unknown on DVD or Blu-Ray, you are treated to a handful of extras including Behind The Scenes,  Unknown: The Story, Liam Neeson: Known Action Hero, Interviews with the cast and trailer of the film.
I heartily recommend this action fueled thriller, which is a fun mystery rollercoaster ride from start to finish.
Rating:
Check out Dr Lenera's review of UNKNOWN here
[pt-filmtitle]Unknown (2011)[/pt-filmtitle]