Xtro (1982)
Directed by: Harry Bromley Davenport
Written by: Harry Bromley Davenport, Iain Cassie, Michel Parry, Robert Smith
Starring: Bernice Stegers, Danny Brainin, Maryam d'Abo, Philip Sayer, Simon Nash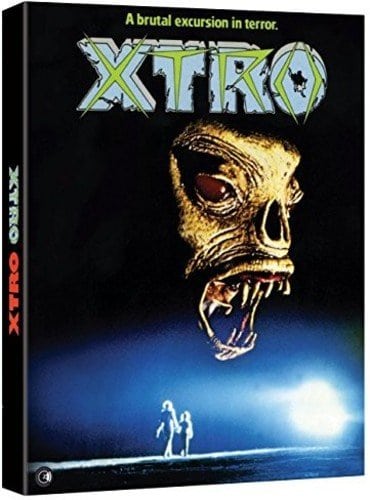 XTRO (1982)
Directed by Harry Bromley Davenport
Available on Limited Edition BluRay
Young Tony Phillips is plagued by nightmares of his father being whisked away by a light in the sky after one fateful afternoon playing in the garden outside their cottage. Though three years on since her husband Sam left, Rachel Phillips is concerned by her son's night terrors, particularly in that he's convinced that his father was taken rather than abandoned them. Living in a flat in London with her photographer fiance Joe and French flatmate-cum-nanny Analise, Rachel has finally settled down once more and has a new family unit for her and son Tony… that is until Sam walks back into their lives. Missing for three years without a word, Sam looks and acts like he never left but there's something not quite right about him…
The much-talked about British alien horror XTRO has landed on Blu-Ray for the very first time from Second Sight, a label known to provide the goods when it comes to cult and obscure movies.
Having managed to avoid the video nasty list of the 80's that saw many films of its ilk banned, XTRO is back better than before in not one but FOUR versions on this epic Blu-Ray release. As I said, Second Sight don't do things by halves. The release is made up of the original and alternate endings, the original UK VHS version and the director's cut. Naturally I opted for the original and alternate endings just so I can convey to you what to expect from this film. particularly having never seen it before today. The director's cut would indeed be for another day but is a good thing to have included in this release, especially for cine completists.
Telling the tale of a broken family reunited albeit with a twist, this alien homecoming is part family drama and part batshit craziness. After opening with Sam Phillip's alien abduction, we see him return to Earth in the least conventional way possible: crawling out the vagina of a woman who's had his genetics pumped into her through some sperm-thrusting, webbed tentacle sucker – a clingy, face-hugger type limb, belonging to a weird alien species, that forceably attached itself to the innocent woman's mouth. Just another day in the village for some folk. However it doesn't stop there. So Sam has returned a little… odd, shall we say. He's also equipped with some pretty decent powers that he's able to transfer to his son Tony. However, these types of powers in the hands of a 10 year old can only spell trouble for those around him, including the nosey landlady who gets a larger-than-life visit from Tony's action man  – a scene that will positively creep you the hell out if the unhinged circus ringmaster dwarf and the panther roaming around the flat hasn't put the willies up you. Expect weird shit because this alien tale isn't run-of-the-mill and seems to capture the eccentricity that we Brits seem to do so well.
In many ways, XTRO deals with the awkwardness of family life when parents split up and move on. Like many kids, Tony's not exactly warming up to step-dad Joe, much to Joe's frustration, and when Sam comes back into their lives, Joe feels even more pushed out than before. With Rachel having to come to terms with Sam's reappearance, along with her feelings for him and what it means for her and Tony as a family, it without a doubt causes some tension in the household with Joe and Sam appearing to be at loggerheads as to who should rightfully be playing "man of the house". Fortunately for the viewer, we can get a slight break from the family troubles through the character of French nanny Analise, who's enthusiastic approach to life seems to brighten up every scene she's in. There's also the little questions of Sam's alien intentions that have yet to properly surface; something we as a viewer try to decipher before the characters on screen do.
Recognised as a British horror classic, I was possibly expecting more guts and gore than is actually on show. However, XTRO has plenty to make you shudder with ooze, melting puss and gooey cocoons just part and parcel of its tale of extraterrestrial absurdities. It's quite refreshing in a way to veer away from the red stuff as it shows you don't have to have blood pumping out of every orifice to scare your viewers – a gooey mess and a series of animated inanimate objects can be enough to create a sense of panic and unease.
Will XTRO have you cowering under your bed? Probably not, but it will have you suspiciously eyeing up anyone who re-enters your life after mysteriously going AWOL and those figurines and dolls in your kids rooms might have to be chucked in the fire before you sleep at night. Besides that, XTRO has a strange sense of telling a very British story that somehow feels more akin to real life than a work of fiction. The two varied endings provided on this release also work in harmony, with one creepier and one a bit more typically horror, emoting an Alien vibe.  There's plenty to see besides with new featurettes and a 57 minute documentary on the making of the film as well as a sneak peak at exclusive footage of reboot XTRO – THE BIG ONE on the special features. There's even the original soundtrack on CD.
Chock full of British charm and craziness, XTRO is one alien horror every fan simply has to see.
Rating: