Coyote (2013)
Directed by: Trevor Juenger
Written by: Trevor Juenger
Starring: Bill Finkbiner, Bill Oberst Jr, Victoria Mullen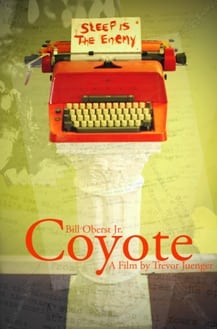 Coyote (2013)
(TBC) Running time: 75 minutes
Director: Trevor Juenger
Writer: Trevor Juenger
Cast: Bill Oberst Jr, Victoria Mullen, Bill Finkbiner
Reviewed by: Matt Wavish
I was sent Coyote for review this week knowing hardly anything about the film, and very little about the director. My main reason for wanting to view this was firstly it starred Bill Oberst Jr, and secondly the reviews of this film are very praiseworthy, with names like David Lynch and David Cronenberg being used for comparison. Watching a film you know very little about can either end in two ways: either you wished you never even bothered, and wished you had maybe read up on the film some more, or you maybe you will find a minor masterpiece, and a film you will take delight in recommending to others. Coyote is thankfully the latter, and to say I was blown away by this film is an understatement.
However, I am going to attempt to keep this review short for the simple reason that Coyote is the sort of film which benefits from minimal knowledge, having so many tricks and surprises up its sleeve, revealing too much in a review would seriously harm your experience watching this. I choose the word "experience" over enjoyment, because Coyote is best described as an experience. It would be very difficult to say the film is enjoyable, but like Darren Aronofsky's Requiem For A Dream, Coyoe hits all the right marks for all the wrong reasons, and a lasting impression is guaranteed. Like Requiem For A Dream (and if you like that film, you will love this!), Coyote journeys into the darkest recesses of the mind, and it is not a pretty place, and to make things even more scary, here we delve into the darkest corners of Bill Oberst Jr's mind!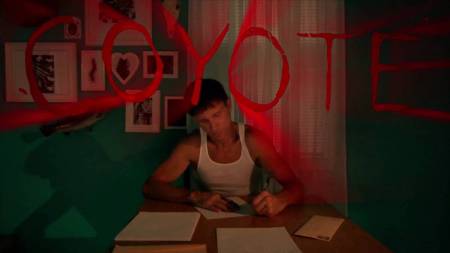 Oberst Jr commands the screen here as Bill, a man who suffers from insomnia, and spends his spare time trying to write. However, writing is becoming difficult, and he even has troubles writing a letter to his Mother, and gradually his insomnia turns dark, intense and incredibly unsettling. In its first ten minutes, Coyote delivers more jaw-dropping brilliance, shocking moments and disturbing images than most films can manage in their full running time, so be prepared for a seriously mind boggling journey. The film is like one long bad trip or nightmare, and somehow, the cruel, hellish onslaught of Bill's mind just continues to get weirder and weirder, and more and more frightening. Later in the film the poor fella finally falls asleep after having sex with a strange woman, and it is here we realise the full extent of why he refuses to sleep. We witness his dream, and without giving you any details, all I will say is I wouldn't want to be sleeping after seeing that!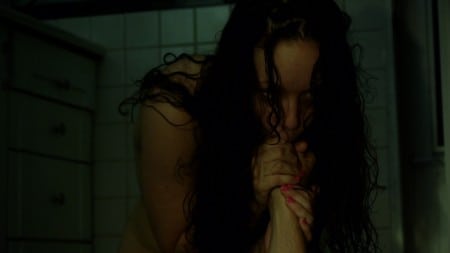 Coyote is a truly fascinating and unnerving experience as Bill falls deeper and deeper into a disturbed mental state, and cleverly Juenger never quite reveals the full extent of what is going on. Echoes of Videodrome and pretty much anything by David Lynch engulf the nightmares, and many times we see grotesque designs equal to any of Cronenberg's body horror. A stand out scene involves a video camera, but I will say nothing more! The film is relentless, and pretty soon the nightmares become the most prominent feature, and normal life but a distant memory, and Oberst delivers his character with inch perfect precision, and has never been better.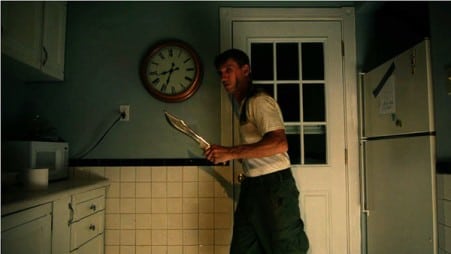 This is Juenger's creation, but he needed someone with skill, expertise and the dedication to pull off his main character, and Oberst willingly obliges. In fact, on a funny side note, I reckon if you spent a day in Oberst's head (considering the films he has been in) it just might look like Coyote! On the other hand, watching the film, and as it draws to its conclusion, you do have to question just what Oberst did to piss off Juenger, the poor guy is tortured in this film from beginning to end!
Somehow though, amongst the darkness, there is even room for a little comedy, and seeing Bill walking down the street half naked, shopping trolley in hands and an animal skin on his head, is both hilarious and disturbing. Oberst's delightful smile shows a man who is either very happy, or completely mad, but you can make that decision for yourself!
Add to this film some seriously good music, along with a dazzling 80's score later on, and added to that some hideous sound effects, and inventive camera shots,  Coyote is a real find. It is not for everyone, but those who like dark, unhinged cinema from the directors I have already mentioned, you will absolutely love this. Juenger has made a real impression on me, and I am very, very excited to see what he comes up with next. Baffling, brilliant and totally bonkers, Coyote IS a minor masterpiece.
Rating: