V/H/S (2012)
Directed by: Adam Wingard, David Bruckner, Glenn McQuaid, Joe Swanberg, Radio Silence, Ti West
Written by: David Bruckner, Glenn McQuaid, Nicholas Tecosky, Radio Silence, Simon Barrett, Ti West
Starring: Calvin Reeder, Hannah Fierman, Joe Sykes, Lane Hughes, Mike Donlan

V/H/S (2012)
(18 TBC) Running time: 116 minutes
Directors: Adam Wingard, David Bruckner, Ti West, Glenn McQuaid, Joe Swanberg, Radio Silence
Writers: David Bruckner, Ti West, Glenn McQuaid, Radio Silence, Simon Barrett, Nicholas Tecosky
Starring: Calvin Reeder, Lane Hughes, Adam Wingard, Hannah Fierman, Mike Donlan, Joe Sykes
Reviewed by: Matt Wavish, official HCF critic
Found footage horror anthology V/H/S arrives with a huge amount to live up to. Many calling it the scariest film of the year, a masterpiece, a found footage horror for those who both hate and adore the genre, basically V/H/S is one of the most talked about horrors of the year, and for good reason. For me, personally, I was maybe a little too excited about seeing this, and while the film as a whole works incredibly well, there are problems here. Thankfully though, the good stuff outweighs the bad…
Bringing together six of the very best indie horror directors working in the US right now, V/H/S really does have something for everyone, and even if you don't enjoy all the stories, at least one is guaranteed to leave its mark. The six stories here are made up of one wraparound story (Tape 56, directed by Adam Wingard) and five stories which come from Wingard's main focus point. In Wingard's story, a group of petty criminals make a living out of filming attacks on women and smashing up buildings. A vile bunch, they decide it is time to crank up their activities to earn more money, and then one of them is offered a job: break into a house and steal a prized VHS tape for a large sum of money. Problem is there is more than one tape at the house, and with a dead guy sat in front of the TV and something moving downstairs, the group must view the tapes to get the correct one. So begins our journey into the rawest form of found footage horror I have ever experienced.
Out of the five stories on offer here, for me it was the very first and very last segments that really impressed me. The middle three went from chilling yet slow (Ti West's Second Honeymoon), to interesting yet unable to really deliver (Joe Swanberg's A Strange Thing That Happened to Emily) to the painfully silly (Glenn McQuaid's Tuesday the 17th). Now, I expected much more from Ti West, but his segment of a couple enjoying a travel holiday and being stalked by a sinister figure just missed its mark. Delightfully creepy and vintage West (slow build up, sudden dramatic finish), the story never quite fulfils its potential, and for the first time in a Ti West film I found the script and characters a little annoying. Swanberg's A Strange Thing That Happened to Emily starts really well: a couple are skyping while the girl complains of a strange presence in her flat. Less than concerned, the boyfriend irritates but the tension builds up nicely with some well timed scare tactics and a genuine sense of terror ala Paranormal Activity. Even though this story is one of the stronger one's, again the finish doesn't quite deliver and the story may have better extended into a feature length film. The less said about McQuaid's Tuesday the 17th the better: I liked the idea (a serial killer a little different to what you would expect) and the gorgeous girls and dark intentions make for an interesting and rather disturbing concept, however I found the overall effect of the killer to be quite weak, and the entire segment came across as a little desperate. It lacked focus and is the only story here that I felt could honestly be classed as 'filler'.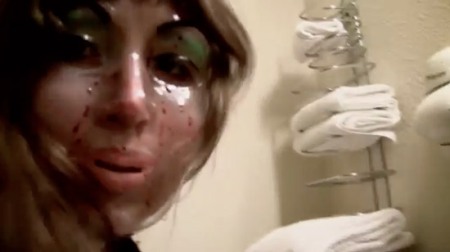 Now, while Wingard's main story holds everything together nicely, and at times rather scarily, it was David Bruckner's Amateur Night and Radio Silence's 10/31/98 which really made this film stand head and shoulders above most horror flicks this year. Bruckner's story opens the film, and honestly to say too much about this one would spoil your enjoyment. Let's just say a group of guys find a pair of glasses with a camera attached to the lenses. They decide to go out partying, plan to bring some girls back to their hotel room and hopefully film them having sex without the girls knowledge. Let's just say they kind of get what they deserved, but that is all I can say. The realism in this segment is spot on, the camera a genius idea for a found footage horror, and the special effects are superb. The script is near perfect, the scares work, and the whole story sets up V/H/S perfectly. This is probably the strongest out of the lot in terms of pretty much everything: sex, violence, gore, thrills and ultra creepiness, and if you don't enjoy this one then God help you! Radio Silence deliver an unexpected final highlight with their story basically saving the best for last. I loved this one, really really loved it and having never heard of the collective of filmmakers known as Radio Silence, I will most certainly be keeping close tabs on what they do next. Their story follows a group of guys heading to a Halloween party, and on arrival get far worse than they were expecting. This segment really ups the scares, and is a proper poltergeist chiller filled with haunting and truly disturbing imagery, a relentless pace and some terrific special effects. Add to this some of the most ferocious and unsettling ghost noises I have heard in a long time, this final segment will leave you crying out for more!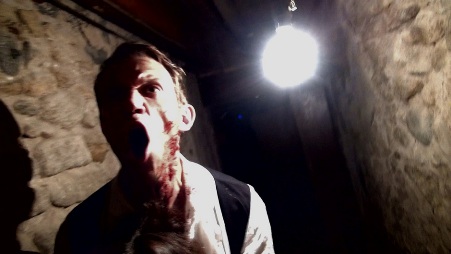 V/H/S is the ultimate in found footage horror, and each and every story uniquely uses the formula in a different way. Be it a pair of glasses, a Skype session on a laptop, the simple but effective just day to day filming, it works. But where V/H/S's power really comes from is the way the handheld formula is used: this is raw, unrelenting and so real and so badly shot that you really do feel like you are watching some sick bastard's collection of snuff movies. Each and every director has at least embraced the formula that has become one of the most dominant forces in today's horror, and while not everyone here quite nails it, you have to admire their efforts. V/H/S is found footage in its truest, most uncompromising form and is all the better for it. The stories here that really work are guaranteed to leave a lasting, haunting effect on the viewer and at times this anthology can be a tough watch.
You don't watch V/H/S, you experience it, you join the characters and take part in their stories. In essence you get closer to the action here than you would want to, and it can be uncomfortable, unsettling and ultimately terrifying. V/H/S is an endurance test for true horror fans, and if you can survive it then well done, you have lived through one of the strongest (if at times flawed) collection of short stories to come along in quite some time. A great idea, which while doesn't always work, it is clear each director had one goal: scare the shit out of you. When V/H/S works it is near perfect.
Rating: