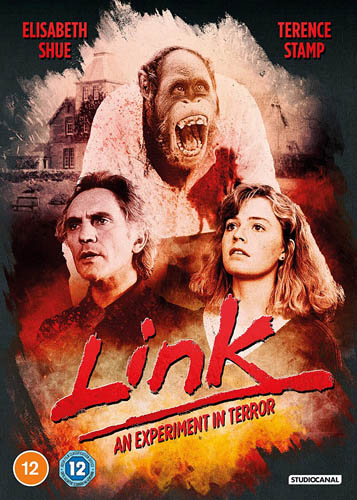 STUDIOCANAL is set to release a newly restored version of the anthropological horror gem, LINK. Starring the inimitable Terence Stamp (Song For Marion, Superman) and 80s stalwart Elisabeth Shue (The Karate Kid, 'The Boys'), this oft underappreciated tale incorporating director Richard Franklin's (Psycho II, Road Games) trademark Hitchcockian style has gone on to achieve cult status since its release in 1986.
To celebrate the release, we're got two copies of the film on Blu-Ray to giveaway to our readers in our competition!
Underpinned by a chilling score form the legendary Jerry Goldsmith (LA Confidential, Star Trek: The Motion Picture), this brand new 4k restoration will be available to own on Blu-Ray for the first time in the UK, as well as on DVD and Digital, from February 1 complete with brand new bonus content.
Jane (Elisabeth Shue), an American zoology student, takes a summer job at the lonely English cliff-top home of one of her lecturers, the single-minded anthropologist, Dr. Steven Phillip (Terence Stamp). Dr. Phillip, whose work explores the link between man and ape, suddenly vanishes, leaving Jane to care for his three chimps alone. Voodoo is a savage female, Imp is affectionate and child-like whilst Link is a circus ape trained as the perfect servant and companion.
A disturbing role reversal rapidly begins to take place between master and servant and Jane rapidly finds herself a prisoner in a simian house of horror. In her attempts to escape she finds herself up against an adversary several times her physical strength with the instincts of a bloodthirsty killer.
Inspired by scientific research on violence amongst chimpanzees, the film wasn't originally intended to be a fantasy but, instead, to reflect the reality of what chimps could be capable of whilst challenging the 60s anthropological theory that man was the only species capable of making war with itself. LINK is also notable for being one of a very small number of films to be made with animals not to have received a single complaint of cruelty due, exclusively, to the work of legendary animal trainer Ray Berwick.
The competition will close at 10.59pm GMT on Wednesday 10th February 2021 and two correct entries will be chosen at random.
T&C's
This promotion is open to UK residents only.
Entrants must be aged 12 years or older
One entry per household
No alternative prize is available
Two winners will each win 1x Link Blu-Ray
The Editor's decision is final and binding on the entrants. No correspondence will be entered into.