Meet the team who run the site and fill it with all the gory and gruesome details you see in front of you. This extraordinary team of debauched geniuses are normally kept as slaves in the basement, chained to their desks, but we've let them out to say a few words before their daily flogging…..
Bat
Reviewer
My very first horror movie was David Cronenberg's The Fly and since then I've been hooked on all kinds of horror, sci-fi and thrillers. I do enjoy found footage if done right but shaky cam will have me spewing up all over the couch. I also have a fondness for exploitation films, especially the Ilsa series, and love Tinto Brass films.
You can often find me with my head in a horror novel or Hunter S. Thompson book, stuck on a videogame or excitedly debating movies with anyone who'll let me chew their ear off!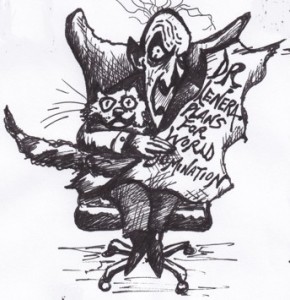 Dr Lenera
Reviewer
I'm a huge film fan and will watch pretty much any type of film, from Science Fiction to Westerns, from Romances [though I don't really like Rom Coms!] to Historical Dramas. I tend to go to the cinema twice a week, though I enjoy old movies as much as new movies, and am just as happy watching a film from 60 years ago as I am viewing the latest blockbuster-I don't discriminate. However,ever since I was a kid, sneaking downstairs when my parents had gone to bed to watch old Universal and Hammer movies featuring Frankenstein, Dracula,etc, I've always been especially fascinated by horror, and to me almost nothing beats the rush of being totally scared out of my mind. I enjoy writing about films almost as much as watching them and am thrilled to be writing for this website-then again, it's simply a continuation of what I used to do when I was about 10, which is rate any film I'd seen in a notepad! Special cinematic areas of interest to me include Italian horror, Japanese monster movies, Animation, James Bond, Martial Arts, Alfred Hitchcock and those Universal and Hammer films which probably began my obsession with cinema, but I will give most things a go. I do most certainly have a life outside films and every now and again love to party far too hard! On Horror Cult Films I am mixing reviews of the biggest cinema releases with well known and decidedly less well known gems [and the odd turd!] from cinema's rich past. I hope some of my great love for cinema comes across in my writing.
O, and I am not a doctor.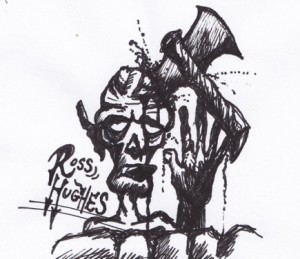 Ross Hughes
Reviewer
I was only five years old when I got a taste of proper horror. I remember watching a man in a William Shatner mask, teasing, tormenting and finally killing a bunch of babysitters on the night of Halloween and I was hooked! My life could have gone two ways! 1: Bought a kitchen knife and boiler suit and made "life imitate art!"or 2: Become an avid horror film fan and thirty odd years later become part of a writing crew of a film website. telling like minded fans all about the best horror films from past and to the now. While I may have been tempted to live the dream of being Michael Myers, lucky for my own sake I decided on option 2 and here I am, to bring the readers of HCF my own honest Hughes Verdict on the things I watch. Love all things Slash, love discovering the unknown films that hit the market and then telling you about them. Also I am story writer for the site, where I give u a world of a twisted imagination tales that I hope you be begging for more. If Dr Sam Loomis was here now, he would have this to say about me…. " I met him, Hughesy and was told there was nothing left; no reason, no conscience, no understanding; and even the most rudimentary sense of life or death, of good or evil, right or wrong. I met this young man with this blank, pale, emotionless face, and the blackest eyes…I spent time trying to reach him, and then another even more time trying to keep him locked up because I realized that what was living behind that man's eyes was purely and simply… HorrorCultFilms….."…. And he is right because to put it simply… It's Horror, everyone's entitled to one good scare!………..
Cludge Judge
HCF Official Artist
I just love any film that is finely made, offers something a bit different or ticks off a series of complicated and stringent boxes that I use to scrutinize a project. I have never rated a movie 10/10 due to not seeing the perfect feature as yet. This is not the time to go into that process. Friends will confirm that I will watch just about anything except for Romcoms which I dislike with a passion. In Good Company was the last of the latter that I could bear without throwing up.
Juan Vasquez
Reviewer
I've been a huge fan of movies and video games as far back as can I remember. When it comes to film, I love the mainstream blockbusters as much as indie films, but when it boils down to it, you can't beat a great cult movie. I think I have to thank late night, late 90's terrestrial TV for that. You could see some right weird stuff on there, be it English, American or foreign. I love discovering weird, obscure films! I'm into horror as well. Not as much as the other guys, but I do love a good (or bad) slasher film. I'm in the great position of videogames editor. If there's one thing that could rival my love for film, it's videogames and these days the two go hand in hand. They can be as involving and rewarding than sitting through a great movie. I've spent more time lost in a videogame than I have doing anything else. I hope you enjoy my views and various ramblings as much I enjoy writing them down. However, don't expect an update on Call Of Duty 25 or the latest instalment of the FIFA franchise!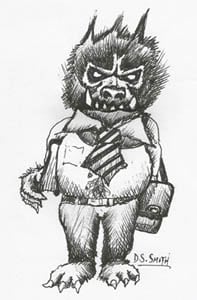 David S. Smith
Reviewer
Since I was a kid I've always had a thing for horror. I spent much of my youth watching movies I probably shouldn't have and still see more of them than any other sort of film. The earliest I can remember watching was my older brother's VHS of Nightmare On Elm Street Part 3, but the earliest ones I remember being really taken in by were The Shining and, for some reason, Scream 2. I tend to like atmospheric ones the best – the sort that stay with you when the lights are out. Though I have a soft spot for slashers too, and can handle even the goriest torture films. In my offline life I'm a lecturer in psychology, and from this perspective I find the genre particularly interesting i.e. thinking about the cognitive stages of fear and the sort of themes and motifs that can really frighten us. Whilst the horrors we like are personal, I find it fascinating when one taps into something universal and really gets to people on mass.
Mocata
Reviewer
A sucker for classic epics, 80s science fiction and fantasy kitsch, horror, action, animation, stop motion, foreign cinema, martial arts and all kinds of assorted stuff and nonsense. If you enjoy a bullet ballet, a good eye ball gag or a story about time travelling robots maybe we can be friends after all.
Mocata also writes his own blog at Synth Cinema
Former HCF Team Members
Matt Wavish
Since I can remember, I have loved horror. From a very young age I would sneak into the back of video rental shops to spend as long as I could staring at the wonderfully depraved sleeves for horror films,knowing there was not a chance in Hell my parents would let me rent them. Every now and then I tried to sneak one into the pile, usually in the middle in the hope it would just slip their eyes as they paid to rent them. It never worked, but gosh darnit I tried! The Video Nasty List was a big hit for me as a child, and I remember at secondary school how we would all pass around the latest copy of Cannibal Holocaust, The Exorcist or The Evil Dead, the excitement of handling something you just knew you weren't allowed was just way too much fun. Getting some friends round and watching it, in the hope your parents don't come home and catch you! Maybe it was my rebellious nature? I loved being scared, and I'll never forget watching Count Dracula's Great Love at the age of about ten and being unable to walk five minutes down the road, in the dark to get home. It takes a lot to scare me now, but every once in a while a good horror comes along that does. I prefer serious horror than the comedy splatter fest, but saying that I still enjoy a horror with a good sense of humour if it feels it needs it. I like horror with a strong story and strong characters, the more serious the better. I like to go as dark and as intense as possible and will always be on the lookout for the next twisted and nasty story. I like originality too, and if a horror comes along, good or bad, that tries to do something different, I will respect it. My favourite horror of all time HAS to be The Exorcist, as I said, serious horror with a strong story and strong characters. Still, I tend to watch anything that is related to horror, maybe I watch too much, but I will always give you an honest opinion and tend not to follow trends or other peoples opinions. I hope you find my opinions open and fair, and I hope to guide you through many horrors, past and future, in your time you spend here on this website. From one horror fan to another!
Courtney Button
I can't pinpoint exactly when my interest and obsession with horror started. What I do remember is being about 7 years old and being in MVC (remember those?) and asking the guy who worked there where the horror section was and I'd just go and look at the covers on all the videos. To actually see them I'd have to stay up late or borrow the films my brother had recorded off of the television. Horror is still my genre of choice. There's just something hugely gratifying and pleasurable in finding a horror that actually manages to scare you, something that is all too rare these days. Give me something interesting, scary, original and that looks good and I'll be as happy as I can be.
I'm not completely bound to horror though, I will happily watch things from all genres. I studied English and Film Studies at university which helped to expand my horizons so I watch the art house style films as much as the multiplex crowd pleasers. There are fewer pleasures than sitting in a dark and silent cinema screen and becoming immersed in a brilliant film for a couple of hours.
I'm also a big fan of quality TV drama, books, music and video games. Really, most things pop culture.
HCF Contributors
We also have a few contributors who submit the occasional review for HCF. All their thoughts are their own.
HCF contributors are:
Kirsty Wavish
Peter Hearn
Claire Rundell
Andrew Jones
Peter Shelton
Spaldron
Save
Save