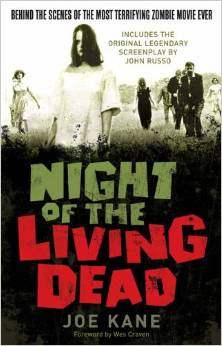 At just over 300 pages, Night Of The Living Dead by Joe Kane truly is a must have for all fans of the film and zombies alike. The foreward by fellow director, Wes Craven, gives an insight into how director George Romero was truly a revolutionary in the horror scene, inspiring many film makers and authors with his film, Night of the Living Dead, which was created on a budget of only $114,000.
This film has spawned countless Zombie movies, as well as video games with the globally successful Resident Evil, and graphic novels such as The Walking Dead, which has recently been adapted for the screen by Frank Darabont. Even pop icon Michael Jackson took to the undead graveyard for the video of his number 1 hit, Thriller.  Romero and Russo inspired a whole generation with Night of the Living Dead and this book details many of the Zombie successors.
Joe Kane clearly knows a lot about movies and his passion for film has enabled him to create this book, which has indepth behind-the-scenes interviews with the cast and crew of the film, including Judith O'Dea (Barbara), John Russo and George Romero. The crew talk about about how the film was conceived and brought to life, with the all the technical background that will make any budding film-maker swoon. Casting Duane Jones as the lead, Ben, was a major move, with the only other black actor at that time in a lead role being Sidney Poitier. Although the character of Ben had already been written, Duane enforced changes to the character and Ben became Duane's creation.
The crew explain different techniques used in the film, from how they created blood from syrup and ink, to the creation of exploding heads, which were used in Night's sequel, Dawn of the Dead.
Complete with on-set photographs and the original screenplay by John Russo, this book details the birth of an idea that has spawned countless successors and imitators, as well as its own sequels.  It is an understatement to say that Night of the Living Dead was influential. It created the Zombie genre as we know it and is still enjoyed across the world today, with people taking to the streets of their city for annual Zombie parades.
So whether you're a fan of the Romero's films, a zombie fanatic or interested in creating movies, this is one book that should take pride of place on your shelf.