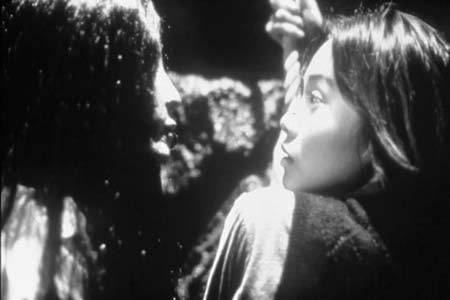 [youtube]https://www.youtube.com/watch?v=NYOFpal49Dw[/youtube] Ringu 2 trailer
[youtube]https://www.youtube.com/watch?v=Ht495b-dEnY[/youtube]  Ring-0: Birthday trailer
Moving swiftly on then…
Ringu 2 (1999)
(15) Running Time: 95 mins
Director: Hideo Nakata
Writers: Hiroshi Takahashi (screenplay), Koji Suzuki (novel)
Starring: Miki Nakatani, Hitomi Sato, Kyoko Fukada
Ringu2 was released in cinemas at the same time as Ringu and I believe they were played back to back? The DVD and VHS were released a little later than the original, hitting the shelves on 30th July 2001. Ringu 2 follows on directly after the events of the first film, with Sadako's found corpse being taken to the morgue on a trolley. What of the main things I picked up on watching Ringu 2 again was that with repeated viewings the film is slowly losing its strength. In fact, it is fair to say that Ringu 2, in my opinion, is possibly the weakest of the trilogy, but that's not to say it is still a great horror, but when you have the brilliance of its predecessor to contend with your gonna have problems being that good again. Hideo Nakata was still in the director's chair, but the main thing that has changed here is the story heavy events of the first are now gone, and Ringu 2 feels very much like a sequel lacking in ideas, but is a film that is necessary to complete the story. This film concentrates on the girlfriend of Ryuji from the first film, Mai Takano, and her race against time to uncover Sadako's curse as she wants to find out exactly what happened to her boyfriend. She herself starts having horrific visions and she also learns that Ryuji's son Yoichi is developing stronger psychic powers.
In the first film, we learned of one of the 'victims' of the cursed tape who locked herself away after seeing the video, and she is still alive, although she seems to have gained some powers and she is currently in a psychiatric hospital. In a brilliant scene, where Mai is visiting to speak with the girl, we enter a room where patients are watching TV, the girl is walked through with a towel over her head but she stops, looks at the TV and suddenly al the patients start screaming as something starts to happen in the TV. It is a creepy and unsettling scene, and one which shows promise to a sequel that should have delivered. In an experiment with this girl, Doctor's realise that she is able to pass on an energy she picked up from watching Sadako's curse and the Doctor's believe the energy is best controlled in water. The whole thing is taped and Main is given permission to view the tape and it is here that Nakata shows his brilliance again. Flickering lights give way to sudden visions of demonic faces and statues and, just like in the first movie, we are all on edge again and feeling slightly nervous at what is to come. The usual sound effects are there and the absence of any strong colours again give that haunting coldness. A minor issue is that the colour white is used quite a lot in the hospital scenes, and with white subtitles, it makes for a bit of difficult reading, but as I said, it is a minor issue.
In a moving plot point, we see Sadako's old and weak Father return her corpse to the sea, where she belongs as we learnt in the first movie how Sadako had no fear of the sea and would sit on the beach and stare back at it, almost enticing it to try something. We also learn that Sadako was born in a cave where unwanted children were left in the hope the sea would take them.Her Father looks relieved as he pushes the coffin overboard and we watch it sink. Is this finally the end of Sadako's curse? No chance. As with the first movie the acting once again is top notch: and all the characters are very believable and, in a round a bout way, quite likeable. Our main hero, Mai, is a good central character and as with Reiko in the first, you side with her instantly. And speaking of Reiko, police are trying to find her as she has vanished with her son Yoichi, and added to all of this police also want to speak with Mai over the recent deaths as well. Yoichi has started gaining the same psychic abilities Sadako has, and so Mai must find him quick as he has no way of controlling it. The poor lad has also become mute since the events of the first film, and when Mai does find him it turns out they both share a psychic connection and are able to communicate. It would seem that whenever Yoichi becomes angry, Sadako is unwillingly summoned and so the plan is to get Yoichi to a swimming pool, get him angry and try and force Sadako's energy out of him.
Ringu 2 focuses more on the energy of Sadako's curse, and although we do get the odd death and yet another freaky Sadako movement moment, the film never quite feels as clever as the first. It does tie up the story nicely, but I just can't get past the feeling of it is a sequel for a sequels sake. However, it does serve up some nice chills and another great cast to create another nice atmosphere of doom and bitterness. Sadako's story is a sad, tragic tale that intrigues and the Japanese folklore that comes with her story is well maintained and expertly portrayed on screen. I did feel though, that the ending took things a little bit too far, it bordered on silly as Main and Yoichi pass on messages to each other though their psychic abilities, and Sadako's appearance climbing out of the well doesn't quite reach the heights of that great TV moment, but saying that, Ringu 2 offers up enough scares and jolts to be much better than a lot of horrors around at the time and proved, naturally, that J-Horror was here to stay.
Rating:
Ring 0: Birthday (Basudei) (2000)
(15) Running Time: 99 mins
Director: Norio Tsuruta
Writers: Hiroshi Takahshi (screenplay), Koji Suzuki (novel)
Starring: Yukie Nakama, Seiichi Tanabe, Kumiko Aso
Ring 0 is actually a prequel to the previous two films, and rounds up the trilogy perfectly; although many say Ring 0 is for completist's only. Here we learn even more about Sadako's back story, but we get right to the heart of her problems and the film magically gets you to actually take sides with the poor girl. Sadako is attending a drama school where she intends to take part in a big play that is being rehearsed; she is withdrawn and struggling to deal with her psychic abilities which plague her everyday life. In fact, it is safe to say, she is embarrassed by her 'gift' and would rather not have it, but it is the events in this film which show how Sadako changed from a quiet, shy girl into the vengeful, murderous spirit she later becomes. Poor Sadako see's ghosts everywhere she turns and classmates begin laughing and staring at her as she is clearly not normal. No one gives her any support apart from the drama teacher himself, who takes a slightly unsettling fondness to Sadako which makes the rest of the class jealous. Upon seeing Sadako, many classmates begin to see well's and strange things appearing behind her and it unsettles the students and they want her gone. Sadako feels their hate, and in a freakish accident, her powers kill the main star of the play, although it is not clear how it happened, students feel Sadako is somehow responsible. It doesn't help that Sadako then lands the part of the dead student, which just happens to be the lead role. Yes, it's safe to say that Sadako's life was cursed from the beginning. To add to her problems, a reporter has turned up who is wanting more information on Sadako's spiritualist Mother, and she too begins to suspect Sadako is bad news.
One of the students accepts Sadako for who she is, the sound engineer and Sadako enjoys his company and it is actually quite pleasant to see the girl smile for the first time. Even though the boy is in a relationship, the pair come close to a clinch, until the boys girlfriend turns up, and suddenly poor Sadako has yet another enemy. It seems she just can't do anything right, and the film captures that feeling of loneliness and the inability to fit in perfectly. With Hideo Nakata out of the director's chair, the film does not offer up the same level of scares as the previous films, but does rely heavily on story and character development to engage and fascinate the viewer. If anything, this film feels like an honest and caring way to show how the pressures of life can create a monster, and how bullying is never a good thing and can only lead to worse things, much much worse…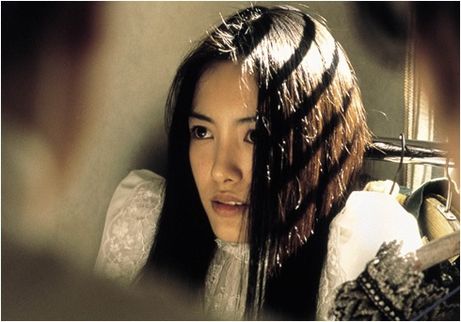 Students begin seeing a ghostly girl wandering around and in a fit a rage, Sadako manages to smash some camera lenses with her psychic powers and this scares her. Her visions are getting worse and she gets really scared after witnessing blood on someone's hand. However, it does seem that Sadako's abilities can also do good, as her touch helps a fellow student in pain, but sadly the abilities become more and more darker because hate is filling Sadako's veins as she is constantly bullied and mentally tortured. When Sadako finally gets her big moment on stage, in front of a packed audience, she remembers the events of her Mother proving her own psychic abilities on stage and how she was eventually laughed at. Sadako panics, freezes and it all goes wrong.
This film feels less haunting and more of a drama than a horror, and with a new approach to the way it is filmed, there is a quality to it unlike that of Nakata's vision. The colours here are rich and strong, using lots of deep colours like dark reds, intense blacks, bright whites and dark oranges. The film has an almost classical feel and brings out a completely different set of emotions than in the fear inducing previous films. Here you begin to question how someone could be treated so badly, you feel for Sadako and come then end you find yourself thinking that what happens to the people is deserved because of their behaviour. Had this film come out before the other two, then possibly the other two may not have worked so powerfully because you would have had that sense of Sadako being wronged and understanding why she turned so bitter. Then again I could be talking nonsense.
The film ends brilliantly, with Sadako coming on in full swing to literally scare you half to death as she does her jittery walk thing in the woods. It is an excellent moment, and if I had to rank her three big moments in each of the films, then obviously the TV from Ringu would be top, and her unsettling appearance in the cabin on the woods here would rank a close second. I believe Ring 0 is a very necessary prequel to a fantastic spiritual tale of Japanese folklore, and a fitting end, or beginning, to one of the finest trilogy's in horror history.
Rating:
Not a great idea to watch all three before bed if I am being honest, but it is done now. The Ringu trilogy is a legendary piece of cinema, so influential and so downright brutally scary in a raw and haunting way. It is a story to cherish if you love horror, and also a story to cherish if you are a fan of damn fine storytelling. Scary, brilliant, classic stuff and I now await to see as to whether I am still alive in a weeks time!