Flat Footed Apocalypse
Directed by: Martin Lejeune
Written by: Malcolm Bradley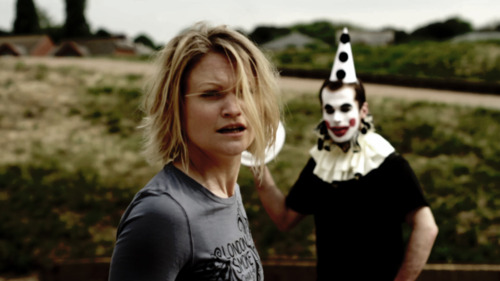 Here at Horror Cult Films we are always on the lookout for fresh new talent, and I mean that in a filmmaker sort of way. So it gives me great pleasure to present to you dear readers a new short film by a local director looking to make a name for himself in the wonderful world of the movies. Martin Lejeune, from Exmouth in Devon is literally half an hour from me and to know there is talent this good so close to home fills me with happiness. I have known Martin for some years and let me assure you, his taste in movies is perfect for site's like ours.
His short film, Flat Footed Apocayplse was written by another person who I know, Malcolm Bradley, and interesting fella to say the least! Have a look at the two and a half minute short and please, share your thoughts or contact Martin yourself. The old chap even has his own IMDB page!! I don't want to tell you anything of the plot to this short because it will ruin the element of surprise so all I will say is, WATCH IT!! It is only going to take three minutes out of your day and I feel talent like this needs an audience. Martin clearly has a unique vision and a special eye for the camera and seems 100% focused on getting the job done, and done to a level of expertise usually saved for the more experienced filmmakers.
I'm sure you will find the presentation of the film, the pacing and the characters very easy to get along with and the haunting score sends a shiver down the spine thoughout. Please enjoy the movie and I can promise you that there is a lot more to come from this unique and original filmmaker. Remember the name (its not an easy one to forget!!).
Martin wanted to share some words about himself so you can get a good idea of who he is so please take the time to get to know him:
I am independent filmmaker and Visual effects artist, though originally from Surrey, I currently reside in and around the city of Exeter in South West England.
I started making films in 2004 and signed on to do a Media Course and have been working on various projects ever since. It was on this course that I made my first short film 'Flour' which went on to be screened at the Cube Cinema in Bristol.
In 2006 I got started in freelance visual effects doing additional material for 7th Fleets productions 'A Touch Of Home' and was able to attend the shorts premiere in New Jersey that year.
My final project for the course was the effects heavy Star Wars fan film 'Jedied' which featured extensive blue screen work, virtual characters and day for night scenes, this was shown at the Exeter Picture House to thunderous applause.
After college I got involved with the Dundee based group behind Starship Intrepid, producing their making of documentary 'Origins and Anticipations' and have been involved in their subsequent productions.
In 2007 I was hired as a production assistant of Jerri Harts 'Revenge of the Jazz Hoodie' which led to me applying for the 2008 Phoenix Bursary Scheme where I was awarded funding to produce my latest short "Untitled Dystopia" which allowed me to bring in outside acting talent and put me in contact with more local filmmakers.
By Matt Wavish