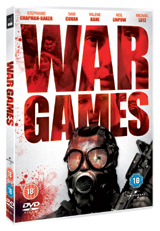 To celebrate the release of WAR GAMES, available on DVD and Blu-Ray from October 3rd, we've teamed up with Universal Pictures to offer you the chance to win 1 of 3 copies of WAR GAMES on DVD.
Torturous and terrifying, this twisted horror story – inspired by true events, sees an innocent group of friends hunted down by psychopathic ex-soldiers, who turn their country break into a bloody nightmare.
When the adventure seeking group of friends head off for a light-hearted weekend of mock warfare, they have no idea of the fatal traps laid out for them by heavily armed hunters who appear to be tracking their every move.
Finding themselves caught up in a deadly game of hide and seek, but clueless to why they are being targeted, the group's mock guns and ammunition are no match for their unseen predators' stash of barbaric weapons and landmines. As the murderers begin to pick them off one by one, slaughtering them in increasingly gruesome and barbaric ways, the group realise that deep inside the impenetrable forest, nobody is coming to save them.
Petrified and powerless to stop the escalating violence, the victims become embroiled in a macabre mind game that will see them win, or die. As their desperation grows, so too does the frenzied and graphic horror on screen. Viewers will be gripped as the group battles it out against an almost inhuman, totally insane foe.
Witness the bloodshed and torture of this warped War Game when it is released for the first time on Blu-ray and DVD from 3rd October 2011. Pre-order your copy here
To be in with the chance of winning one of three copies of War Games on DVD, answer this simple question:
The group are being hunted by psychopathic ex-WHAT?
Send your name, address and answer to contact@horrorcultfilms.co.uk with the subject heading 'War Games competition'.
The competition closes midnight Thursday 13th October 2011.
Three winners will be drawn at random from all correct entries received.
This competition is open to UK residents only.
[youtube]https://www.youtube.com/watch?v=6ncB7evG6U0[/youtube]