The Caller (2011)
Directed by: Matthew Parkhill
Written by: Sergio Casci
Starring: Luis Guzmán, Rachelle Lefevre, Stephen Moyer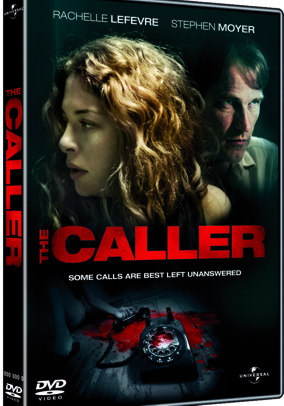 THE CALLER (2011)
Directed by Matthew Parkhill
Written by Sergio Casci
Starring Rachelle Lefevre, Stephen Moyer and Luis Guzman
[youtube]https://www.youtube.com/watch?v=TV_qUF3Wolc[/youtube]
A 30-something woman named Mary (Rachelle Lefevre) moves into an apartment after seperating from her abusive husband. Not long after moving in, she receives a phone call from a woman asking for Bobby who supposedly lives at her apartment address. After informing the woman there is no Bobby and that she is the new resident, Mary hangs up and thinks nothing more. That's until the mysterious woman continues to ring her, adamant that her boyfriend, Bobby, lives there and they were due to get married but he was drafted off to Vietnam. Confused, Mary informs her that Vietnam was over 30 years ago and to stop the prank calling. Not before too long, the mystery female caller rings again and introduces herself as Rose and informs Mary that's it's 1979 and to prove it she'll draw something on the pantry wall. Curious, Mary decides to go look and is shocked to find a drawing of a rose. Mary confirms the drawing exists to Rose on the telephone and what starts as inquisitive discovery leads to terrible actions as Rose realises she can alter the future that Mary lives in….
I thoroughly enjoyed this chilling thriller which stars Lorna Raver as Rose, the eerie woman on the end of the telephone who's voice will send shivers down your spine. You feel Mary's frustration as she tries to work out how this caller's actions can be changing her life and becomes totally at the mercy of Rose as she starts to destroy Mary's life. Stephen Moyer stars as John, a mechanical engineer teacher who accidently bumps into Mary when she mistakenly enters his classroom instead of the French class next door. When Mary spots her ex-husband in the car park, she runs inside to ask John for help and the two become friends as the relatioship grows between them. Scared out of her mind over the games Rose is playing with her, Mary informs John but he suggests that it may well be her ex-husband playing tricks, as he has a habit of breaking into her home and stalking her. As Rose thrives upon her new found power over Mary, people start to disappear from the present time and it's not before long that Rose befriends Mary as a child and begins to harm her, thus harming the future Mary. This is seriously tense stuff as you are unprepared what will happen next and how can Mary stop Rose.
Rachelle Lefevre shines in her performance as the terrified woman, who not only has to put up with this crazy woman from the 70s but also her psychopathic ex-husband who refuses to relinquish his grasp on her. Her chemistry with co-star Stephen Moyer (True Blood) is believable and the two make a good on-screen partnership. Luis Guzman plays the kind gardener, George, who also maintains the apartments and provides key information to Mary on who her sinister caller is and what happened to her. Lorna Raver who plays the deranged, psychotic Rose, has gained a cult following after Drag me To Hell and provides more of her sinister attributes to this film and is definitely the major highlight of the story. Let's put it this way, if she ever rang you up you'd never answer the phone again!
This tense, supernatural thriller is very well executed and had me clueless as to where it would possibly lead. With it's mysterious ending open to interpretation, you'll be discussing this for a few days to come.
Rating:
[pt-filmtitle]The Caller[/pt-filmtitle]