Repercussions (2011)
Directed by: Andrew Leckonby, John Raine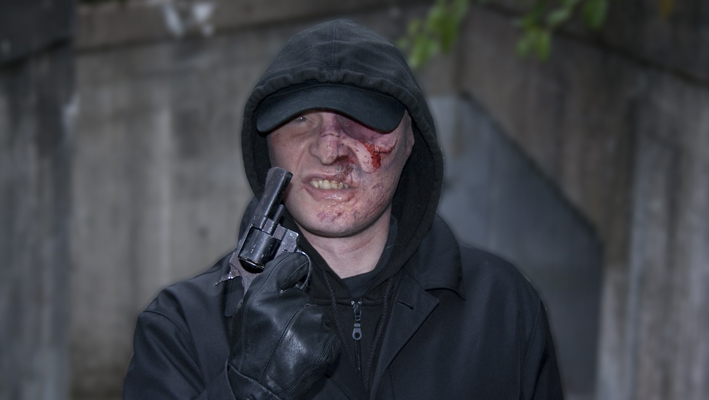 REPERCUSSIONS (Redux – 2011)
Produced by Andrew Leckonby
Directed by Andrew Leckonby and John Raine
 [youtube]https://www.youtube.com/watch?v=AQe-yDLcyss[/youtube]
Independent film makers, Andrew Leckonby and John Raine, have brought a gritty realism to his short film, Repercussions, which focuses on the uncontrollable youth of today. The majority of society are victims as passers by are subjected to verbal torment and physical beatings by these kids, armed with knives and up to their eyeballs in drink and drugs. The law seems to be oblivious to these hoodlums and we are left to fight our own battles or be trampled on like a weed.
In Repercussions, the cameraman Louis takes an active role in directing his 'recruits' as he grooms them to become vigilantes, to take on the scumbag teens that threaten the innocent. His first willing participant is Dan, who is left outraged after watching a video of victims speaking about their attacks. The video ends poignantly with an elderly lady, who's face is battered and bruised, and the sharp realisation that there is no respect and that nobody is safe, spurs Dan on to sort these scum out once and for all.
Directors Andrew Leckonby and John Raine have used real people and it feels like an authentic documentary. They correctly shows the teens abusing anyone in their path and their lack of respect for others. They abuse an old man, two goths and a new age traveller and his young daughter. Nobody is safe and if you're like me, you're blood will boil to know how accurate this short film is, be it a work of fiction based on true events. The short film tackles the vigilante ideals, which reminds me of 2009 film, Harry Brown, where Michael Caine played an elderly gentleman who took the law into his own hands also.
The actors in this film, including those playing the dangerous teens, replicate society as it is today and do so in a convincing fashion. I felt like I was a fly on the wall rather than witnessing a work of film. I particularly enjoyed the handheld camera point of view, which was adopted for the entirety of the film. This further fuelled the idea that we, the viewer, are in on it and we can help shape the outcome. Ultimately the actions of the vigilante are wrong and cause more casualties whilst the problem with the protected youths still ensues but at a time and place we are at now in Britain, you can't help but hope the scumbag kids get their just deserts.
Andrew Leckonby and John Raine have a sharp eye and a talent for an engaging narrative. The subtle music emphasised the scenes and the visual fx were tastefully done to create a realistic tone. Even the end credits are a work of art and I applaud them on their work and look forward to their future film, Bad Samaritan, a superhero tale which is loosely based on Repercussions.
For more info on their work, visit www.hydra-xfilms.com