The River: Episode 3 "Los Ciegos" (contains spoilers)
Creators: Oren Peli, Michael R. Perry
Director: Michael Katleman
Writer: Glen Morgan
Starring: Bruce Greenwood, Joe Anderson, Leslie Hope
Reviewed by: Matt Wavish, official HCF critic
The River ups the stakes in episode 3 as the new crew of the Magus face the real threat of the jungle and its inhabitants. However, not only do Tess, Lincoln and the rest of the crew have to face a blinding poison, a few home truths are also shared in this frantic episode. Director Glen Katleman attempts to throw as much as possible into his 45 minute segment of the 8 part series, and there is a good chance you may need to catch your breath come the end of it. We get scares, drama, emotion, menace, threat, the odd bit of violence and also the constant reminder that The Amazon Jungle is home to some nasty creations, and some truly horrific curses.
Most of the drama here comes from TV man Clark and is inability to let go of the relationship he had with Tess Cole. We start the episode by seeing him watching some of the footage they have found on the Magus, and pausing when Tess appears on screen by herself. We learn throughout this episode that Clark would appear to want her back, and later on as a vicious blinding curse engulfs the crew, he confesses to Lincoln about their relationship. Lincoln had already learnt while standing in a passageway on the ship and overhearing his Mother and Clark's conversation. Lincoln appears to understand, but possibly not forgive, and this could lead to further issues with Lincoln and Tess further into the show. We also learn that before heading off on the expedition where he went missing, Emmett was given a choice by his wife Tess, the expedition or her. Emmett chose the expedition claiming it was far too important and that he had to go.
As the crew attempt to find out where exactly Emmett went, Clark points out that a number of videos showed the same set of caves, and they all head there to find clues. As they make their way through the jungle and eventually find the caves, Jahel notices some tribal markings of the Morcego's. Known as 'The Guardians of the Forest', we are told that "only those worthy of  seeing the jungle will be allowed to see it". The Morcego's, according to Jahel, are watching and judging the crew and things turn out bad for them. As we get to the cave, we learn something else about another crew member: AJ the cameraman is petrified of caves after a past accident left many people dead. He refuses to go in the cave, and this turns out to be his saving grace. The rest go in, find dead bodies and get spooked by Bats, and once outside AJ finds it very funny that they are "covered in bat shit" Head of security Kurt does not take kindly to this, and kicks AJ out of the camp for the night. The relationship between these two continues to get worse as the episode goes on.
The team wake up to AJ's cries of panic, their camp has been marked by the Morcego's, and suddenly people start complaining about sore eyes and going blind. With no other choice, they all have to head back to the ship in the hope Lincoln can find some way to treat them. He can't, and he too goes blind. However, help is at hand by way of a bulb found underneath the Sentido tree, and AJ, Kurt and Lena head off to find it. Kurt and AJ continue to fall out, and as all but AJ go blind, he leaves them in the hope of finding a way out by himself. Instead he stumbles upon the Sentido tree, and learns he must climb underneath it to find the bulbs which will cure the blindness. An truly horrific and claustrophobic scene follows which goes to prove how far this show is willing to go to strike fear into the viewers. If you suffer from claustrophobia, this is not a scene I recommend watching!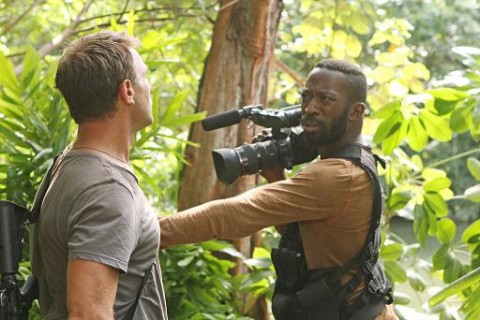 Things are falling apart back on the ship after Kurt accidentally stabbed Clark, everyone goes blind, and the Morcego's creepily head back to further spook the crew. Like something out of a real horror film, the Morcego's, in all their chalk white painting, are a fearsome sight as they creep around the ship and try to find a way in. The episode frantically belts out one moment of panic after another, and the tension mounts and mounts as you really do not know who is going to end up dead, or just what these Morcego's actually intend to do.
What I liked here is the mystery and otherworldly feel of what is going on in The Amazon. Jungle curses, the talk of everything having an opposite, or antidote, the relationships with the crew are all mounting into something which could come to a head at any point, and yet the show still manages to make the main focus the hunt for Emmett. It is clear things are going to happen between Clark, Tess and Lincoln, it is obvious AJ and Kurt will clash again, and now that we also learn that mechanic Emilio is a former criminal, could something come of that? There is also the mystery surrounding Kurt and his phone calls, something which Clark picks up on and asks Kurt to call for help. Could it be Kurt intended to stab Clark to shut him up?
There is also some well crafted comedy thrown in here for good measure. AJ learning that he must climb underneath the Sentido tree to find the bulbs is laugh out loud hysterical as he bellows out obscenities, and in the show's closing minutes, Kurt apologises to Clark for stabbing him, this is met with a well timed "Fuck off!" Proof that The River has not lost its human touch, and thankfully, for now, is managing to stay grounded and not run away too much with the magical and supernatural elements, and still remain, dare I say it, believable?