Devil Riders, Poker Run (2009)
Directed by: Julian Higgins
Written by: Bertie Higgins, Julian Higgins, Larry Madill
Starring: Bertie Higgins, Jasmine Waltz, Robert Thorne

DEVIL RIDERS (aka POKER RUN) (2009)
Allen and Robert are two RUBs, Rich Urban (wannabe) Bikers, from Burbank, California who by day are professional lawyers. Longing to ride Route 66 on motorcycles as part of the annual Poker Run – a motorcycle ride in which poker games are played at different venues throughout the route, the two convince their wives to embark on the trip with them. After browsing for bikes at the Harley Davidson showroom, the two guys realise how expensive their ambition is but fortunatly for them, they meet two burly bikers in the form of cuckoo Billy and cool-headed Ray, who offer them two Harley Davidson cruisers for $20,000. Robert accepts without hesitation and the two of them, accompanied by their wives, join the bike run with hundreds of other motorcyclists. To their surprise, Ray and Billy are also at the Poker Run and the two couples decide to ride off the beaten track with Ray and Billy to enjoy a more scenic route. After staying at a motel overnight, Allen and Robert awaken to find their wives kidnapped and a note from Ray detailing strict instructions if they wish to see their beloved partners again. What ensues is a brutal cat and mouse game with Allen and Robert faced with difficult choices, ones that may save or end the lives of their loved ones.
Being a motorcyclist myself, Devil Riders was always going to be an enjoyable film, providing the filmmakers were respectful to the biking fraternity and appreciated the freedoms that riding these machines give you. Devil Riders did not disappoint, with chrome gleaming, twin pipes roaring and the loud, low rumble of Harley engines filling the screen. Allen and Robert were portrayed well as two high flying laywers, one of whom is having a mid-life crisis whilst the other wishes he was more adventurous,  thus coming to the conclusion of living the biker lifestyle for a week or so. Having acquired the cruisers, the 2 piece suits are dumped in favour of studded belts, bandanas, leather Brando jackets and chaps. These two friends don't just want to ride, they want to look the part and live the life of 'proper' bikers. Wrapped up in their machoism, they fail to notice just who they are actually getting involved with…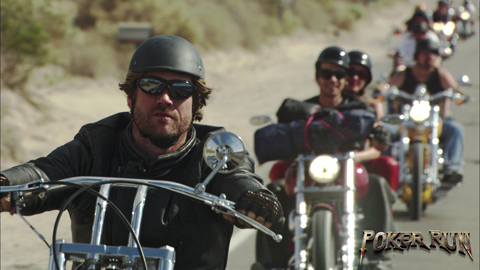 Debra Hopkins shines as Susan Cohen, wife of Robert who's initially reluctant to embark on the journey as a pillion passenger and throughout the film seems to be the only character who's gut instinct is reliable, as she questions the company she's in. Jasmine Waltz stars as unfaithful Cheri, wife to Allen, who's fondness for blow and sex ends up being costly. J.D. Rudometkin is an awkward lead as Allen, being far too straight-laced and immature at times in comparison to his level-headed older friend, Robert, played by Bertie Higgins who co-wrote this film with his son Julian Higgins who also directed. Robert Thorne isn't overly convincing as psychopath Ray, with too clean-a-cut image under the grizzly stubble, unlike Jay Wisell as Billy 'Bones'  Eady who is a raving lunatic! Despite it being, as it appears, his first acting job, Jay Wisell is the most interesting of the characters. Deranged and psychotic, he deserves most of the applause in this film. His character plays second fiddle to the 'brains' of the operation, Ray, but Billy is the one to fear most, especially as he likes to pinch little girls and kill their mothers.
The opening scenes of Devil Riders are quite twisted and violent as Billy intoxicates himself with drugs in front of the TV whilst Ray gets hands on with a bloodied, naked woman before taking on her poor husband.Very little acts of torture are shown in the rest of the film, but when they do come they are brutal and inventive with a splash of gore. A couple, for instance, involve chains attached at one end of a motorcycle. I'll let your mind fill in the rest or, better still, watch this fantastic little movie and find out for yourself!
Whilst the film could have been a more blood-thirsty, savage effort, Devil Riders pleases with the tools its equiped with. The story steadily ramps up through the gears as it opens up the throttle into the finale. It might not reach the red line but it'll sure give you one hell of a ride!
Rating: