Ted (2012)
Directed by: Seth MacFarlane
Written by: Seth MacFarlane
Starring: Giovani Ribisi, Mark Wahlberg, Mila Kunis, Patrick Stewart, Sam J. Jones, Seth MacFarlane

Ted (2012)
(15) Running time: 106 minutes
Director: Seth MacFarlane
Writer: Seth MacFarlane
Starring: Mark Wahlberg, Mila Kunis, Seth MacFarlane
Reviewed by: Matt Wavish, official HCF critic
Ted arrives with Seth MacFarlane fans hungry to find out just whether the Family Guy, and American Dad creator can manage to hold down a feature length film. Can he manage to make his jokes last, and indeed work over a full one hour and forty odd minutes, and if so can it not only make you laugh, but will the simple story hold up and keep the viewers attention? We all know that MacFarlane's witty, cutting edge and hilarious comedy works perfectly over a twenty minute episode with The Griffins, The Smiths and even The Brown's, and the fast, razor sharp writing is brilliantly put together, but over a feature length film would it become tiresome, even boring? MacFarlane has answered his fans, and the doubters with a stunning comedy that is hilarious and at times sad, it is action packed and then full of drama, it is silly and then emotional (how the bloody hell a stuffed fucking toy can actually make you fear for its life is a stroke of brilliance!), it is pure brilliance from start to finish, and all those who thought MacFarlane maybe did not have the skills to pull off a proper film can sit back and enjoy one of the finest comedies of the year.
As with all MacFarlane comedy though, Ted is not always laugh out loud funny, and there are times when you feel if you laugh while others don't, then you might get looked at in the cinema with disgust (cue a couple of tasteless 911 jokes). However, this is what makes Ted so much fun. Yes the jokes do come thick and fast, but not to the point you feel you cannot laugh anymore, and MacFarlane has crafted a wonderful story of both love and friendship which happily fills the gaps in-between the funny moments. The pacing here could not have been better, and I feel Ted (as with Family Guy and American Dad) will benefit from repeated viewings. The first watch you will be judging, checking as to just how Ted presents itself, but watch it again without the big expectations, and I guarantee you will find even more to enjoy here.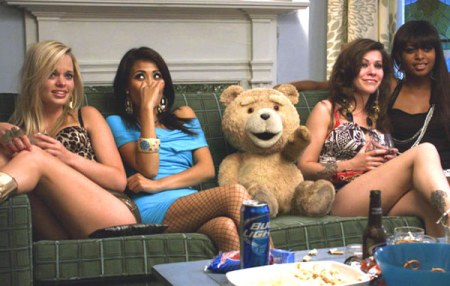 The story is the perfect recipe for a 'safe' big budget comedy: lonely boy makes a wish that his teddy comes alive to be his best and only friend, wish comes true, boy and teddy become celebrities, and as with all big celebrities, in the words of a wonderful voice-over by Patrick Stewart "eventually nobody gives a shit", boy becomes man, man finds girlfriend and teddy begins to hold man back and interfere with his relationship with his girlfriend. The story, done a thousand times in slightly different scenarios, works a treat, yet MacFarlane's edgy comedy takes the story into new realms with plenty to laugh about. Wahlberg plays the lonely man John Bennett with terrific character, and while the actor has been known for a lot of dramatic or action type roles, he has dabbled with comedy in the past. Here though, Wahlberg makes the most of what he is given to work with, and delivers one of the funniest, and oddly humane characters you are likely to see all year. You actually feel for this poor guy caught up in a sort of love triangle with the love of his life and a teddy bear, and Wahlberg pulls it off with style. When he needs to bring in the emotion he handles it well, but when asked to make us laugh, Wahlberg delivers the comedy as it he has been doing it all his life. His performance is terrific, and at times even over-shadows the star of the show, Ted.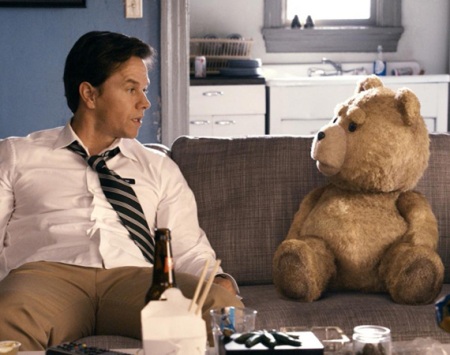 Ted is voiced by MacFarlane, and he gives us most of the funny bits, with much of the comedy bordering on offensive but managing to keep it just in tasteful range, and usually laugh out loud funny. Ted is a beer drinking, pot smoking, sweary sex mad stuffed teddy bear who is clearly angry at how his celebrity status has been built up and spat back out. He is a loveable character whom somehow gets the viewer rooting for him. You will even find yourself getting emotionally involved with the silly sod, and the added plot of a psychotic teddy bear stalker (played with chilling, perfect comedic skill by the always brilliant Giovanni Ribisi) will somehow have you actually fearing for the toys life! Then Mila Kunis proves why having her voicing Meg in Family Guy is such a hilarious set up: she oozes sex appeal and smoulders on screen (the opposite of Meg's ugly character) to the point you will begin to get annoyed at those irritating moments which threaten hers and John Bennett's relationship. The pair belong together, we know that, yet everything in the film thrown at them will test their relationship, and their patience.
What we also get plenty of here is MacFarlane's clear obsession with everything from the 80's, my God he loves it. There is always plenty of hints at his fondness for that particular decade in Family Guy, and here he continues to prove his love of it with some of the films funniest bits coming from that. We get to see psychotic teddy bear stalker Donny (Ribisi) dancing and wiggling his rather dodgy looking hips to Tiffany's classic "I Think We're Alone Now". It an unsettling and absolutely hilarious scene that I challenge anyone not to laugh at. Then there is the running theme of the classic Flash Gordon movie from 1980: being the film which brought Ted and John together, they watch it all the time and everything comes to a wonderfully funny peak as Sam J. Jones (who played Flash Gordon) turns up at Ted's house party. The scene simply has to be seen to be believed, but shows off MacFarlane's utter disregard, but total respect for a celebrity from his Golden Era. There is a good chance that this film just might re-ignite the love for Flash Gordon, much like American Dad found My Morning Jacket a new legion of fans, or made every music fan want to own 'Surfin' Bird' all over again.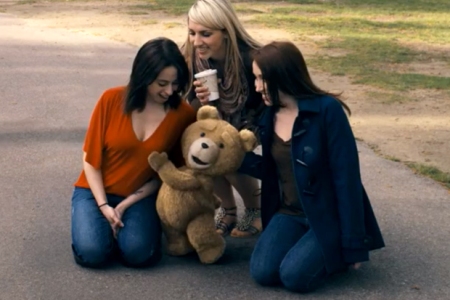 MacFarlane brings many elements of what makes Family Guy and American Dad so popular to his feature length debut. Ted often sounds like a cross between Peter Griffin and Brian, and we even get a brief voice which sounds suspiciously a lot like the hero of Family Guy, Stewie Griffin. We also get one great big, superbly designed punch up much like Peter Griffin vs The Giant Chicken, only here it is a grown man fighting with a stuffed teddy bear who barely comes up to his knees. The fight is one of the highlights of the film, and personally I struggled not to physically piss myself laughing! That is the genius of Ted: it is not laugh out loud hilarious all the way through, but when it does make you laugh it borders on being painful. The jokes work all the way through, and somehow never get tired. The pacing is just right, the story is perfect and each and every character is memorable and brilliantly written. Ted is a hoot, an easy to watch montage of the best of Seth MacFarlane. It is doubtful this will appeal to an audience who do not already love MacFarlane's genius, although it just might make the doubters curious, but those already under his twisted spell will love every second of Ted. A wonderful achievement, and one final big respect goes to the special effects team: believe me, Ted is actually real, he honestly  is!!
Rating: