Delirium, Psycho Puppet (1979)
Directed by: Peter Maris
Written by: Eddie Krell, Jim Loew
Starring: Barron Winchester, Debi Chaney, Terry TenBroek, Turk Cekovsky

(no trailer available)
Delirium (AKA Psycho Puppet) (1979)
First Released: July 1982
Director: Peter Maris
Current UK Status: Passed 18 after cuts
First released in the UK in July 1982 by Video Tape Centre, director Peter Maris' Delirium was added to the DPP list in November 1983. It wasn't long before the film was dropped from the list in May 1985. In 1987 Global Sales were granted a cut release of the film for home video titled Psycho Puppet. Since then it would seem the film has been forgotten, and it has never had a DVD release here in the UK. In fact, it is almost impossible to track down on region 1 DVD either! There is also some confusion when it comes to which film to look for, because if you search on Amazon for Delirium you will be lead to an equally violent film directed by Renato Polselli called Delirium, or Delirio Caldo to use its original language title. Since that film is also about a killer targeting beautiful women, many make the mistake of thinking that is the correct film, myself included! It is not, and the proper Delirium was an absolute pain in the arse to find, but I found it at www.twisteddanger.net.
Usually with my Video Nasties reviews I would offer up some sort of brief biography on the director. Since the Video Nasty era happened some thirty years ago, there is usually plenty to tell you about the director of the film in question. Sadly I cannot find much at all on Delirium director Peter Maris. I have searched the usual places, and can find nothing, which leads me to believe he did not exactly make a mark on the movie business, or horror films in general. A quick check on IMBD tells me the director is still working, with his last film being 2007's Zombie Hunters. However, checking his back catalogue it would seem that Maris is not exactly in the business of making films for a living. Delirium was his debut film, and possibly the notoriety of the film got him his second directing job of the film Curse of the Red Butterfly (1982), some four years after Delirium. The director then continued to make another fourteen film over the course of twenty years, and produced a further thirteen films, ten of them his own. So a prolific director Maris is not, and by the looks of it, most (if not all) of his films went straight to home video or DVD.
Delirium is yet another film from the Video Nasties list which deals with post-Vietnam stress (the previous film being Cannibal Apocalypse), and yet another film that begs the question: "why the Hell was it banned in the first place?" We are presented with basically two different films here: the first half is a full on slasher flick about Charlie, an ex Vietnam soldier who has lost his marbles. The second half is about a shady organization which hires ex-Vietnam soldiers to help clean up the streets and dish out their own justice to the filth and scum. Charlie was an employee of the organization, but sadly flashbacks from the traumatic Vietnam war have pushed him too far. Charlie now kills for thrills, and even though the murders are quite tame, I suspect it was these scenes that got the film banned because God knows what else it might have been!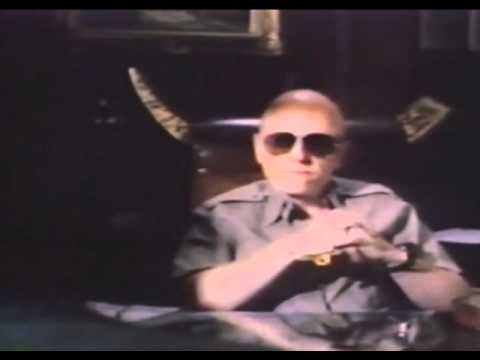 The first half of the film is probably the most offensive, but also the most ridiculous. We don't learn much about Charlie in the beginning, and we make our own minds up that the guy is disturbed thanks to a laughable scene where he is jogging in a park, and Vietnam flashbacks occur, crippling the poor fella. We also learn he is a few sandwiches short of a picnic because he seems to like slaughtering attractive young girls. However, these young girls are painfully added into the story with absolutely no sense of how to bring a victim into the film and make the viewer actually feel something. The scripting is incredibly lazy, and the situations so false it is very difficult to actually get upset by Charlie's murders. One girl hitch hikes: Charlie picks her up, goes way too fast in his car and almost kills them while having a flashback, but the girl thinks it is OK to go skinny dipping with the weirdo. Jesus, she deserved to die! Then there is the girl on the farm who ends up with a pitchfork through her throat (possibly the only scene warranting the films removal from shelves). The girl is not at all bothered by this maniac trespassing on her land, and instead teases him sexually. It is so unbelievably stupid you will be laughing too much to even care. When Charlie enters another house with the female occupant in the bath, things become even more stretched in terms of creating a scene. Eventually the female is stood at the top of the stairs, shotgun ready to use. I don't care if you are fucking Superman, you hide! You don't climb the stairs in the hope that she won't shoot like Charlie does!
After all this slasher mayhem, the film takes an unexpected turn around the half way point as a meeting with some dodgy looking Government officials and ex military man Eric Stem talk about their soldiers. Turns out this shady group has been paying ex-Vietnam soldiers to do the jobs the police can't do, rid the streets of the scum. The meeting is all shot in minimal light, with close-ups on the members faces, some bad acting and even worse scripting. Bizarrely the music from Mastermind plays out come the end of the meeting. Delirium then takes a turn from enjoyable (if a bit weak) slasher to an all out murder mystery as cops (portrayed painfully stupid) try to figure out who is controlling Charlie. The cops get leads, and one of their key witnesses just happens to work as a secretary to a member of this weird organization. It was her friends who was murdered at the beginning of the film, so she is more than happy to 'listen in' on her bosses phone calls. It is all exaggerated and uncomfortably forced, with the police even asking the woman to spy on her boss (baring in mind this is the first time the police have met her).
The story is interesting, even exciting, but the script and the way things pan out is so lazy, and so stupid that Delirium fails to have any impact. The idea of hiring ex Vietnam soldiers is a cool idea, and even the early flashbacks hint at something darker to come from the story, but it never does, and all the directors efforts go into making a straight up "whodunit" type thriller which, while delivers at times, is not deserving of its Video Nasty tag. The film does lead to an explosive, and actually quite thrilling climax as the action heats up, but sadly the film falls flat because it just has no idea what it wants to be. Some final violent scenes only emphasise the directors desperation to upset, and while these scenes may have been effective all those years ago, it is painfully boring today.
Delirium is a sorry case of a film unsure of where it belongs, and unfortunately it got tagged with that Video Nasty label which tells fans that there is something here which may upset them. There isn't anything of the sort, and Delirium is actually a very tame, and totally confused mess which is enjoyable while it lasts, bit is instantly forgettable.
Should Delirium have been added to the Video Nasties list?: Not a chance in Hell, what on Earth were they thinking!
Rating: