Prince of Jutland, Royal Deceit, Thrones and Empires (1994)
Directed by: Gabriel Axel
Written by: Erik Kjersgaard, Gabriel Axel, Saxo Grammaticus
Starring: Andy Serkis, Brian Cox, Christian Bale, Ewen Bremner, Gabriel Byrne, Helen Mirren, Kate Beckinsale, Tom Wilkinson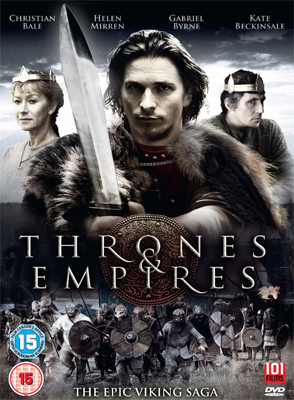 Thrones and Empires (1994)
AKA Prince of Jutland
Royal Deceit
When King Hardvendal (Tom Wilkinson) of Jutland, Denmark is murdered by his jealous brother, Fenge (Gabriel Byrne, the King's son Amled (Christian Bale) is sent overseas to be executed, but plots his revenge to avenge his father's death and to take back the throne from his wicked Uncle.
When I first picked up Thrones and Empires, I couldn't help noticing how young Christian Bale looked on the cover, and with a star-studded cast, I couldn't recall a film made recently starring all these noted actors together. It was the discovery of the original film title 'Prince of Jutland' that I found out that this film was made 18 years ago, when a 20 year old, fresh faced Christian Bale was starting his career in proper movies. As Thrones and Empires is to go by, he showed a lot of promise from a young age in a film which he is the lead star of.
Based upon the 1200AD Norse legend composed by Saxo Grammsticus which inspired William Shakespeare's Hamlet, Thrones and Empires plays out like a 70's low production costume drama and is basic from top to bottom, from costume design to script. With this simple structure comes it's nostalgic, heart-warming feeling. Whilst it might not be a patch on the likes of the tremendous Braveheart, Thrones and Empires has a certain charm, the kind of film you'd see on TV early one afternoon, except this one has a complete cast to drool over. The sets aren't lavish and are very Nordic in feel. The kingdom of Jutland consists of less than 50 residents and the only way you can tell who is king is by spotting who's wearing the crown. There's no crown jewels, exquisite castles or class system as such in their little society. Everyone is the same as one another, except the King has the final say, so you could question why Fenge wanted to be on the (invisible) throne so bad. He does not appear more wealthier because of this and is only gifted by having the ability to give orders and to marry his brother's widow.
Dame Helen Mirren stars as Geruth, the widow of the slain King, and is tricked by Fenge into marrying him after a faux story regarding his brother's death. The only person who knows the complete truth and is against Fenge, is King Hardvendal and Queen Geruth's son, Prince Amled, who has unfortunately gone mad at the sight of his father's death. Christian Bale, Gabriel Byrne and Helen Mirren do a terrific job playing the feuding and destraught family, with Byrne needing no assistance in portraying the wicked uncle to Bale's courageous Amled.
As with any family at war in the olden age, there's plenty of death to be seen though none of it is the bloody kind. Stabbings are the kill of choice, most of which are done from behind. This, coupled with Helen Mirren and many of the female cast frolicking around semi-nude, are most likely the reason why Thrones and Empires gained it's 15 certificate. The film is very mild in nature with war the heart of it all, be it between family members or over land as seen later in the film.
Thrones and Empires isn't the most exciting period piece out there but it's certainly enjoyable, with the key being the talented impressive cast lineup director Gabriel Axel has attained. There's enough drama, treachery and twists, forseeable or not, to keep you entertained and makes for a fun, nostalgic viewing for those of any age.
Rating: