The Hobbit: An Unexpected Journey (2012)
Directed by: Peter Jackson
Written by: JR Tolkein
Starring: Andy Serkis, Cate Blanchett, Hugo Weaving, Ian Holm, Ian Mckellan, Ken Stott, Martin Freeman, Richard Armitage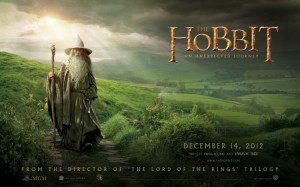 Certification: 12A
Running Time: 169 mins
Reviewer: David Gillespie -Official HCF Artist
Peter Jackson is the victim of his own high standards having previously created perhaps the greatest adventure trilogy of all time in JR Tolkien's apocalyptic adventure story, The Lord of the Rings. Similar to the plight of Tolkien's dwarves, Jackson digs too deep and greedily in an unwise attempt to stretch a further three epics from the earlier and shorter tale, The Hobbit. If taken as a standalone movie, The Hobbit: An Unexpected Journey still has enough treasures to be discovered in its bloated running time. You may have to wait a little longer and look a bit harder to find them though.
The story introduces us to a young Bilbo Baggins, played to perfection by Martin Freeman (The Office, Love Actually). Satisfied with the creature comforts of his home and the quiet lifestyle of the shire, a wizard called Gandalf the Grey (Ian Mckellan) and a collection of hungry and unruly dwarves arrive at his door to turn this all upside down. They want Bilbo to perform burglar duties against a terrifying dragon called Smaug that has taken residence in their city. This is a task that he has absolutely no intention of carrying out, especially with the leader of the company, Thorin (Richard Armitage) clearly showing a certain level of disdain for the halfling. Yet when Bilbo awakens the following morning to discover that the group has gone forth in their quest, the hobbit experiences a burning desire to join the them.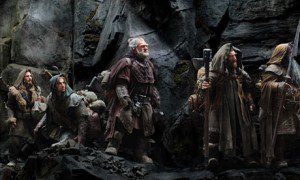 I will not disguise my delight when I first heard that Jackson had taken over the reins to direct a live action version of The Hobbit. I was a little dubious when I realised that not only were there to be three films but each would be nearing the three hour mark. Dr Lenara has already identified many of the shortcomings of spreading too little material over such a lengthy running time with his excellent review, so I'll focus on the positives.
Martin Freeman is the perfect choice of actor to play the resourceful, stubborn but kind hearted hobbit that secretly craves the chance of adventure. His frustration and distress as Gandalf and an army of uninvited dwarves invade his beloved home is a joy to watch. The young Bilbo is a little more confident and wiser than his nephew, Frodo. He is clever enough to delay three hungry mountain trolls from consuming his party while doing his best to outsmart the psychotic creature, Gollum in a duel of riddles.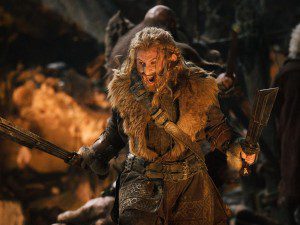 The special effects are for the most part extraordinary. This is most evident in the final third when our heroes encounter one perilous set piece after another. Highlights include an ear shattering battle between two giant, rock beasts and a silly but exciting mine shaft brawl. Yet it is the short but breath-taking sequence with Gollum that proves that Jackson still has the golden touch. There is no doubt in my mind that this scene rivals anything that was on offer in the rings trilogy. The final frame offers a tantalising teaser of what we can expect come the next part of the adventure in December 2013 and I'm looking forward to it already.
Finally, the version that I watched was in high-resolution 3D at 48 frames per second. There was nothing particularly remarkable or ground breaking about the experience. I have not watched anything in 3D that has made me think that it is a form of technology that was worth the huge monetary investment and after watching The Hobbit in the so-called super smooth 48 fps, I still hold a similar opinion.
Rating: