Elstree Calling (1930)
Directed by: Adrian Brunel, Alfred Hitchcock, Andre Chartlot, Jack Hulbert, Paul Murray
Written by: Adrian Brunel, Walter C. Mycroft
Starring: Cicely Courtneidge, Gordon Harker, Jack Hulbert, Tommy Handley

UK

AVAILABLE ON DVD

RUNNING TIME: 85 min

THE HITCHCOCK CAMEO: none

REVIEWED BY: Dr Lenera, Official HCF Critic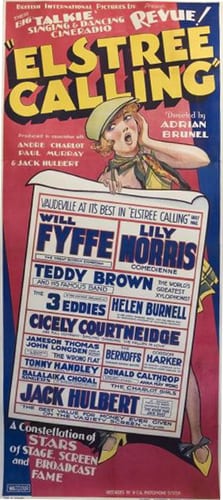 A series of 19 musical and comedy "vaudeville" sketches presented in the form of a live broadcast hosted by Tommy Handley connected by two running gags. In one, an actor wants to perform a scene from Shakespeare'sThe Taming Of The Shrew but is continually denied air-time. In the other, an inventor and his family trying to view the broadcast on television….
The coming of sound quickly led to some all-star musical revues from Hollywood, some in colour, such as King Of Jazz and Paramount On Parade. Elstree Calling was Britain's answer to these films, and Hitchcock was pressed into contributing, though sadly not the musical and comedy numbers. He was asked to film some linking footage, some of it featuring Gordon Harker who had been so good in some of his silent films. The film was rushed through production and became a minor hit, though it was correctly criticised by reviewers who mostly compared it unfavourably to the similar American films that had inspired this rag-bag which, unless you're into comedy and music of the time, is a bit of a slog, even with two numbers being in colour. Some of the songs, including contributions from Ivor Novello, are rather catchy and there's an appealing innocence to this kind of merriment but the humour, especially from presenter Tommy Handley, mostly falls flat and, worse than that, it's mostly badly filmed. The camera usually stays stationary in the stalls but sometimes you see odd stuff like dancers shot from high where their feet are off the screen and the great big curtain dominates.
Hitchcock's contribution of the man trying repeatedly to tune into his TV set is amusing and interesting historically as the first cinema-released footage to show a TV, six years before the BBC began regular broadcasts. Some say he also directed the other linking material of the actor trying to perform Shakespeare and constantly being thwarted. When he finally thinks he's succeeded in getting time to perform, he receives a load of custard pies. This is quite funny too. From an archival point of view Elstree Calling is important, especially if you're interested in the likes of Will Fyffe and Jack Hulbert . For the Hitchcock enthusiast though, it's not really worth your time and you may well find it, as the great man himself said: "of no interest whatsoever".
Rating: