Sound of My Voice (2011)
Directed by: Zal Batmanglij
Written by: Brit Marling, Zal Batmanglij
Starring: Brit Marling, Christopher Denham, Nicole Vicius, Richard Wharton

Sound of My Voice (2011)
(15) Running time: 85 minutes
Director: Zal Batmanglij
Writers: Brit Marling, Zal Batmanglij
Cast: Brit Marling, Christopher Denham, Nicole Vicius, Richard Wharton
Reviewed by: Matt Wavish
Brit Marling fast became the new indie queen after writing and starring in Another Earth, and now she continues that tradition down a far more sinister path with Sound of My Voice. Once again both writing and starring in the film, here Marling teams up with director Zal Batmanglij, who makes his feature film debut with the first in a proposed trilogy. The second film in the trilogy, The East (also written by Marling) is already complete, and looks to head down even darker routes again. However, until that film comes out, first you simply have to see Sound of My Voice.
Batmanglij shows no signs of a director making his first feature length film, and Marling overpowers the film with a truly stunning, and equally unsettling performance. Marling plays Maggie, the leader of a secret cult who claims to be from the future. Lorna Michaelson (Vicius) and partner Peter Aitken (Denham) are two documentary filmmakers who decide to infiltrate the cult and reveal their true identity by secretly filming sessions they attend. However, as the two lovers get deeper into the cult, the job they are there to do becomes blurred, and the power of Maggie begins to take its toll on the pairs relationship, and sanity. What started out as a bit of a joke, a bit of fun to reveal a quiet, and what appears to be harmless cults activities soon becomes much more sinister. Have Lorna and Peter got in too deep?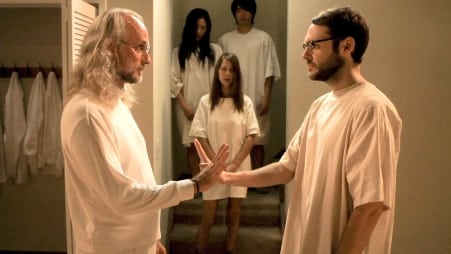 Sound of My Voice is a film that doesn't linger on its stories, and we are thrown right in at the deep end from the beginning. We first see Lorna and Peter joining the cult for their welcoming night, complete with secret handshakes, orders not to speak or even look at Maggie, and even blindfolded on the way to their underground hideout. We then learn Lorna and Peter's stories through flashback: Lorna's history of drugs and alcohol abuse, Peter's long history of death in the family. These background stories serve as an excellent setup as to why this pair need to do something with their lives and make this documentary, but it also exposes them as vulnerable when it comes to Maggie's softly spoken words. Maggie herself opens up almost immediately to newcomers to the group: she tells them the story of how she arrived in our timeline, naked and without any memory of how she got there. All she knew was her name and date of birth, and it was cult top honcho Klaus (Wharton) who pulled her off the street and saved her. Whether you choose to believe Maggie's story is entirely up to you, but a sinister plot twist come the end, and a further baffling ending will leave you with many questions unanswered, and Sound of My Voice is all the better for it.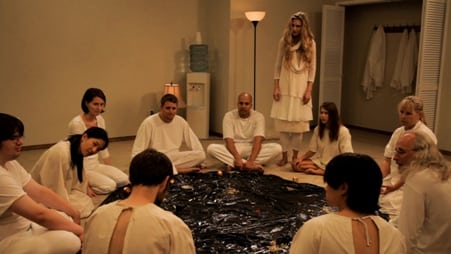 Marling and Batmanglij leave you, the viewer, to make your own interpretation of what it all means, and you are left to decide which story you want to believe. All the performances are superb, and each character will have you believing in them. The simplicity of the set up, the underground room, the real relationships and the lack of any real music means that you will be totally immersed in the story, and with the film running at just one hour and twenty minutes, there is no room for filler. The pace is perfect, and allows you to easily get caught up in the proceedings, and this also means that while the film has an extremely minimalist approach, it never becomes dull. Sound of My Voice is superbly acted, carefully directed and expertly written to create a very real, and at times very sinister look at how easy broken individuals can be manipulated. A powerful, engaging and haunting film, and if this is the first part of a proposed trilogy, then I cannot wait for the next two!
Rating: