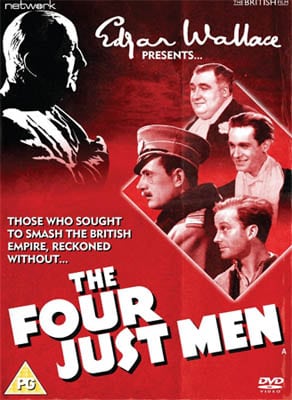 Produced by Michael Balcon for Ealing Studios on the eve of the Second World War, The Four Just Men (PG) recounts crime novelist Edgar Wallace's tale of the clandestine band of vigilantes who have united to uphold democracy, fight tyranny and protect British interests worldwide. A patriotic remake of George Ridgeway's silent of 1921, this innovative thriller sees the unconventional heroes thwarting a dictator's plan to destroy the British Empire. The Four Just Men will be available to own on DVD from 13 May, RRP £9.99, courtesy of Network Distributing.
Spirited out of a condemned cell where he has learnt of a plot to sabotage the Suez Canal, James Terry is able to reveal two clues to his fellow members of the Four Just Men: two vital clues pointing towards a dastardly plan to bring down the whole of the British Empire!
Originally released several months prior to the outbreak of hostilities in 1939, The Four Just Men was re-released in 1944 with a new coda reflecting the current wartime position. Featured here in a brand-new transfer from original film elements of the 1944 re-issue, The Four Just Men is showcased in its as-exhibited theatrical aspect ratio.