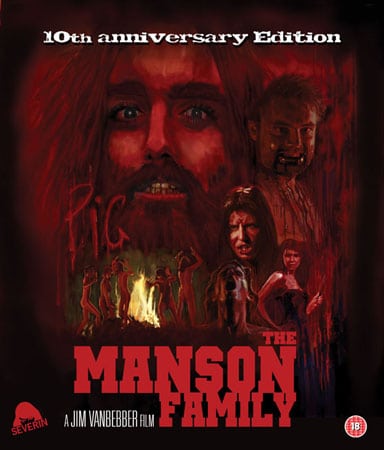 Severin Films are proud to announce the Blu-ray debut of Jim VanBebber's legendary, award-winning indie THE MANSON FAMILY on 10th June 2013, the 10th anniversary of its original release, uncut, and packed with brand new extras including VanBebber's highly anticipated new short GATOR GREEN
THE MANSON FAMILY delivers an uncompromising, brutal vision of the collapse of the "Love Generation." On a ranch outside of LA the hippie dream is perverting into something evil. What was once an oasis of free love and acid trips has become ground zero for a madman's paranoid visions. An average group of kids, the "Family", become engulfed in a delusional world where torment and slaughter is considered the path to righteousness. The Manson Family is a dizzying, rapid-fire vision of the sex and violence that unifies the misguided group, and at the direction of their leader, ends in a brutal spree leaving seven people dead in 48 hours. Now re-mastered in stunning HD for the first time ever in the UK. Extras include an all-new Director's commentary, the brand new short GATOR GREEN, the feature length documentary THE VANBEBBER FAMILY on the film's near-mythic production, an exclusive new interview with ex-Pantera frontman Philip Anselmo who scored music for the film and much more.
Severin Films was formed in 2006 with offices in Los Angeles and London. Their 80 plus strong movie catalogue includes works from iconic euro-cult directors Lucio Fulci, Jess Franco and Walerian Borowczyck, the first English language release of Roman Polanski's WHAT?, Richard Stanley's cyber-punk hit HARDWARE, Enzo Castellari's original action classic INGLORIOUS BASTARDS, Oscar®-nominee Patrice Leconte's THE HAIRDRESSER'S HUSBAND, the midnight movie sensation BIRDEMIC – SHOCK & TERROR, the historical battle epic ZULU DAWN, the all-star War classic THE WILD GEESE, Eugenio Martin's restored HORROR EXPRESS, and Alejandro Jodorowsky's internationally acclaimed SANTA SANGRE. In 2011 they produced the horror anthology feature THE THEATRE BIZARRE.
This essential new edition will be available on both DVD and Blu-Ray.
PRODUCT INFO
HD Transfer from original camera negative.
1:33.1 / 4×3 Aspect Ratio
Dolby 2.0 / 5.1 Audio
Audio commentary with director Jim VanBebber
Gator Green – exclusive first release of VanBebber's latest short
Exclusive new interview with musician Philip Anselmo
The VanBebber Family – 'Making Of' documentary featuring interviews with cast and crew
In The Belly of The Beast – documentary on the 1997 Fantasia Film Festival
Interview with Charles Manson
Deleted scenes
Theatrical trailers
Region free
BBFC: 18
Running Time: 93 minutes (feature)