Django Prepare A Coffin, Preparati la bara! (1968)
Directed by: Ferdinando Baldi
Written by: Ferdinando Baldi, Franco Rossetti
Starring: George Eastman, Horst Frank, Terence Hill

DJANGO, PREPARE A COFFIN (1968) (aka Preparati la bara!)
Directed by Ferdinando Baldi
A drifter, by the name of Django, seeks revenge on the Lucas gang after his wife is killed in a stagecoach robbery. Returning to the town 5 years later as a hangman, Django fakes the hanging of a group of men framed as the perpetrators. Hiding them at an isolated location, he asks the men to help him in exchange for him saving their lives. Now with a gang of his own, Django can seek justice against Lucas and his cronies but is surprised to discover a familiar face who was involved in the dispicable murder of his wife.
After Quentin Tarantino's successful Spaghetti-Western inspired slavery flick, Django Unchained, it's great to see the revival of the old gun-slinging Django movies transfered to glorious HD blu-ray. Django, Prepare A Coffin is one of these films, albeit an unofficial sequel to Sergio Corbucci's Django, which starred Franco Nero as the titular hero. In Ferdinando Baldi's Django, Prepare A Coffin, the titular role is played by Italian actor Terence Hill, who coincidentally or not, looks very much like Nero. Terence Hill is handsome and brooding as the quiet, kind Django and plots his revenge against Lucas calmly. However, Django's band of wrongly-accused may not be wholly dependable.
The path which Django walks down in Django, Prepare A Coffin is an honourable one that still keeps the viewer entertained throughout. There's plenty of backstabbing and twists to make it a tense Spaghetti-Western to be proud of, coupled with the gun-slinging, horseback action you'd expect from a western. The variety of locations ooze with style and charm, such as the local saloon whose pianist and customers fall silent whenever the Lucas gang enter the establishment. One funny location is that of Orazio's shop, which looks to be more of a taxidermist than a post office-type, with stuffed animals and lots of various breeds of birds, including parrots – alive, I must add. Whilst visiting his good friend Orazio (Pinuccio Ardia), Django is befriended by a green bird which sits on his shoulder, asking for a drink of whiskey from the bottle Django is drinking. The bird, Django and Orazio are a comedic trio in the scene, and Orazio makes a few extra appearances in the film that always bring a little humour to lighten the mood.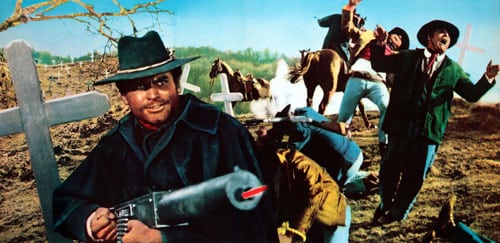 Western fans will rejoice with Django, Prepare A Coffin's marvellous, somewhat familiar, theme tune. After listening to it a couple of times, I quickly realised that the theme was sampled by Gnarls Barkley for their hit, Crazy. I suppose that says a lot about how well orchestrated the piece is, though relatively simple, it's effective and suits the genre down to the ground.
The film never falls short on kills with the body count impressively high and to create an iconic hero in Django, we have two solid 'baddies' to hate, chiefly blonde hair and blue-eyed David, played by German actor Horst Frank, and the dapper outlaw, Lucas, played by Italian actor George Eastman, who went on to write and star in a vast amount of work including Joe D'Amato directed horror films Anthropophagus and Absurd (aka Horrible).
The Arrow Video release of Django, Prepare A Coffin on DVD was early 2013, and now, a few months down the line, we are treated to a high-definition Blu-Ray version, complete with an interview with Spaghetti_Western exper Kevin Grant (Django Explained), the original theatrical trailer, a collector's booklet and new reversible artwork. The Blu-Ray also comes with optional English and Italian audio tracks. I'm unsure of the original release, but the English track seem to sync better than the Italian, though the English audio track seems to have been re-dubbed in the studio as the fit isn't perfect.
I can see why Arrow decided to release Django, Prepare A Coffin. It's definitely a cult classic, with a tremendous story and solid action that will thrill lovers of film regardless of age and preferred genre. Whilst it may not reach the heights of Sergio Leone's trilogy, it certainly has its own charisma and style that will win over the audience. A true gem of a film.
Rating: