Runaway Train (1985)
Directed by: Andrey Konchalovskiy
Written by: Akira Kurosawa, Djordje Milicevic, Edward Bunker, Hideo Oguni, Paul Zindel, Ryûzô Kikushima
Starring: Danny Trejo, Eric Roberts, John P. Ryan, Jon Voight, Kyle T. Heffner, Rebecca De Mornay

RUNAWAY TRAIN (1985)
Directed by Andrey Konchalovskiy
Convict Oscar 'Manny' Manheim (Jon Voight) spies his opportunity and breaks out of Stonehaven Maximum Security Prison in Alaska with fellow inmate, Buck McGeehy (Eric Roberts). Making their way through the harsh, icy climate, Manny and Buck finally reach a train station yard, and after a change of clothes, manage to board one of the trains in a bid to return to the city – which one, it doesn't matter. Unbeknownst to them, the engineer of the train has collapsed and fallen off the locomotive, and with nobody at the helm, the gigantic vehicle quickly gains speed and damages its brakes. It isn't long before the train authorities are notified of the runaway train and they must liase with patrolmen and engineers up and down the state to prevent this speeding behemoth from killing anyone in its path.
RUNAWAY TRAIN is what I'd like to refer to as a 'classic' – a movie that I could imagine my grandfather sitting down to watch and enjoying, where the men in the film are real tough guys and not the airbrushed, metrosexual leads that front some movies nowadays. An awe-inspiring Jon Voight leads the charge as the high-profile bank robber who'd been 'welded-shut' in solitary confinement for three years before being released into the ordinary prison cells with the other inmates. Adored by his fellow inmates and seen as a hero of the prison, Voight radiates a certain charisma as Manny, ruthless yet a likeable rogue who's aim is to successfully escape and get one over on vindictive and sadistic prison chief warden, Ranken. Southern country bumpkin, Buck, who's in prison for statutory rape, decides to help his criminal hero break free and asks to tag along. Reluctantly, Manny agrees but shows no concern for the young man who has to keep up with his idol. From here on in, the story turns from prison break drama to unstoppable, edge-of-your-seat catastrophe thriller, not unlike the 2010 film Unstoppable starring Denzel Washington and Chris Pine – though Runaway Train is infinitely better.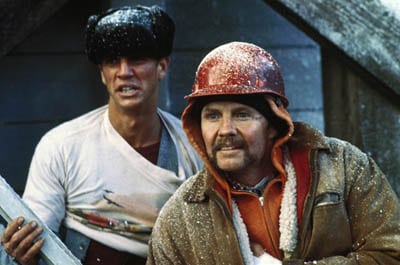 The performances given in RUNAWAY TRAIN are world class, with Jon Voight and Eric Roberts' giving their all as the criminal duo. Voight's best scene turns out to have relatively improvised, as revealed by Voight in one of the many interiews with the cast on this Arrow Video's release. Eric Roberts also explains in his interview how he made the decision to change his character Buck from a cocky New Yorker to a more innocent and naive Southerner, in a bid to make his character just a little more likable, which worked in his favour. One of the casting highlights was spotting a young Danny Trejo sparring against Eric Roberts in the prison boxing match. Trejo's debut performance came about after training Roberts how to box, after having been a champion boxer inside of prison.
Restored in glorious high definition for the Blu-Ray release, RUNAWAY TRAIN offers a solid punch of a movie that has all the thrills and tense scenes you can muster, without making the movie unbelievable. The two opposing personalities of Manny and Buck are a joy to watch and the added tension in the rail room helmed by Kyle T. Heffner is just an intense as the locomotive scenes themselves.
A mesmerising, action-packed classic, this is one jail-break movie you do not want to miss!
Rating: