Possession (1981)
Directed by: Andrzej Zulawski
Written by: Andrzej Zulawski
Starring: Isabelle Adjani, Margit Carstensen, Sam Neill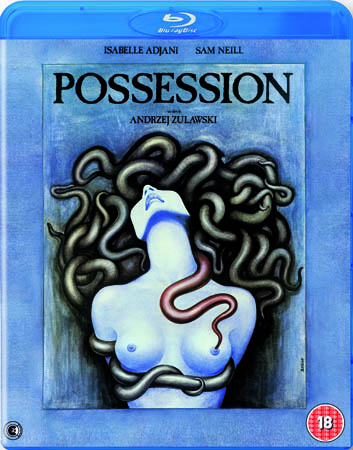 [youtube]https://www.youtube.com/watch?v=CTB15PPtMyA[/youtube]
Certification: 18
Running Time: 127 mins
Reviewer: David Gillespie – Official HCF Artist
It is fair to say that I am new to the art of reviewing feature films. The worst part of picking the bones of each and every project that arrives through the post box is the repetition and a lack of imagination that you witness after turning on the DVD player. I can stomach a flawed movie with a few inspired moments over an average, generic feature film any day of the week. What makes it all worthwhile is when you stumble across a gem; a film that has no obvious influences and stands on its own as a unique and timeless project.
Possession is an art-house drama/ horror from exiled Polish director Andrzej Zulawski that was financed by a French production studio and filmed in West Germany. Zulawski had just undergone a divorce before the shooting (similar to David Cronenberg pre The Brood) and brought more than a little of the angst and hurt to his script about the disintegration of a couple's relationship and sanity. The two leads would be a major factor in the success of the project. Isabelle Adjani had fallen on hard times due to her reputation of being unreasonable and awkward to work with. Sam Neill was a promising young actor who was on the early steps to stardom. Both of the thespians had one thing in common, they were cheap and the director had next to no budget. It is their performances, especially Adjana that would turn Possession from a good film into a great one.
Mark (Sam Neill) and Anna (Isabella Adjani) are a married couple who are experiencing massive difficulties in their relationship. Mark works for a top secret, governmental organisation and stays away from home for long periods. On his return he learns that his wife has been having an affair by a narcissistic and arrogant playboy called Heinrich (a hilarious Heinz Bennent). The two men square up but it is Mark who comes out worst when Heinrich uses his vast knowledge of martial arts to pummel him out of his apartment. When Anna disappears for a second time, Mark employs the services of a private investigator to track her down. Rather than find Heinrich or another man in her bed, the investigator finds something far worse.
Possession is a relentless assault on the viewer's senses. The unsettling score and unconventional filming techniques enhance the voyeuristic experience. A review twice the length of this one could be created to examine the many incredible shots and images that Zulawski squeezes into the two hours.  Within the opening moments of the movie, the two central characters are hurling abuse and disdain at each other. This never eases up until the final haunting image in the closing moments. Both lead actors throw everything into their roles. Within the first quarter of the running time, Neil's character has taken a violent tantrum in a posh restaurant resulting in a mental breakdown. It is uncomfortable and devastating to watch but utterly compelling. However it is the beautiful Adjana's performance that sticks in the memory. She plays a woman unable to cope with the fury and hurt that has built up inside of her. Unfortunately these feelings become impossible to suppress and during the story's most shocking and extraordinary sequence she freaks out in a railway station. It is one of those scenes that will leave your gobsmacked. Goodness knows what the Italian actress did to prepare herself mentally for that scene but it is completely terrifying.
There is little or no light relief or even black comedy throughout the story. The scenes are played completely straight. Only Anna's narcissistic lover, Heinrich create any form of amusement. When Mark arrives at his flat, the egotistical playboy has photographs of his toned body plastered throughout the rooms. Bennent nails the part to perfection.
The special effects co-ordinator, Carlos Rambaldi should be given great credit for his Lovecraft inspired, monster effects. If reports are true, he had almost no budget in which to design and construct the repugnant creature yet the results are incredible.  Rambaldi also worked with some of the great Italian horror masters including Bava and Argento. He was also called on-board by Steven Spielberg during the making of ET: The Extra Terrestrial.
Possession is an unmissable experience for anyone who has any remote interest in the motion picture as an art form. It is beautiful to look at but an ordeal to sit through, in a good way. Although it has elements of horror in the final quarter, to pidgeon-hole it within the horror genre would be a disservice to the content and the message that the director is trying to convey.
The fabulous Blu-ray version of this masterpiece is worth every penny and should be right at the top of your shopping list. The extras include: –
The Otherside of the Wall: The Making of Possession
Audio commentary with director Andrzej Zulawski
Audio commentary with co-writer Frederic Tuten
Andrzej Zulawski interview
Repossessed: The film's UK and US reception, the 'video nasties' furore and the US recut
A Divided City: The Berlin locations
The Sounds of Possession: Interview with composer Andrzej Korzynski
Our Friend in the West: Interview with legendary producer Christian Ferry
Basha: Featurette on the artist who created the famed poster for the film.
Theatrical Trailer
Subtitles for Hearing Impaired: English
Aspect Ratio: 1.66:1
Rating: