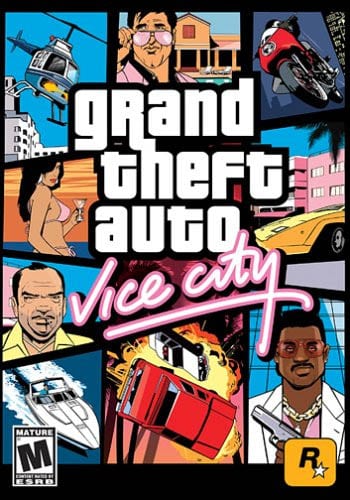 Ask many a GTA fan and 9 times out of 10, they'll say that Vice City is their favourite of the Grand Theft Auto series.
Arriving on the scene a year after GTA III, Vice City was released in 2002 and was an assault on the senses, with its energetic, neon portrayal of 1980's Miami.
The game's protagonist was gangster Tommy Vercetti, voiced by Hollywood actor, Ray Liotta, who was out for revenge after an organised drugs deal was ambushed. Tommy joined up with fellow criminal, Lance Vance (voiced by Miami Vice's Philip Michael Thomas), who was out to avenge his brother who was killed in the ambush.
Vice City took the gameplay from the washed out Liberty City setting and threw us into a nostalgia fest, full of bright lights, 80's synth pop tunes and storylines inspired by Brian de Palma's Scarface. Hawaiian shirts were all the rage, or in the case of Lance Vance, cream suits with contrasting purple shirts. The missions were as exciting as ever, and nothing topped driving through Vice City on the beach front at night with Billie Jean blaring out on the car stereo.
The characters in Vice City were larger than life and voiced by a string of famous actors and artists, such as Luis Guzman, Tom Sizemore, Dennis Hopper, Lee Majors, Blondie, Danny Trejo and Jenna Jameson, to mention just a few.
With GTA: Vice City, Rockstar allowed gamers to enter certain buildings which could be explored, such as the hotel, shopping mall and Malibu nightclub. Some commercial properties could be acquired during the game for saving purposes as well as a business venture to earn revenue. This aspect was quite an addition to the series, but was disappointingly dropped in the subsequent sequels.
Variety was the name of the game for Vice City, and the creators ensured that the gangs were varied enough to create recognisable rivals. The Cubans and the Haitians occupied Little Haiti and Little Havana, whilst the Vice City bikers controlled the Downtown area of the city, with our character Tommy Vercetti encountering them all during missions, forming allegiances and creating rivalries.
The missions were exciting, whilst others verging on the outrageous and hilarious, and it certainly brought a fun factor to the series that left everyone with a wide, cheeky grin on their face. From missions involving porn star Candy Suxx, to an epic mansion assault a la Scarface, Vice City was where it was at!
Juan says "How about going back to the 80's with GTA Vice City? Vice City took what was brilliant about GTA III and improved on it greatly. Now with it being set in the 80's, the decade with the best and worst taste in everything, there was no way this game was going to be anything but amazing. It perfectly captured everything what movies taught me the 80's was like, and on the surface you'd be forgiven for thinking it was just riffing on Brian De Palma's more gangster-y output. The Scarface and Carlito's Way references are there from the opening scenes. The missions took you from humble beginnings, to taking over a drug barons mansion (sound familiar?), and also taking on the adult movie industry. The countless references to the decade of decadence always raise a smile, and there is always something to do in Vice City. By now, the soundtrack was just as important a feature as the gameplay, and lucky for me, I love my electronic 80's music, which Vice City has in spades."
Bat says: "Vice City was my first 3D Grand Theft Auto, after having been a fan of GTA 2 on the PS1. The light and sounds of the 80's filled my soul and you couldn't help but have a blast driving and shooting your way around Vice City. My favourie memories of Vice City include selling drugs out of an ice-cream van in Little Havana and chainsawing some guy's head off at a golf course. Memorable and always a hoot to play, Vice City remains my favourite game of the series.