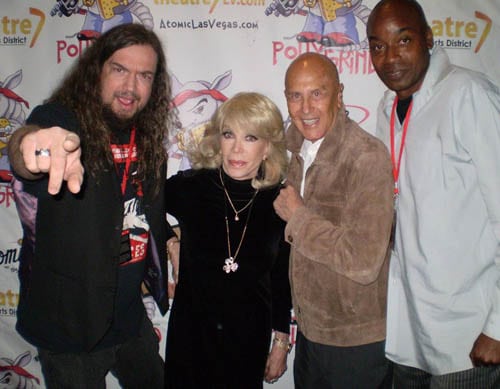 On Wednesday night, Pollygrind film festival in Las Vegas played host to the screening a new horror film, House of Forbidden Secrets, alongside a Q+A session with the director Todd Sheets and the film's stars, Dyanne Thorne and Howard Maurer (of the Ilsa series) and Antwoine Steele (pictured above).
Both Todd Sheets and Dyanne Thorne were presented with awards for being Filmmaker and Actress of a Different Breed, respectively.
In HOUSE OF FORBIDDEN SECRETS, Dyanne Thorne plays Madame Greta Gristina, presumably the woman in charge of the aforementioned house, whilst Howard Maurer stars as Klaus, Madame Greta's security.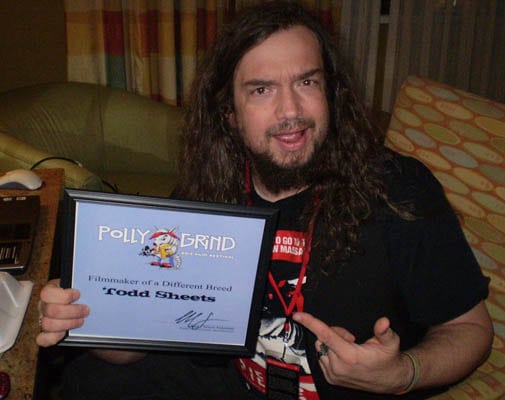 Jacob Hunt has had some very bad breaks in life. His wife left him, his friends have all abandoned him, and his children barely see him! Jacob has been given an amazing gift and the chance he needs to get back on his feet and start anew. Jacob has landed the job of overnight security officer at the old ShadowView Manor. It has now been turned into a commercial office and retail building. Jacob is about to learn nights around the old Manor contains many secrets. A dark past that is breaking through the boundaries of time, leaking into this dimension. As luck would have it, Jacob's first night on the job is the anniversary of a dark tragedy that has stained the building
Written and directed by Todd Sheets, HOUSE OF FORBIDDEN SECRETS also stars Antwoine Steele, Nicole Santorella, Michaela Paxton Tarbell, Troma's very own Lloyd Kaufman and Lew Temple from hit horror TV series, The Walking Dead.
For more info on the film, check out the official Facebook, and keep up to date with Dyanne Thorne and Howard Maurer on www.dyannethorne.com