Compliance (2012)
Directed by: Craig Zobel
Written by: Craig Zobel
Starring: Ann Dowd, Dreama Walker, Pat Healy

Compliance (2012)
(15) Running time: 90 minutes
Director: Craig Zobel
Writer: Craig Zobel
Cast: Dreama Walker, Ann Dowd, Pat Healy
Reviewed by: Matt Wavish
The opening of Craig Zobel's highly unsettling film, Compliance, promises that none of the events of this true story have been exaggerated in any way, and on completion of this film, that statement is very disturbing. Make no mistake, Compliance is not an easy watch, and is a film that will test your  morals, and will certainly make you think twice if you ever receive a phone call from the law.
The film plays out over one night in a fast food restaurant: manager Sandra (Dowd) is running a tight shift on a busy night. She has minimal staff working, yet the workforce are happy and everyone works together to get the job done, and prepare for the rush hour. A phone call from a man calling himself Officer Daniels (Healy) takes Sandra by surprise, and Daniels claims to have had a complaint from one of Sandra's customers. The complaint is that a blonde female member of staff has stolen some money from her purse, and the only blonde female working that shift is Becky (Walker). Telling Sandra he is extremely busy and understaffed himself, Officer Daniels asks for Sandra's help in the case of the stolen money.
Sandra is asked to play detective by calling Becky into the office and quizzing her of the alleged theft, checking her pockets and purse, and finally telling Officer Daniels she can find nothing. Torn between a duty to protect her staff and also to obey the law, Sandra is asked to further her support for the so-called police officer by taking Becky into a quiet room and strip searching her. This is just the tip of what turns out to be a horrific ordeal for both Becky and Sandra: Becky is subjected to more and more sexual assaults, while Sandra continues to obey Officer Daniels, afraid that she will get into trouble if she does not do as she is told. Other characters come into play, including staff members and Sandra's husband, all the while Officer Daniels calmly tells his guinea pigs what to do. The chilling thing (and this is not a spoiler) is that Daniels is not an officer of the law at all, and simply a sick, twisted individual who gets off on the fact people simply have to 'comply' with the law, and what he says.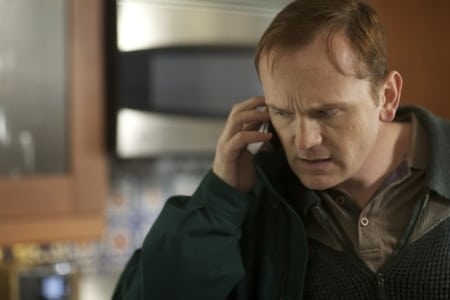 The other frightening evidence brought to this film is that while this story is extremely upsetting, it is not the only one of its kind, and we are told that this sick act of perversion has happened over seventy times in the US!
Compliance asks a lot of the viewer, and many will find this too hard to watch, but those who can sit through it will come away feeling exhausted and seriously affected. Zobel expertly crafts an edgy, dark and humourless drama focusing on an act of bullying so perverse, you will have to question if this really did happen. The sad fact is that it did, and all the actors produce strong performances to deliver the story "as it happened". There will be many times when you will be asking the question "why didn't they just say no", but then you will look at what you would do in such a situation, and the film brilliantly portrays how easily we can be manipulated if we feel a person of authority is in charge. The divide between bully and victim is powerful here, and makes the events all the more chilling. You feel many times that Sandra is allowing things to get out of hand, but with a busy restaurant  and under immense pressure, you can also argue that she is simply trying to do the right thing and get the whole charade over with. Walker delivers a powerful performance as Becky, and dazzles as the quiet victim, unable to do anything but accept her fate. Healy delivers a cold, chilling portrayal of Daniels, a man with everything planned out, always one step ahead, and with a clear mission to destroy people's lives for his own, twisted pleasure.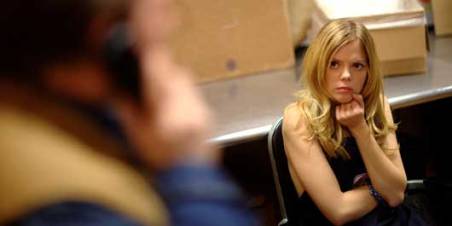 Hard to watch, even harder to understand, Compliance is gripping, challenging cinema that is guaranteed to raise a reaction from its audience. It is not a sugar coated, fluffy portrayal of a nasty incident, but more a real, frightening look at a true event that is beyond belief. A huge well done to all involved for delivering the story with authenticity and respect, and a massive well done to the director for not being sucked into taking things beyond what is acceptable to show what happened. He tells the story perfectly, and holds back on certain scenes to avoid the label of Compliance becoming exploitative, and instead simply lays down his story as a no frills, raw study of seriously fucked up behaviour. Hard to recommend, even harder to forget.
Rating: