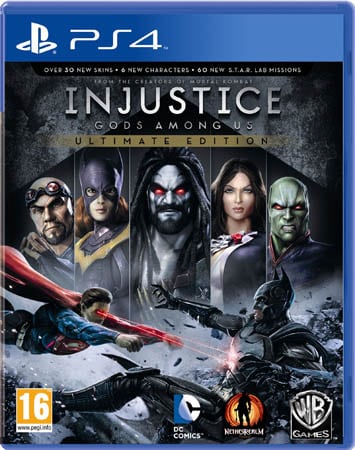 The new trailer for Injustice: Gods Among Us Ultimate Edition has now been released.
Developed by award-winning NetherRealm Studios, Injustice: Gods Among Us Ultimate Edition marks the debut of the best-selling fighting game franchise on the PlayStation®4 computer entertainment system, PlayStation®Vita handheld entertainment system and Windows PC, and also brings this content rich version to the Xbox 360 games and entertainment system from Microsoft and PlayStation®3 computer entertainment system.
Injustice: Gods Among Us Ultimate Edition will include all original game content as well as all downloadable content (DLC). Valued at more than £79, the game will be available at a suggested retail price of £49.99 for PS4™ system, PS3™ system and Xbox 360 £29.99 for Windows PC and £29.99 for PS®Vita.
The DLC included in Injustice: Gods Among Us Ultimate Edition, includes fan favorites Lobo, Batgirl, General Zod, Martian Manhunter, Zatanna, as well as Scorpion, a character from the Mortal Kombat world, as reimagined by Jim Lee, Co-Publisher at DC Entertainment. In addition, more than 40 extra character skins and 60 S.T.A.R. Labs Missions, originally offered as DLC, are now available from the start of the game. Also packaged with the Americas version of the game will be its music soundtrack featuring an exclusive track from Jane's Addiction titled "Another Soulmate" and 11 songs from popular artists ranging from Depeche Mode to AWOLNATION.