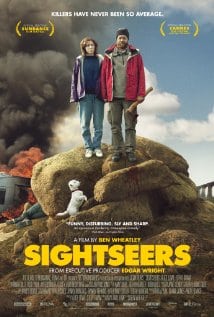 20- Sightseers: Director Ben Wheatley
Kill List director Ben Wheatley proved he was a masterful director by delivering the excellent A Field in England, and his dark comedy Sightseers. A Field in England just missed out on making my list, but Sightseers was a thoroughly more enjoyable film. A couple in love travelling around Britain's caravan parks may not be the most exciting premise, but Wheatley crafted a delicious dark comedy about finding yourselves, finding love and also finding ways of dealing with litter bugs and complaining locals. Violent, hilarious and sometimes rather disturbing, Sightseers was highly original, and frighteningly thought provoking.
19- The World's End: Director Edgar Wright
The finale of Edgar Wright's Cornetto Trilogy, which consisted of Shaun of the Dead, Hot Fuzz and then arguably the best of the trilogy, The World's End, was a perfect finish to a great series. Here Simon Pegg acted his socks off as a man desperate to re-live his youth, and brings all his old friends back together for one last pub crawl. The issue at hand is their old stomping ground has been taken over by aliens. Cue some brilliant writing, some rib cracking comedy, and a wonderful cast delivering some great performances. The World's End was charming, funny, emotional and outrageous, and often all in one go. Superb stuff.
18- The Hunt: Director Thomas Vinterberg
Mads Mikkelsen delivered the performance of his career in this harsh, unsettling drama about a school teacher wrongly accused of abusing his best friends daughter. Once respected, now an outcast, the ferocity of which the local town turn on the teacher is frightening, and sends a strong message as to how easily a situation can spiral out of control. Brave, bold and incredible filmmaking.
17- Antiviral: Director Brandon Cronenberg
Following in his Father's footsteps, Brandon Cronenberg burst on to the scene with Antiviral, a highly original, incredibly disturbing look a celebrity obsession. Caleb Landry Jones is superb as a sinister employee of a company which sells celebrity diseases. Naturally, being a Cronenberg film, things escalate and get weirder and weirder. Sex, violence and body horror are all present and correct as Cronenberg Junior proves to Cronenberg Senior he can do weird just as good, and an interesting career lies ahead.
16- Mud: Director Jeff Nichols
Matthew McConaughey continues to prove time and again that he is one of the best actors in the business, and here he plays a man who calls himself Mud. Found living on a quiet beach by two young boys, it turns out that Mud could well be quite a dangerous man, and he certainly has a worrying obsession with Reese Witherspoon's Juniper. This is heavy, thrilling and utterly engaging drama with a dark story that never becomes predictable. Top notch performances from all involved, and a real care and attention to detail make Mud one of the years most fascinating films.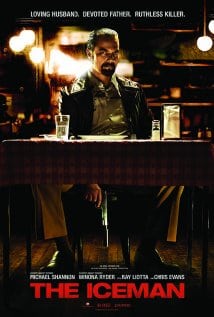 15- The Iceman: Director Ariel Vromen
Michael Shannon's big film this year was Man of Steel, but his best performance was as Mob hitman Richard Kuklinski, AKA The Iceman. Based on real events, The Iceman relied on Shannon's monstrous and very frightening performance of a hired killer who really was as cold as ice. At home a quiet, caring family man, but when on the job no one could kill better. As with all these types of films, Kuklinski is asked to do a job which see's a witness survive, and he becomes the target of the mob. Edge of your seat stuff, with some really excellent performances, this was Shannon's show, and he absolutely nailed it.
14- The Place Beyond the Pines: Director Derek Cianfrance
2013 has delivered some real quality dramas, and The Place Beyond the Pines was one of the best. Teaming once again after Blue Valentine were director Derek Cianfrance and star Ryan Gosling. In the film, Gosling played a heavily tattooed stunt driver who turns to robbing banks to provide for his family. Split into two parts, Bradley Cooper turned in an equally special performance as a local cop desperate to do something good while surrounded by police corruption. Powerful stuff, and told over fifteen years, The Place Beyond the Pines offered up all sorts of surprises and emotional drama that was hard hitting, upsetting and at times incredibly uplifting. At two and a half hours long, this was one of those films you simply did not want to end.
13- Trance: Director Danny Boyle
After conquering the world with his exceptional show for the London 2012 Olympics, Danny Boyle would be forgiven for not reaching the heights of his usual masterpieces. However, somehow among all the Olympics madness, he managed to churn out a remarkable heist thriller with a difference. Boyle has tried his hand at pretty much every genre, and mastered each one, and he did the same here as a group of painting thieves attempt to extract the memories in James McAvoy's head. Confusing, clever, and a total head fuck of a movie, Trance may have been too hard to swallow for some, but Boyle  crafted the twisty turny spectacle with his usual epic style, panache and once again gave us a truly excellent soundtrack. Cool stuff.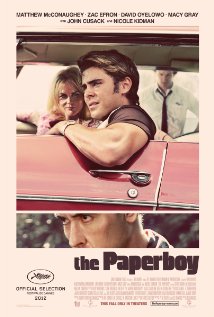 12- The Paperboy: Director Lee Daniels
The controversial film, The Paperboy, saw Zac Effron helping out Matthew McConaughey's investigation into a death row inmate. However, things get complicated when Effron falls for the inmates (John Cusack) pen pal girlfriend. Filled with some superb authentic music, a real feel for the setting (you can feel the heat and smell the sweat) and a cast all delivering some unforgettable characters. Nicole Kidman sizzles as the love interest, Cusack is utterly disgusting as the killer on death row, and Effron and McConaughey shine as the two brothers who are investigative reporters. Racial tensions are thrown into the mix of sex, violence and Kidman pissing on Effron to cure a jellyfish sting. An unforgettable, and at times highly disturbing movie experience.
11- Stoker: Director Park Chan-wook
Korean director Park Chan-wook made the switch to directing his first English language film in fine style. Stoker was a haunting, challenging and mesmerising study of a family grieving the death of a Father. Mia Wasikowska totally convinces as the troubled daughter India, while Nicole Kidman is cold and sinister as the Mother, and Matthew Goode as Uncle Charlie, who moves in after the death, is rather unsettling. A highly disturbed family, a high quality film, and one which plays the viewer like a fool, and delivers a fantastic finish. Arty to the extreme, this is classic dark thriller territory, and also proved that Park Chan-wook has no issue with language barriers, and this cements him as one of Korea's finest, and best directors.
10- Star Trek Into Darkness: Director JJ Abrams
After winning over Star Trek fans the world over, JJ Abrams returned for a second stab at directing Star Trek, and the results were superb. Using the usual Abrams secrecy technique, the films villain was never revealed until release, but fans already had a good idea who it was. This then lead to comparisons with another Star Trek film, and some switches in Abrams' version displeased some Trekkies. Personally, I thought the film was thrilling from start to finish, and the relentless pace, jaw-dropping action, levels of menace and some expertly written lighthearted comedy all worked wonders to deliver a real crowd pleasing blockbuster. Kirk and (especially)Spock  really thrived here, and Benedict Cumberbatch's villain was all kinds of awesomeness. It's a real shame Abrams won't be back to direct the third Star Trek movie, but on the evidence of his first two Star Trek films, Star Wars is in very good hands.
9- Elysium: Director Neill Blomkamp
After giving the world the astonishing District 9, everyone was watching very carefully what genius director Neill Blomkamp was going to come up with next. While Elysium didn't receive the critical success of District 9, I still believe that the Matt Damon starring film was one of the best sci-fi films of the year. Blomkamp continued with his overview on class struggles which was apparent in District 9, but here he upped his game with a bigger, faster and more action packed film. Damon played a former thief and now honest worker who dreams, like everyone else living in poverty, of living on Elysium, the rich people's floating world which hovers over the desolated Earth. He gets his ticket by way of some dodgy dealings and a mech suit that will allow him to bring down the system. The story never gets all that complicated, and instead Blomkamp opts to dazzle us with frantic action, astonishing special effects and a cool new villain by the name of Kruger (a brutal Sharlto Copley). Big ideas, a massive spectacle and some highly intelligent sci-fi are all on offer here, as Blomkamp proves District 9 was in no way a fluke.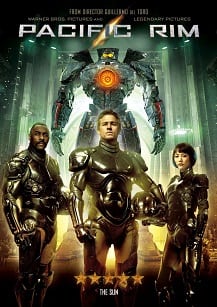 8- Pacific Rim: Director Guillermo del Toro
Go big or go extinct was the slogan to Guillermo del Toro's fanboy geekfest, and boy did he go big! Pacific Rim promised giant robots fighting giant monsters, and it delivered exactly what was said on the tin. Some have complained that the film did not go deep enough, and that it was a little too simple, but I say nonsense! Pacific Rim was all about having fun, and joining in as Del Toro got to act like a kid on Christmas day as he was given the massive budget to pull off his dream project. His cast were right behind him, delivering often cheesy lines to great effect, and Idris Elba's "we are cancelling the apocalypse" speech became the stuff of legend. Del Toro regular Ron Perlman turned up in a small, but brilliant role, and the special effects themselves were out of this world. A total blast from start to finish, and one of those rare films that benefits from 3D.
7- The Hunger Games: Catching Fire: Director Francis Lawrence
The stakes were raised in the sequel to one of last years biggest films, Katniss (Jennifer Lawrence) and Peeta (Josh Hutcherson) took part in their Victory Tour, and became poster kids for the rebellion. Forced into even more dangerous Hunger Games involving previous winners, the level of menace was higher, as was the danger, and director Francis Lawrence did away with the shaky cam and delivered a near perfect film of incredible power and passion. The film never once dragged, and felt epic from the beginning. All the regulars were back, and emotions ran higher while some seriously nasty brutality was dished out by President Snow (Donald Sutherland). No one was sure whether Gary Ross' original could be topped, but Lawrence achieved a stronger, better film that has made Mockinjay Parts 1 & 2 two of my most anticipated films.
6- Prisoners: Director Denis Villeneuve
Prisoners came about with some seriously strong marketing, and some very encouraging early word of mouth. The eventual film did not disappoint, and was actually so much better than I ever imagined it would be. For three hours, the story of two families kids being abducted, and the lengths one of the Fathers (Hugh Jackman) would go to to find his little girl, I was on the edge of my seat. Prisoners made you question right and wrong, morals and what you would do if you were put in such a traumatic and horrible situation. At times you side with Jackman's desperate Father, at others you agree with his calmer best friend (Terrence Howard). All the while Jake Gyllenhaal's almost sinister detective is trying to solve the case, and not make it the first case he has lost. The cast are exceptional, and Gyllenhaal's heavily tattooed detective is one of the standout performances of the year. However, none of this would have worked without the incredibly tight and masterful script, and some serious directing talent by Denis Villeneuve. He conjures up a cold, harsh atmosphere of real dread, and carefully directs his cast to get everything out of them. In the wrong hands, Prisoners could have been a rehash of similar films, but in Villeneuve's hands, this has become one of the finest thrillers ever made.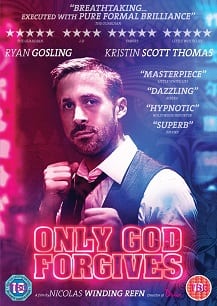 5- Only God Forgives: Director Nicolas Winding Refn
The teaming once again of director Nicolas Winding Refn, and star Ryan Gosling had fans expecting Drive 2. Instead we got a mixture of Drive and Refn's other classic, Valhalla Rising. Very little dialogue, Only God Forgives and its tale of a vicious Mothers revenge for her murdered son, was all about style, visuals, violence and music. Refn delivered everything we hoped for, and while the film did not win the critical and commercial acclaim as Drive, those who did appreciate the film truly loved it. It split audiences at Cannes, and the violence was too much for some to handle, but you cannot deny Refn has a unique, visionary style not often seen in today's movies. Only God Forgives was almost dreamlike, like a bad trip, it gets inside your head and hypnotises you until it delivers one shocking scene of violence after another. Gosling was cold, calculated and brilliant, Kristen Scott Thomas was vile (but superb), but it was newcomer Vithaya Pansingarm who stole the show as the brutal cop who barely mutters a word, and is all the more scary for his silence.
4- Zero Dark Thirty: Director Kathryn Bigelow
After winning awards galore with the stunning The Hurt Locker, Kathryn Bigelow returned to the war theme with a highly informative look at the hunt for Osama Bin Laden. Once again Bigelow directed with stunning precision, and spent months gathering information to ensure she got her facts right. Initially the film was not intended to be how the finished product was, but during writing the film, Bin Laden was shot and killed, and so Bigelow and her writing crew had to re-write the film to what we eventually saw. Again she put together a technically incredible cast, with Jessica Chastain delivering a powerful, passionate and devastating performance. Having seen a documentary about the eventual raid on Bin Laden's hideout, it was clear watching this that Bigelow really did her homework to deliver one of the most tense finales of the year. Exceptional filmmaking.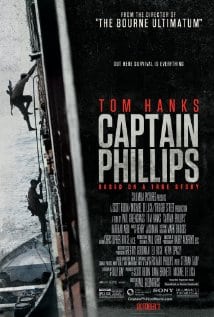 3- Captain Phillips: Director Paul Greengrass
Master filmmaker Paul Greengrass took on the breathtaking and very frightening story of Captain Richard Phillips, and in a stroke of genius, cast the always brilliant Tom Hanks as the hero. The story saw Captain Phillips' ship boarded by Somali pirates, but nothing could prepare you for just how tense this film would get. Add to this some incredible acting by the guys playing the pirates (keep in my they had never acted before), and Greengrass delivered a film with tension you could literally chew on. It would be an insult to Hanks if he did not get a Best Actor Oscar nomination, as he brought real depth to his character, and I defy anyone not to choke up during 'that' ending. Greengrass' intelligent shaky cam, as ever, really added to the films intensity, and a tribal sounding soundtrack added to the thrill. A serious story, some serious acting and a seriously good director delivered one of the years biggest surprise hits.
2- Django Unchained: Director Quentin Tarantino
After taking a career slide with Death Proof, Quentin Tarantino has been on fire. First the magnificent Inglorious Basterds, and then came this, Django Unchained, and Tarantino's best film since Pulp Fiction. Braving the Wild West, and the controversial subject matter of slavery, Tarantino was brave in his story choice, and delivered it with respect, and the usual Tarantino-isms. Jamie Foxx was excellent as Django, a slave set free and now hunting down those who have hurt him and his wife, but again it was Christoph Waltz who stole the show as Dr King Schultz, a German bounty hunter who frees Django, and then joins forces with him. Leonardo DiCaprio was clearly having the time of his life as the chief villain Calvin Candie, and the highly controversial film became Tarantino's most successful film since Pulp Fiction. People were raving about a genius director like Tarantino really finding his voice again, and while dealing with difficult and very serious subjects, Tarantino made Django incredibly cool, and a whole lot of fun. This was Tarantino's wild west, and you will have never seen a wild west quite like it. "I like the way you die boy!"
1-      Gravity: Director Alfonso Cuaron
What else was it going to be at number one? Gravity saw Alfonso Cuaron, the director of Harry Potter & the Prisoner of Azkaban (arguably the best Potter film) and the astonishing Children of Men, come along and change filmmaking forever. James Cameron gave 3D a massive boost with Avatar, but even he was floored by the brilliance, the genius, the precision on offer by Cuaron. I have never demanded seeing a film in 3D, but to see Gravity in 2D would be an insult to the directors time and effort (seven years in the making) and would seriously spoil your enjoyment. Sandra Bullock was amazing as rookie astronaut Dr Ryan Stone, and George Clooney the voice of comfort as long serving space walker Matt Kowalski. When their space station is hit by debris flying at 200mph, disaster strikes, and a battle for survival, reflection and re-birth follows. Gravity went deep, very deep into life and our existence, but it was the technical wizardry that blew people away, and had people returning to cinemas time and again to catch the spectacle. Everything was exactly where Cuaron wanted, and nothing was left to chance. Cuaran directed with the precision of a surgeons blade, and for the first time in movie history, it really did feel like you were in space. The edge of your seat was all that was needed as Cuaron, and indeed Bullock, worked their magic and delivered performances, special effects, ear drum destroying sounds, and some of the most impressive camera shots ever filmed. If you haven't seen it, and want to appreciate just how impressive this film is, then simply watch the near impossible opening fifteen minutes for proof that Cuaron is in a league all on his own.