Kiss of the Damned (2012)
Directed by: Xan Cassavetes
Written by: Xan Cassavetes
Starring: Joséphine de La Baume, Milo Ventimiglia, Roxane Mesquida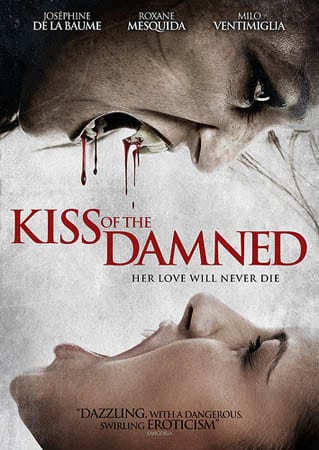 KISS OF THE DAMNED (2012)
Written and directed by Xan Cassavetes
Screened at Grimmfest 2013
Unable to resist the advances of handsome stranger Paulo (Ventimiglia), vampire Djuna (de La Baume) succumbs and engages in a wonderful love affair, ultimately turning Paolo as he so wilfully requests so they may be together forever. Djuna and Paolo look to a happy future together but the loved up couple's world soon comes crashing down with the arrival of Djuna's trouble-making sister, Mimi (Mesquida), who's hellbent on ruining her sister's life and the vampire community around her.
Sexy, stylish and utterly emotional, Kiss of the Damned took the audience in its warm, passionate embrace right from the very start. As soon as the two main characters exchanged glances, we knew the chemistry would be electric, and we weren't wrong! This is a vampire love story we can believe in. Erotic, sensual and everything you need it to be. No sparkly, sulky boybandish tweens here. Just adults oozing pure emotion and realism.
After Djuna turns Paulo from mortal to vampire, she teaches him everything she knows, as well as introducing him to the wider vampire community. None of them drink the blood of humans. Instead, they feed on the flesh of animals and have even found a substitute for blood that tastes just like the real thing but is totally humane – like Quorn is for vegetarians. Even head vampire Xenia has been clean from human blood for a long time but like any other addict, even she can fall off the wagon should temptation comes her way. Unfortunately for Djuna, the unexpected appearance of her sister Mimi threatens her newly blossomed love and the vampire species itself, as Mimi carelessly wanders around the city, preying on young men so she can get her tongue around some mortal blood.
The cast are fantastic, from brooding Heroes star Milo Ventimiglia to the sultry Joséphine de La Baume as Paulo and Djuna respectively. There's so much sex appeal going on in this film, it's a wonder it didn't melt the screen. What is created though by director Xan Cassavettes is a passionate tale that oozes true emotion in every sense of the word. When shit hits the fan, it hits hard and not one person is left unscathed by it. When the passion flows, it glows and you can really feel the heat between the characters. It's such a beautiful film to watch, with its slick cinematography, authentic sets, emotional storyline and desirable cast. There's never a dull moment, with each scene depicting how easy a happy, perfect life can come crashing down, especially if someone is determined to destroy it.
So, if you're sick of the likes of Twilight and are aching for that authentic vampire tale on screen, then make sure to check out Kiss of the Damned. Captivating, atmospheric, tragic and amorous, this is the vampire film we've been needing for a very long time!
Rating: