You're Next (2011)
Directed by: Adam Wingard
Written by: Simon Barrett
Starring: AJ Bowen, Amy Seimetz, Joe Swanberg, Margaret Laney, Nicholas Tucci, Sharni Vinson, Ti West, Wendy Glenn

You're Next (2013)
(18) Running time: 95 minutes
Director: Adam Wingard
Writer: Simon Barrett
Cast: Sharni Vinson, Joe Swanberg, AJ Bowen, Ti West, Wendy Glenn, Nicholas Tucci, Margaret Laney, Amy Seimetz
Reviewed by: Matt Wavish
Adam Wingard and Simon Barrett should need no introduction to the indie horror crowd: with A Horrible Way to Die, a segment for both VHS & VHS/2 and a brilliantly witty short for The ABC's of Death, director Wingard and writer Barrett are a force to be reckoned with in todays horror world. However, to the more mainstream horror audience, they might not be all that well known yet, but all that is about to change. Shockingly, You're Next has been sat on the shelves for quite some time, but now Lionsgate are giving the film that much hyped release it so deserves. Critics are hailing You're Next as a masterpiece, and one of the finest horror films in years, and for good reason, because it is.
After the dark, moody and intensely serious serial killer flick A Horrible Way To Die, Wingard lightens the tone, sort of, to deliver a real crowd pleaser of a horror that leaves films like Scream only dreaming of being this good. The idea of an attack on a family in a massive country manor is nothing new, but Wingard injects some serious fun with inch perfect levels of menace to create a horror that is one minute laugh out loud hilarious, the next shockingly violent and very very frightening. Wingard's writing partner Barrett delivers a script that is so beyond anything else you will have witnessed in horror in ages: fresh, fast, funny and incredibly sharp, Barretts script delivers one moment of utter genius after another, and the combination of director and writer make You're Next flow so well that you simply go along with it and never once think about the running time, never once get bored and, if anything, you are left wanting more. While the film perfectly wraps up and uses the time it has with you to the absolute best of its abilities, it is films like this that cry out for repeat viewings ASAP. Yes, You're Next is THAT good.
A family get together for the parents 35th wedding anniversary see's brothers Crispian (Bowen), Drake (Swanberg), Felix (Tucci) and sister Kelly (Laney) see each other for the first time in years, and each show off their new partner too. There are hilarious brother bickering moments, Monty Python type facial expressions of disgust or anger, and a general sense of a close but slightly dysfunctional family. The climax of the get-together superbly comes together with a hilarious family portrait sat on the shelf: proud Mother and Father sat in front of their kids putting on their best 'posh' faces, and it is this photo that confirms Wingard's sense of playfulness for the proceedings. He is here to give you a good fright, but to keep tongue firmly in cheek to make that ride the most fun you will have being scared since last year's Insidious. The comedy comes thick and fast as all the family members finally meet up: ego's are tested, partners are looked at with judgemental eyes, and Mum and Dad are just happy everyone is together, but things turn nasty, and pretty quick too.
Before the brutal stuff begins, You're Next brilliantly blends comedy with tension as the script is delivered with perfect comedic timing. Wingard captures just the right amount of facial expressions and times his length of comedy inch perfect, all the while building tension out of nothing. He toys with our expectations and conjures fear pretty much out of air! A simple task like opening a bloody fridge becomes terrifying because Wingard simply knows exactly how to play his audience, and he plays well.
On the first night together, everyone sits down for a big family meal and everyone is properly introduced. Ti West gets his brief but brilliant moment to shine as he is introduced as a documentary filmmaker. Talk of how commercials are better than documentaries and a building argument as Drake simply doesn't 'get it', lead to perfectly written and expertly timed laughter, just as the nasty stuff kicks in. Wingard and Barrett's sense of humour ground the film and almost have the viewer at ease, then all of a sudden Tariq (West) is shot through the eye with an arrow, and it all kicks off as masked men terrorise the family from outside in the dark. The film quickly turns from dark comedy to sinister survival of the fittest as the family attempt to live through the night. This is where Erin (Vinson) stands up and becomes this decades horror chick to beat. Tough, ruthless and precise, Erin plays the attackers at their own game as You're Next rises to levels of extreme horror that simply have to be seen to be believed.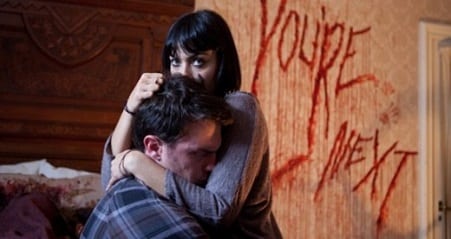 The film delivers one big surprise after another and never loses its way: Wingard and Barrett know EXACTLY what they are doing, and they know EXACTLY how to deliver their film for maximum effect. Twists and unexpected turns are delivered with ease, and you will enjoy this knowing that the filmmakers have not only 100% confidence in what they are doing, but total respect for the horror genre. Violence is delivered, but in a way that is both expected but also shocking that the film actually went that far. People are killed off with a total disregard for rules, and You're Next becomes so exciting, and so unpredictable that you really will have no idea who's next! Wingard and Barrett toy with us, they use clichés and fans expectations and then completely change things. A running joke come the end which uses a trap on a door is the perfect example of how much respect there is here for the genre, and how much the filmmakers are willing to push those genre rules for the simple task of having some fun. The Frightfest audience cheered and clapped more times than I could count in this film, which was a clear sign that Wingard and Barrett have done well.
The attackers with their terrific animal masks are a brilliant creation, and these monsters attacking this family we have quickly made friends with makes You're Next an extremely powerful film. The violence is at times hard to watch, but the film never loses its grip on keeping it fun. Yes we know we should be shocked, repulsed and uncomfortable, but you'll be having too much fun to care. As Erin turns the tides and comes up with her own version of justice, the film becomes something far better than you will have expected, even from the positive word of mouth. I knew this was gonna be good, but not THIS good! You're Next is absolutely perfect and I don't think it could actually get any better than this.
We have a script delivering fresh brilliance like: "we heard a noise so we stayed upstairs", and we have violence which throw in creative kills like using a blender. We have stunning sounds and a score that mixes old school 80's horror touches with up to date chills. We have director and writer working in perfect unison with each other, and you get a horror film that is so ahead of the pack, so inventive, creative, fresh and fucking genius that you will honestly not see anything better than this all year, maybe all decade. You're Next is fresh, savage, ambitious and simply put: the most fun horror film you will have seen in years. Wingard and Barrett: remember those names, they are the new Kings of horror, and they have delivered a horror that all others will now have to try and compete with. Stunning, absolutely stunning!
Rating: