Bangkok Assassins (2011)
Directed by: Yuthlert Sippapak
Written by: Yuthlert Sippapak
Starring: Arak Amornsupasiri, Athikit Pringprom, Jarinya Sirimongkolsakul, Mario Maurer, Visava Thaiyanont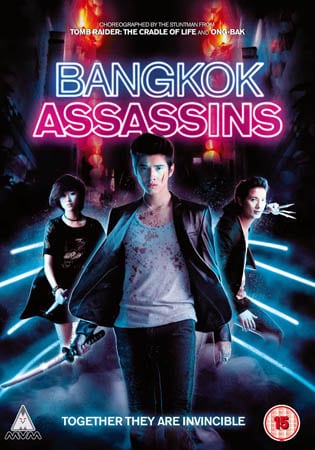 BANGKOK ASSASSINS (2011)
Written and directed by Yuthlert Sippapak
Thai and English language
English subtitles
A group of young children are kidnapped from the streets of Bangkok, held as prisoners against their will and made to beg on the street to earn money for their captors. After making a bid to escape, the children are severely and brutally punished, each being subjected to torturous physical harm leaving one boy blind, one mute, one deaf and one brain damaged. Thankfully, a shaolin master with his young daughter, comes to their aid and rescues the young boys from their evil captors and takes them back to his home where they live and learn his powerful martial arts skills.
Fast forward and the boys have grown up to be fine young men who refuse to let their disabilities get in the way of seeking justice against the men who robbed them of their childhoods, families and happiness. When their kind Master is murdered by a rival Alliance, they must seek revenge to protect one another at all costs.
BANGKOK ASSASSINS is a fun-filled, action-laden drama which is definitely aimed at the teen audience, even if some of the opening scenes are a little hard to handle. The movie is very easy to watch and is vastly enjoyable even if the plot is a little lost after the strong opener. There's a splash of humour amid the quest for revenge, particularly from the character of Gorya, the daughter of the Shaolin master, who longs to have a singing career but can't hold a tune and has more skill levitating than she'll ever have on stage dancing or rapping. There's also a romance plot woven throughout, as Gorya lusts for her adopted sibling Pong, who's been away for 3 years without contact with her or her adopted siblings.
The martial arts action in this movie is pretty limited, with more focus on magic stone levitating and throwing skills and thrusting energy balls to knock others off their feet. However, the movie does incorporate a little bit of wing chun in close combat as well as chopstick throwing, just in case your enemies are at a distance.
The most shocking scenes of the movie are the opening ones involving a group of men hitting, punching, skewering a child's eyes out and cutting out the tongue of a young boy. If director Yuthlert Sippapak wanted to show how serious these bad guys are, he did a very good job at making the viewer sit up and listen right from the very start. I'm just a bit disappointed that the boys didn't get their own back in a more kick-ass sort of way in which the likes of Tony Jaa would have done.
Whilst a somewhat enjoyable 104 minutes, the plot of BANGKOK ASSASSINS is a bit too laid back and lulls during the middle, especially when Gorya is trying to work out who out of Pong, Ga and Na gave her the box of marbles she holds so dear. Even the threat of an English baddie (yes, that ol' chestnut!) and his acrobatic ninja 'monkey' masked henchmen never really rack up the tension enough to really engage the viewer.
Sweet, energetic and a tad amusing,  BANGKOK ASSASSINS is more of a one-watch teen action romp than a martial arts classic.
Rating: