Cosplayers UK The Movie (2011)
Directed by: Ed Hartwell, Johnnie Oddball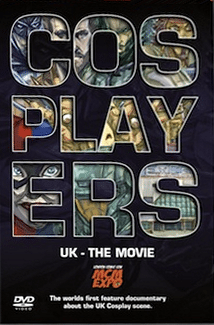 As someone who has attended their fair share of conventions and expo's, I'm not exactly green around the gills when it comes to Cosplay. Cosplay is the ancient Japanese art of fancy dress, and it has been growing in popularity over the years on these shores. Cosplayers UK is an insight into a select few participants over the weekend of MCM Expo in London 2011 (an event HCF have frequented a few times over the years in other areas of the UK). That particular expo, as well as having a cosplay competition, created a winner that would go through to the European Cosplay finals representing the UK (it's a thing!).
It's an interesting insight into an ever growing past time. Having experienced several comic cons and gaming expos over the years, cosplay is always a significant proportion of these events and as a spectator it's always fun to see the different costumes, regardless of whether or not you've seen or heard of them before. Although the more obscure the better, it would seem. One of the participants seems to think that, and dresses up as a cross between some obscure Japanese videogame characters and fast food chain mascots. Both being quite big in Japan, apparently, although whether it impresses the judges in East London, is another thing.
Some of the documentaries participants wouldn't seem out of place in a mockumentary, seemingly living up to the typical nerd stereotype. Not a bad thing, as these people are rather talented when it comes to getting their costumes together. The time and effort that they put in to them is staggering, and the end result in most cases is impressive, with one participants Dark Crystal based costume looking like it was taken straight from the set of the film. Throughout the film, there are several montages of the costumes on display, as well as highlights from the main event, which over all, is pretty impressive. The more obscure costumes, although they would get an A for effort, just seem wasted, as the crowd seem to respond better to the more popular dress.
The film does offer some an unbiased look into the growing trend, and the participants are more than willing to open up about their love for cosplay, and the majority of it is interesting to watch, but there are some sections that feel over long and unnecessary, particularly some of the main event footage. Intriguing, if a little padded, and it might have been better if it followed some of the people as they got their costumes ready, as opposed to interviewing them at the main event.
Rating: