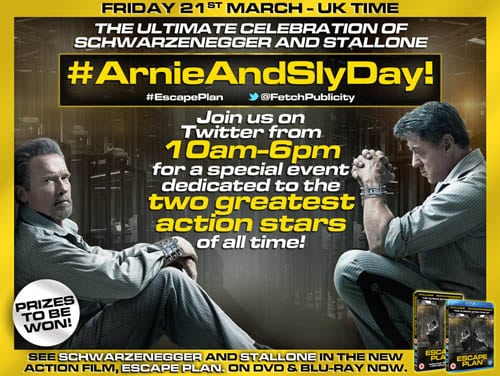 To celebrate the DVD and Blu-ray release of the new Arnold Schwarzenegger and Sylvester Stallone movie, Escape Plan, there's going to be a very special all-day event on Twitter this Friday (21st March)!
We'll be discussing Rambo, Terminator, Rocky, Commando, Cliffhanger, Last Action Hero, Cobra, Total Recall…. the list just goes on!
Kicking off at 10am and continuing throughout the day until 6pm, come and join in with all the action movie chatter using the hashtag #ArnieAndSlyDay.
Prizes will be up for grabs throughout as we all celebrate the two greatest action stars of all times.
Fetch will also be hosting a contest to find out what the greatest Schwarzenegger or Stallone movie is!
So, wrap a tie around your head, load your guns with unlimited ammo, scream out those one-liners and join us for #ArnieAndSlyDay, Friday!