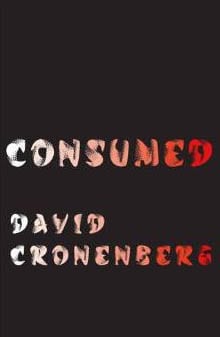 David Cronenberg is finally unleashing into the world Consumed, a dark, visceral piece of fiction sure to shock, unsettle and remind you why he's the king of the body horror genre.
Consumed is exactly what fans of Cronenberg's films would expect from his first novel: hypnotic, darkly comic, with vividly drawn characters moving through a landscape that at first seems alien, only to become frighteningly familiar. It is dark yet mischievously humorous; recognisable yet disturbingly uncanny. There is an interest in – and fetishisation of – technology, and the way we interface with the world; there is an undercurrent of perverse sexuality. In it, the imaginative brilliance of J.G. Ballard is married with stylistic verve of William Gibson.
"Consumed is an eye-opening dazzler. Not for the fainthearted, but for those of us who relish a trip into the shadowy depths, a must-read. Cronenberg's novel is as troubling, sinister, and as enthralling as his films." – Stephen King
"Classic Cronenberg! Who else can tell such a frightening, thrilling, shocking story about the nexus of the spirit and the flesh? Consumed will, well, consume you." – J.J. Abrams
"Coming from David Cronenberg, the originality, wit, preoccupation with technology, and uncompromising carnality of Consumed should come as no surprise. This fiercely original book, with the scope and poetic exactitude of Nabokov's best work, has the power to unsettle, disarm, and finally make the reader absolutely complicit." – Viggo Mortensen
CONSUMED, the debut novel from one of cinema's most eminent icons, David Cronenberg, is set to publish on 9th October 2014 and is available to pre-order now.