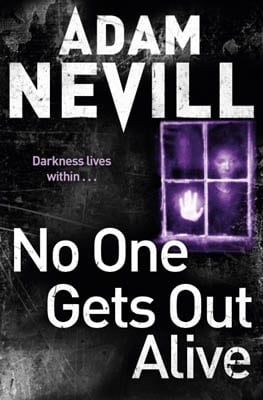 NO ONE GETS OUT ALIVE
by Adam Nevill
Published 23rd October 2014
Available from The Book Depository
Struggling for money and chucked out of her family home by her step-mother Val after the death of her father, Stephanie Booth summons all her will and attempts to make a future for herself. Itching to get away from the current 'cell' she's staying at, she finds a room available for £40 a week at 82 Edgehill Road in Birmingham. With temp jobs handing out samples in the local shopping centre, it's all she can really afford and rents the room. After experiencing terrifying phenomena on her first night in her new abode, from voices to scratching under bed, she begins to question her decision to rent the room in the late Victorian house and even questions her sanity. Little does she know what scraggy landlord Knacker McGuire and his lanky cousin Fergal have planned for her but as she finds out, that's the least of her worries at 82 Edgehill Road…
Refraining from breaking into song of Five To One by The Doors, I was gripped by the opening pages of Adam Nevill's new supernatural horror thriller novel, NO ONE GETS OUT ALIVE. The book instantly sets the tone, the opening chapter describing the horrors that protagonist Stephanie Booth experiences on her first night inside 82 Edgehill Road, an address that will be scorched into your memory throughout the book and beyond, a bit like 10 Rillington Place.
The characters described in the book are easy to envisage: the sports-clothes wearing Knacker McGuire, landlord of the house, his 'muvvers' home and one he will not take criticism about, with his broad accent and del-boy attitude. His cousin Fergal, tall and fearsome, who mysteriously hangs around the ground floor and whose presence intimidates Stephanie. But who are the voices and who are the other women in the house she's seen going into the bathroom at night and seen in the back garden?
Author Adam Nevill has created a tense, frightening environment within his story with characters truly disgusting and vile that you will find yourself scrubbing your body in an attempt to cleanse yourself of them. The house is as much a character as the humans and spirits in the book, with its own personality and effect on Stephanie.
Right from the opening paragraph, the narrative refuses to let go, grabbing the reader in a vice-like grip, ensuring they experience the same fate as Stephanie. The despair that is felt through the book is absolutely draining to read, so much so you feel every inch the pain and panic that Stephanie feels. This is certainly not a cheery story, so be prepared to envisage a nightmare you'd never want to experience yourself. Reading about it is bad enough!
Nevill has crafted a compelling yet terrifying ghost story, one that explores emotions and tests the true mettle of the main character. Every now and then, the chapters focus too much on what Stephanie is thinking, sometimes repeating her panicked thoughts and questioning her sanity and plans, and whilst this explains and emphasises the mental state the character is in, it can sometimes halt the momentum of the story. Nevill's passion for creating a story with characters with depth and an environment that the reader can imagine with unfortunate ease, is amazing though. I must admit I've experienced a nightmare of my own whilst reading this book and it's probably because NO ONE GETS OUT ALIVE is a story that can easily get under your skin and infect you.
At 628 pages, NO ONE GETS OUT ALIVE is a long book but one that is really easy to read and get into. The disturbing subject matter and dark plot is more suited to those aged 18+ and even then it will affect you. Bleak, grimy, harrowing and frightening, this is horror at its most rawest.
Rating: