She (2014)
Directed by: Chelsey Burdon, Mark Vessey
Written by: Chelsey Burdon, Mark Vessey
Starring: Fiona Dourif, Phillip James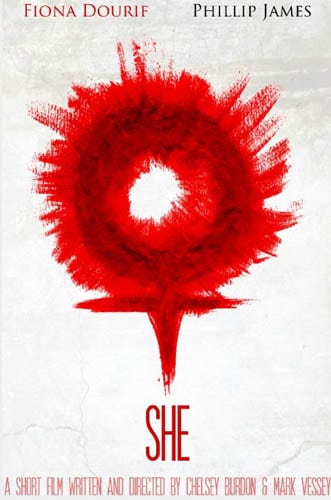 SHE (2014)
A Short Film By Chelsey Burdon and Mark Vessey
Screened at Grimmfest 2014
A loveless relationship between a couple finds the woman, known as She, demoted to nothing but a house-slave, someone who cooks, cleans and puts out, whether she wants to or not, for her husband. Trapped in the home, day in, day out, She finally gets her own back against her abusive partner during their evening anniversary meal.
When SHE screened at Gorilla in Manchester as part of Grimmfest 2014's 'Women in Horror' Fringe segment, the men in the room made an almighty gasp. Yes, SHE definitely made an impression, one that would leave legs firmly crossed for the duration of the afternoon.
With very little dialogue, if any come to think of it, the visuals on-screen, from the actions right down to the facial expressions, were enough to convey what sort of relationship was being depicted on screen. The controlling husband (or boyfriend), played by Phillip James, is a silent yet threatening presence, hinting at what horrors could take place should his wife/girlfriend She (Fiona Dourif) step out of line. If he wants his tea, it should be on the table ready for him, his clothes should be ironed and layed out and if he wants to fulfull his sexual desires, his wife should submit herself to him regardless of the time of day, willing to or not. As part of the audience, we're urging for this woman to stand up to him or get out of the awful situation, and thankfully we're treated to a revenge that fits the crime.
Confined to the couple's home, the short film is beautifully shot with each scene inserted for a purpose with no filler whatsoever. It's clean, slick and stylish, keeping the viewer glued to the screen for it's 15 minute running time which actually flies by. Stars Fiona Dourif and Phillip James play their characters with such convinction that we feel like we've known them forever by the time the final act arrives.
Horror hounds will be happy with the gore on display. There's not a lot of it, but what there is is more than effective. The practical FX are amazing and very realistic, creating a distinct reaction within the screening from both genders but moreso the men and for good reason!
Well written, tense and perfectly paced, SHE is a visual thriller as much as it is a narrative one. I'd love to see what writer and director team Chelsey Burdon and Mark Vessey could do with a feature film.