The Forgotten (2014)
Directed by: Oliver Frampton
Written by: James Hall, Oliver Frampton
Starring: Clem Tibber, Elarica Gallacher, Shaun Dingwall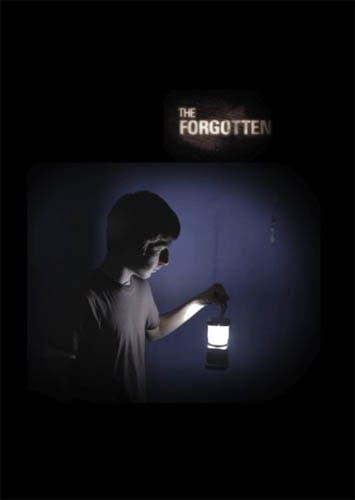 THE FORGOTTEN (2014)
Directed by Oliver Frampton
Screened at Grimmfest 2014
A teenage boy named Tommy is sent to live with his estranged father after his mother is taken ill. Chucked out of his old home, Tommy's father has resorted to squatting in an abandoned tower block. Tommy has to make do with the less than ideal accomodation but is plagued by the feeling that they're not alone. Tommy believes he can hear things in the flat next door to them, a flat that should be abandoned. With the help of his friend Carmen, Tommy decides to find out if the flat next door really is empty or whether someone, or something, is trying to communicate…
THE FORGOTTEN is a gritty supernatural horror thriller with two strong young stars that effortlessly carry the movie and a screenplay that delivers shocks and tension that you could cut with a knife.
The story revolves around an isolated, dilapidated setting where drug dealers and smack heads wouldn't look out of place in. This is certainly not a place to stay in, especially trying to look after and raise a teenage son. Inside the tower block estate, the apartments are bare with next to nothing in the way of furniture. With the estate earmarked for demolition, it's the last place you'd want to be in. So poor Tommy has to make do with a mattress on the floor as a bed, and a father who's rough around the edges and thinks breaking into abandoned housing is acceptable rather than asking for help from the council. With no electricity, Tommy and his father have to make do with little lanterns to find their way about. When the noises begin next door, the lack of light makes the experience even more frightening in the pitch black darkness.
Clem Tibber plays Tommy as a kind, well-behaved honest boy who's shy and loves to draw. He manages to spark up a friendship with older girl Carmen in an unusual way. Elarica Gallacher stars as Carmen, a waitress as the local cafe, who often serves Tommy and saves him from a bit of bother. Despite a cool exterior, her heart of gold shines through and she always does the right thing. When Tommy asks for help, she agrees. Tommy's father, Mark, is played by Sean Dingwall. Mark is a rough and ready character who's not afraid of getting his hands dirty but can only just about look after himself, nevermind his own son. He appears to see the arrival of Tommy as a burden, something he just has to put up with, and doesn't really have the lad's best interests at heart. Could he be making the strange noises at night?
Well-paced in both story, suspense and scares, THE FORGOTTEN is a strong supernatural tale. Tense and frightening, the scenes inside the spooky flat next door will have you on the edge of your seat. The film isn't scared of the odd jump scare or two either! Stellar performances from the cast, which really drive the drama and emotion home inbetween the horror scenes, along with the claustrophobic, eerie setting, ensure THE FORGOTTEN is a solid, creepy British chiller.
Rating: