Oh no, Christmas is upon us yet again! It only feels like 5 minutes ago when I was writing our last Christmas Gift Guide and stuffing myself with turkey. Well, here we are again and I'm back to give you my top gift ideas for this Xmas for your entertainment-loving friends and family.
1. Pulp Fiction 20th Anniversary Box Set
Lionsgate UK have released this really neat 20th Anniversary box set for Pulp Fiction. Yes, you probably already have the film on Blu-Ray but what you won't have is the awesome briefcase style box that it comes in, a Jack Rabbit Slims menu, Zed's keyring, art cards from the movie, 20 Pulp Fiction bank notes and a Big Kahuna Burger paper bag which you can put a burger of your own in if you so wish. For fans of the movie, this is a superb present and might be worth a bob or two in the future if you want to preserve it! We still don't know what really was inside that briefcase in the film though… unless it was this!


2. Six Gothic Tales Box Set
Break out the classic horrors with six doses of Vincent Price in the new Arrow Video boxset which sees the actor star in a variety of Edgar Allan Poe horror tales (plus a H.P. Lovecraft one!). The boxset includes Tomb of Ligeia, The Haunted Palace, The Raven, The Fall of the House of Usher, Tales of Terror and The Pit and The Pendulum all on Blu-Ray and chock full of extras! A horror fan's delight.

3. Christmas Jumpers
Getting a Christmas jumper as a present for Xmas used to be something to dread but now everyone and their dog are wearing them! Many clothing companies have jumped on the bandwagon to create unique jumpers that nod to our beloved films, with Die Hard jumper being one of the first to do this. This year's seasonal jumper highlights include the Gremlins jumper from Mondo, "Yeah Bitch, Christmas!" Breaking Bad jumper from Zavvi and for those gamers out there, Sonic The Hedgehog, Playstation and Street Fighter jumpers. Awesome!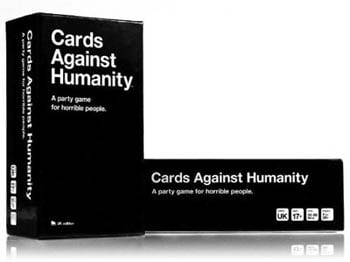 4. Cards Against Humanity
Looking for a card game to play Christmas evening? Then might I suggest Cards Against Humanity. This outrageous, laugh out loud game is not for the politically correct or easily offended, but it will certainly give you a night to remember. Better not play this with grandma though, eh? [Watch this video of Pewdiepie playing the game]

5. T-Shirts!
Everyone apprectiates t-shirts for Christmas, especially film, TV and game related ones. Whilst I'm not here to recommend a particular tee, I can definitely advise to check those designs out at 8Ball, Shot Dead In The Head, Nerdoh, Dark Bunny Tees and Arcane.
6. Middle-Earth: Shadow of Mordor
Probably the finest videogame to come out this year, slay Uruks and fight Sauron's army in Middle-Earth: Shadow of Mordor. Recently released on PS3 and Xbox 360 too as well as the next gen and PC, now most of the gaming community can enjoy playing as Talion, a ranger who must fight the Black Hand and help save Mordor from Sauron. With its unique Nemesis system, meaning no two gamers will have the same gaming experience, and with easy-to-use flowing combat system similar to the Batman Arkham franchise, this is one of the most thrilling games I've ever had the fortune of playing.
7. Nekromantik
Previously banned in the UK, Arrow Video's release of Nekromantik has been approved by the BBFC and will be hitting the shelves in a stunning 3 disc limited collectors edition box set which includes the soundtrack and a 100-page book. So if films dealing with sleeping with the dead piques your interest, you'll want to check this bad boy out!
8. Alien The Archive book
Love the Alien franchise? Then you'll love this Alien: The Archive book which covers all four films from the quadrilogy in detail, from the cast and characters to the costumes, set design and much more. Interviews with the cast and crew make for an enlightening read and the large photographs will allow you to relive the movies in all their glory.
9. Phantasm clock
In the recently opened official online store of Phantasm, a limited amount of wall clocks for the third film have been made available. The once promotional items are now hard to find so if you're a Phan of Phantasm and would like to see Angus Scrimm's Tall Man clutching one of his spheres, who's blades act as the clock's fingers, then you better be quick!


10. The Babadook book
Another time sensitive present is The Babadook book. Whether or not you found this year's Australian horror the scariest film of the year, we can all agree on how chilling that book in the movie was. Introducing the boogeyman, Mr Babadook, the book sends shivers into the heart of the characters with its nightmarish pop-ups and tale. Now you can scare the young uns and yourself by bagging a real copy of the book. They are currently available to pre-order for $80 and once the pre-order closes, no more will be made. Hand-bound, the books will take 5 months to be made so expect the Mr. Bababook book to land on your doorstep sometime around June 2015.