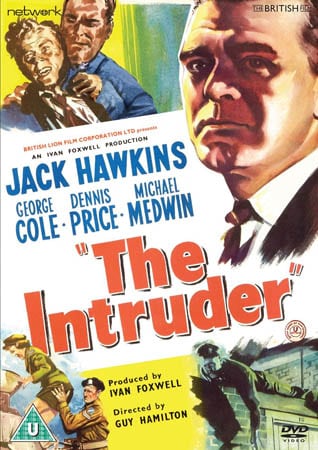 This excellent early feature The Intruder (U) from future Bond director Guy Hamilton (Goldfinger, Diamonds are Forever) is an engaging and emphatic human drama. The Intruder is available to own on DVD from 19th January 2015, RRP £9.99, courtesy of Network Distributing's 'The British Film' collection.
Also featuring outstanding performances from Jack Hawkins (Zulu, Ben Hur) as a distinguished former officer, and Michael Medwin (If…), as the wartime hero he endeavours to save from a life of crime; with strong support from Dennis Price (Victim) and George Cole (The Sweeney).
Wolf Merton, a London stockbroker with a fine war record as colonel of a tank regiment, has since lost touch with all the men who served under his wartime command. One evening he returns to his Belgravia home to find that there is an intruder in the house – a young armed thug called Ginger Edwards, who he remembers well as one of the most fearless and spirited troopers under his leadership during the war. But why has Ginger taken up housebreaking? And will Merton be able to help him to return to a more honourable way of life?
Special features:
• Original theatrical trailer
• Image gallery
• Promotional material PDF
• Instant play facility
The Intruder is presented here in a brand-new transfer from the original film elements in its as-exhibited theatrical aspect ratio.