With tales of curses and hidden secrets, it's no wonder that many horror films feature Egypt in their storylines.
In this feature, Dr Lenera and I take a look at 5 horrors that take place in Egypt.
Dr. Phibes Rises Again
Vincent Price returns as Dr. Anton Phibes, who's plan is to find the river of Life in Egypt to resurrect his love, Victoria, with the help of ever-loyal helper, Vulnavia. Scuppering Phibes' plans is a certain Biederbeck who also seeks the river, forcing Phibes to resort to his old tricks to bump them all off. Major highlight: the Scorpion chair.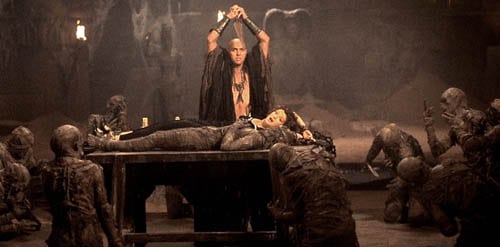 The Mummy
Where would we be without the various Mummy films. Spanning from 1932 to present day, The Mummy is one of the key horrors to take place in Egypt. Boris Karloff was the first to star as the monster in the 1932 classic, intent on reuniting with his long lost love. The 1999 blockbuster hit took the horror essence and combined it with action-adventure as Rick O'Connell, Evy Carnahan and Jon Carnahan find themselves persued by the mummy, Imhotep (Arnold Vosloo), an ancient High Priest intent on resurrecting his lover. Certain instances of the plot have been passed between the various versions throughout the years, making the story one of the all-time classic horror favourites.
Manhattan Baby
You'd think people would know better than to open Egyptian tombs, but thankfully their foolishness gives us plenty of fodder for horror, including the storyline of Lucio Fulci's Manhattan Baby. After accidentally releasing a spirit that then possesses Professor Hacker's daughter, it isn't long before mayhem occurs upon their return to Manhattan. One for Italian horror fans!
The Awakening
Another possession tale, The Awakening stars Charlton Heston, an archaeologist who discovers the tomb of an ancient Egyptian queen. He does what most other people seem to do in these horrors and opens the darn thing, unleashing the spirit which decides to possess his newborn baby daughter, leaving her with powers that could threaten humanity.
The Pyramid
The latest edition of horror set in Egypt, The Pyramid is directed by first-time director Gregory Levasseur, who co-wrote Haute Tension with the film's producer, Alexandre Aja. The film follows an archaelogist and his daughter who discover a three sided pyramid (pyramids are usually four sided) and decide to open the tomb, only to discover that the pyramid was sealed for a reason – to keep whatever evil is inside from getting out.
THE PYRAMID is in UK cinemas now