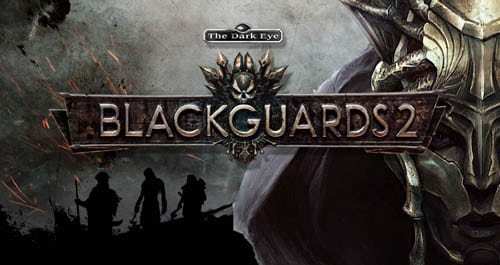 BLACKGUARDS 2
Published and Developed by Daedalic Entertainment
Available on PC and Steam
Daedalic Entertainment are back with BLACKGUARDS sequel, BLACKGUARDS 2, a turn-based strategy RPG.
Cassia of Tenos awakens in the labyrinth dungeon underneath the arena run by her former partner Marwan, who's taken the throne for himself. Trapped in the prison with poisonous spiders, she slowly loses her mind but not before she conjures a plan to escape and take back the throne. All she needs is a little help from the Vanquishers of the Nine Hordes: Takate, Naurim and Zurbaran, the Silent Legion and the power to battle through her enemies across the region to rightfully restore her to her former glory.
BLACKGUARDS 2 opens with Cassia awakening in the dungeon, which combines dialogue initiated by the player and cut-scenes to help tell the story. It doesn't take long to be thrust into the gameplay which comes with handy instruction windows to help guide you through the detailed playing style. As someone who's a newbie to the Blackguards series and these type of games, I found the instructions very easy to understand and the controls fairly simple.
The levels use a hexagonal grid system to move along, with short and long distances available for each turn. If you move a short distance, it is seen as half a turn and you can usually follow up with a second action, for instance striking an enemy. If you decide to travel further, then this will be seen as one complete turn. Each character has their own skillset, so in each turn you're able to either attack with a weapon, use offensive or defensive magic, use spells to heal or affect your own stats, take cover, delay your turn or end the turn. A row of cards are situated along the bottom of the screen which show the order of which the characters on the level will take their turns as well as their stats. This information is invaluable to creating a good strategy to complete the level. When striking with a weapon, a percentage sign will appear above the head of the enemies when you hover over them, giving you an indication on how successful that strike will be. The heavier the blow, usually the less chance of success you'll have compared to a standard blow.
Cassia is pretty much a blank slate when you take over her character and with each battle level you play, you earn points and coins. The points can be used in a variety of ways to upgrade your character's attributes, whether it's buying extra spells, abilities, boosts or improving the weapons. This gives each player their own unique character fit for their gaming style. When you gain other members of your group, they too will have stat points you can use to upgrade their attributes to make a solid team to be feared. The coins can be used to buy armour, weapons and potions for your characters from the local merchants, although some of these can also be found as treasure along the journey.
The gameplay mostly consists of combat, laying and avoid traps, escaping enemies and pulling levers. Most levels aren't that straightforward though and with so many variables to choose from, you'll find yourself exhausting a few and making mistakes before getting the plan bob on. This is no game for the impatient. I've certainly closed the game down in frustration a few times before quickly starting it up again to try an alternative method or path. The satisfaction from getting it right and eventually continuing the story is joyful and makes the player feel as though they are creating the same journey as Cassia.
Some particular battles can be avoided depending on the choices you make in game. This is usually in the form of dialogue between Cassia and other characters. Choose the wrong answer and you may find yourself pitted against difficult enemies, where the right answer will allow you to bypass the punishment and continue on your journey.
Surprisingly addictive at times, BLACKGUARDS 2 is one of those strategy games that looks super complex but actually isn't quite so. A bit more documentation on the stats and various other segments would have been helpful, but it doesn't take long to figure out how everything works. The cutscenes add depth to the story and make the game feel more epic than the gameplay suggests, but overall it's an enjoyable game that will test your skill for strategy and your perseverance to complete the mission to see Cassia back on the throne.
Rating: