God's Pocket (2014)
Directed by: John Slattery
Written by: Alex Metcalf, John Slattery, Peter Dexter
Starring: Caleb Landry Jones, Christina Hendricks, Eddie Marsan, Jack O'Connell, John Turturro, Philip Seymour Hoffman, Richard Jenkins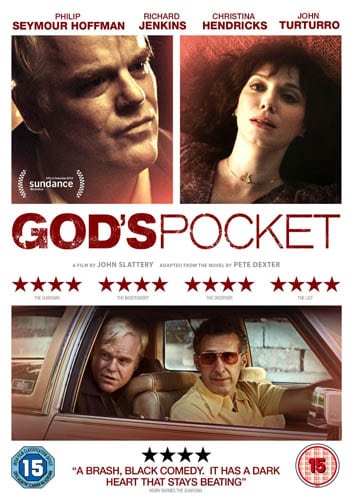 GOD'S POCKET (2014)
Directed by John Slattery
When his step-son Leon dies at work, broke Mickey not only has to scrape together the cash for the expensive funeral and casket, but also satisfy his wife's concerns over the circumstances of Leon's death. In God's Pocket, a town where everyone knows everybody else's business and arguments are settled with fists or firearms, it's only a matter of time before life catches up with all involved.
Set sometime in the 80's, star-studded black comedy crime drama GOD'S POCKET stars the late Philip Seymour Hoffman as Mickey Scarpato, a meat salesman cum truck thief, who lives with his wife and her son in the close-knit town of God's Pocket, Philadelphia. Though not a child of God's Pocket, Mickey does his best to fit in with the community, including doing jobs for friend Arthur (John Turturro) and drinking at the local watering hole, The Hollywood bar. When Leon, the out-of-his-face young punk of a step-son gets cocky and violent at work, one of the workers reacts in self defence, fatally injuring Leon. No-one likes a grass in God's Pocket, so when his co-workers cover up the death as an accident, alarm bells begin to ring for his mother Jeanie. Her husband Mickey is then forced into handling all the funeral arrangements and keeping the family afloat whilst Jeanie (Christina Hendricks) breaks down at her loss. GOD'S POCKET is the tale of how one man does the best he can to satisfy and keep a happy family unit whilst carrying the world on his shoulders.
Though there's some quite dark elements to GOD'S POCKET, the film is full of dry wit with brilliant performances from Philip Seymour Hoffman's Mickey, John Turturro as a fed up, small-time gangster and meat peddler and Britain's very own Eddie Marsan as shrewd funeral director, Jack, who acts as a friend but is ultimately intent on selling the most expensive coffin he can.
Pretty much everyone in the movie, bar Mickey and Arthur, say one thing to your face and then something different behind your back. With that kind of attitude, tension in God's Pocket is simmering, with violent outbursts ready to explode at any given moment and with a tendancy to be forgotten straight afterwards. So when outsider journalist Richard Shellburn starts to dig around in the death of Leon, it's only a matter of tme before the bubble bursts.
Well-paced, engaging performances and slick camera work make GOD'S POCKET an enjoyment to watch. At the perfect length of just over an hour and a half, you could say that nothing much happens in the movie. Whilst there is truth to that, the film's plot is very much focused on the lives of the people it presents, their community and how they deal with a situation at a certain time and place, and what results is a thoroughly entertaining movie with a top notch cast delivering characters you can invest in, for good or bad, with a splash of dry wit to boot.
With 5.1 audio, the crisp Blu-Ray release from Arrow Films is clear and to the point with the odd couple of deleted scenes and trailer as special features.
If you enjoy character driven pieces of drama laced with dark humour, then do check out GOD'S POCKET.
Rating: