Now in their third year, 88 Films is looking towards 2015 with the hopes of bringing their fans yet more in the way of under-looked genre gems, certified masterworks of marginal cinema and an array of slice and dice standouts with their Slasher Classics sub-label. This month, 88 Films drives their proverbial movie machine into top gear with four famous popcorn flicks that we believe few fans of cult craziness will want to avoid!
First up is ESKIMO NELL – one of the most celebrated British sex comedies of the 1970s. Featuring a witty script from MARK OF THE DEVIL's Michael Armstrong (who also stars) and directed by a young Martin Campbell – years before he helmed the James Bond gems GOLDENEYE and CASINO ROYALE – ESKIMO NELL is a hilarious satire on the low-budget British skin-flick industry of the time. The story focuses on three inexperienced filmmakers (Armstrong, Christopher Timothy and Terence Edmond) who attempt to make a movie version of the notoriously rude poem 'The Ballad of Eskimo Nell', with disastrous results. This classic British rib tickler features a cast of famous faces including Roy Kinnear (THE THREE MUSKETEERS), Katy Manning (DOCTOR WHO), Christopher Biggins (THE ROCKY HORROR PICTURE SHOW), Diane Langton (CARRY ON ENGLAND) and a cameo from the decade's premiere sex kitten Mary Millington in her début movie appearance. Digitally re-mastered from the original film elements, and with a host of special features, ESKIMO NELL makes its way onto British BluRay for the very first time.
ESKIMO NELL SPECS:
Available: 16th February 2015, RRP 19.99 Blu-ray, £12.99 DVD
– New HD Transfer from preserved 35mm Film Elements Transferred and restored at Pinewood Studios
– Brand-new audio commentary with Michael Armstrong and historian Simon Sheridan
– Reversible sleeve with alternate poster art – Booklet notes by Simon Sheridan
– WILD LOVERS Bonus short Mary Millington film – Stills Gallery
– Theatrical trailer
– All Regions
Next up is the continuation of 88 Films Slasher Classics line with three timeless terror totems.
Leading the lacerations is one of the most notorious and controversial horror shockers of all time: 1980's matriarchal masterpiece MOTHER'S DAY. In this frequently censored frightener, we are introduced to three twenty-something women who are about to embark on a camping trip to hell. Our helpless heroines are stalked and snatched by a pair of psychosexual brothers and their insane parent – but oestrogen proves tough to overcome and MOTHER'S DAY ultimately provides us with a chair-gripping, sanguine- stained battle of the sexes. Prepare to be disoriented and disturbed by one of the true greats of eighties independent terror! Considered to be an essential entry in the backwoods-slasher genre, MOTHER'S DAY debuted in 1980 to critical confusion – but gained a fan following that includes such Hollywood heavyweights as Eli Roth (HOSTEL) and Brett Ratner (RUSH HOUR). Indeed, Ratner would eventually produce a lavishly budgeted 2010 remake, starring Rebecca De Mornay, although – as in most cases – it is the original which is most potent and powerful! Thirty-five years after its premiere, MOTHER'S DAY has lost none of its knife-sharp satire and this influential splatter outing remains recommended to the most seasoned of scary movie fans.
MOTHER'S DAY SPECS
Available: 23rd February/2015, RRP 19.99 Blu-ray
– Fully Uncut!
– Audio Commentary by Charles Kaufman and Rex Piano
– Charles Kaufman Intro -Rex Piano Intro – Behind the Scenes Super 8 Footage
– Eli Roth on Mother's Day
– Charles Kaufman and Saw's Darren Lynn Bousman talk Mother's Day
– Theatrical Trailer
– TV Spot
– Graduation Day Trailer
– 88 Films Trailer Reel
– Booklet by Dr. Calum Waddell featuring a conversation with star Nancy Hendrickson
– All Regions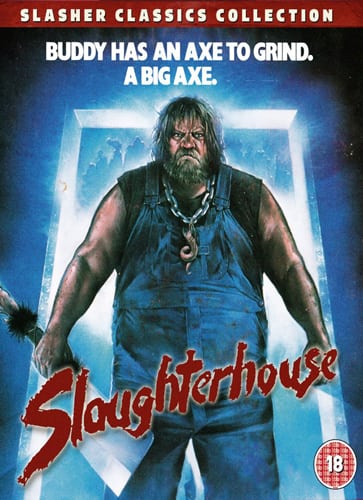 Also arriving with a bloodstained bang in February is 1987's SLAUGHTERHOUSE! And if you loved THE TEXAS CHAIN SAW MASSACRE and THE HILLS HAVE EYES then you are sure to pig-out with the sicko-shocks of eighties fright-favourite SLAUGHTERHOUSE. This corpse-ridden classic introduces one of the screen's most memorable madmen in Buddy a cleaver-wielding backwoods baddie who, along with his father Lester, doesn't take kindly to trespassers. Buddy was brought up killing and packing meat, but now his rage turns to teens and market-capitalists seeking to buy-out his dad's property. The end result is a tongue-in-cheek terror totem that returns from the dusty VHS vaults to BluRay in this great new worldwide premiere HD master – scanned from the original negative by director Rick Roessler!
SLAUGHTERHOUSE SPECS
Available: 23rd February 2015, RRP 19.99 Blu-ray
– Brand New Director Approved UNCUT HD Transfer
– Rick Roessler Interview
– Audio Commentary by Rick Roessler and executive producer Jerry Encoe
– Jerry Encoe Interview
– Raw On-set Footage
– Buddy Meets the Public Classic Featurette
– Theatrical Trailers
– TV Spots
– Collector's Booklet By Dr. Calum Waddell
– All Regions
Last but certainly not least we come to one of the original UK video nasties: 1981's DON'T GO IN THE WOODS. This delirious camper-crippling offering doubtlessly attracted the attention of the anti-horror brigade due to its misanthropic madness and non-stop splatter action. A must-see slasher shocker, DON'T GO IN THE WOODS is a Utah-lensed, limb-lopping bout of slice and dice lunacy which also packs in plenty of comedic carnage and a natural park setting that provides a touch of creepy claustrophobia. Once banned but now available in all of its uncut outrageousness, 88 Films is proud to present DON'T GO IN THE WOODS with a new HD transfer overseen and approved by director James Bryan!
Available: 23rd February 2015, RRP 19.99 Blu-ray
– Fully Uncut!
– Brand New 2K transfer overseen and approved by director James Bryan
– Audio Commentary by Director James Bryan
– Group Commentary by Deron Miller, Mary Gail Artz and James Bryan
– The Making of Don't Go in the Woods -Talk Show Appearance -Theatrical Trailer
– Poster & Production Stills Gallery -88 Films Trailer Reel -Reversible Sleeve
– Collector's Booklet By Dr. Calum Waddell featuring an interview with James Bryan
– All Regions