Kung Fu Killer, Yi ge ren de wu lin (2014)
Directed by: Teddy Chan
Written by: Ho Leung Lau, Teddy Chan, Tin Shu Mak
Starring: Baoqiang Wang, Bing Bai, Charlie Yeung, Donnie Yen, Siu-Wong Fan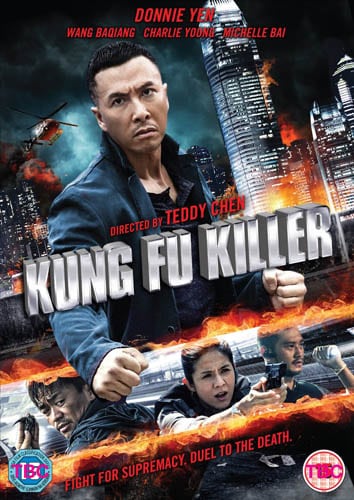 KUNG FU KILLER (2014)
Directed by Teddy Chan
Cantonese and Mandarin language with English subtitles
In cinemas from 20th February 2015
On Blu-Ray, DVD and Digital from 23rd February 2015
Imprisoned for accidentally killing an opponent, Hahou Mo (Donnie Yen) makes a deal to help the police when martial arts masters are found murdered. With an insight into what the killer is thinking, Hahou might just be able to stop the killer before he murders anyone else but with the threat of violence against his wife Sinn Yang (Bing Bai), Hahou may have to face the killer himself in a duel to the death.
Chinese action flick KUNG FU KILLER is a fierce, kick-ass thriller starring the talent and fight choreography of skilled martial arts star Donnie Yen. In the film, Yen stars as Hahou, a former martial arts instructor who's locked away in prison after accidentally killing an opponent during a tournament to find out who's the best fighter. Whilst he's serving his time in prison, a news report on the television convinces Hahou that someone is targeting martial arts masters of boxing, kicking, wrestling and weapons to claim supremacy. Itching to be released from jail, Hahou makes a deal with Madam Luk Yuen-Sum (Charlie Yeung), the detective heading the case, to help them solve the case and catch the culprit in exchange for his freedom.
Rather than keep the identity of the killer a mystery, we find out early on in the movie that it is Fung Yu-Sau (Baoqiang Wang), a talented martial artist in his own right and an unhinged one at that. His abilities prove quite a challenge to the masters he targets which leads to some exciting fight scenes which take place in an array of environments including an art gallery, tattoo parlour, a film shoot and even the motorway. With most of the scenes shot at night time, it gives the combat scenes a gritty and dangerous vibe to further fuel the idea that this killer is one lethal badass.
Martial arts enthusiasts like myself will love the fight choreography on display, most of which is displayed to be seen rather than a mass of quickly edited close-ups. Some liberties are taken with gravity and physical abilities, such as gliding, but this is very minimal and nothing like Crouching Tiger Hidden Dragon.
Some CGI is used in KUNG FU KILLER, though moreso in the final scenes and for good reason. Whilst sometimes it's a bit obvious, it doesn't ruin the fight scenes on display as it sticks more to realism rather than complete fantasy.
Outside of the action, the film is quite a enjoyable crime thriller even if the police officers are inept at catching one man. It takes itself seriously though, as do the characters, which makes for a convincing manhunt rather than an excuse to set up some cool fight scenes.
KUNG FU KILLER is an entertaining watch from start to finish thanks to the performances from the cast and the particular martial arts skills of Donnie Yen, Baoqiang Wang, Bing Bai, Siu-Wong Fan and the others involved. If you love martial arts movies, you'll no doubt enjoy this tight fight flick.
Rating: