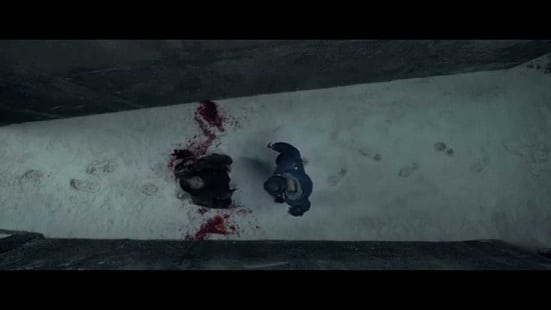 The Raid 1 and 2 director Gareth Evans decided, and rightfully so, to bring back actor Yayan Ruhian for the sequel. Now, anyone who saw the stunning original film will know that Ruhian played the hard to kill tough guy Mad Dog, and Rama (Iko Uwais) and his brother had some serious problems trying to kill him. Even a broken light bulb to the neck couldn't do the trick!
SPOILERS AHEAD!
Evans confused fans when the first image of The Raid 2 was released, and it showed Ruhian in a slightly different light as he appeared with long hair, and a long beard. Initially I thought he was somehow playing the same character from the first film, and had somehow survived the brutal assault by Rama and his Brother.
Then I realised that Evans had too much respect for the actor, and decided to cast him on one of the most pivotal roles in The Raid 2. Ruhian played a character named Prakoso, totally unrelated to Mad Dog, yet totally willing to take on an army, and win.
Prakoso was a hired killer, a job that has ruined his marriage and caused him to not be allowed to be a parent to his kid. Basically, his loyalty to a crime family has destroyed any hope he had of having a normal life, and now he lives his life on the streets, dressed like a tramp and waiting for his next job to give him something to do. He earns good money, he gives his wife a large payout to help his family, but sadly Prakoso is a loner, a tortured soul who has nothing left to live for.
He is tough, and The Raid 2 shows a couple of times that Prakoso is not easily defeated, but he also becomes one of the central characters to the emotion of the film, and how easily greed can force someones downfall. A lifelong friend of Uco's (Arifin Putra) crime family, Prakoso appears to be setup in a stunning display of a one man army in a nightclub.
After pouring out his heart to Uco, the music stops and suddenly everyone has left the club, and in come a hoard of fighters intent on killing Prakoso. Skilled and almost invincible, Prakoso takes on the army of thugs, and easily wins the battle in a stunning display of fighting skills.  He uses chairs, tables and bottles to bring the army to its knees. Prakoso, like Mad Dog, is unstoppable. Knowing his eventual fate, Prakoso is seen looking at a pendant with a photo of his kid prior to the thugs arriving.
Then, once outside the nightclub, Evans introduces some Tarantino type brilliance as the snow falls, things slow down, and a worthy advisory is introduced to take on Prakoso now that he is sliced, stabbed and bloody.
Enter The Assassin (Cecep Arif Rahman), one of the three assassins Rama will later have to deal with (and the Rama vs The Assassin showdown is spectacular!). No one believes that Prakoso can lose after the actors awesome display in the first film, and Evans' clear admiration of the actor by casting him in the sequel. But Evans delivers a mighty blow as the Assassin takes out Prakoso with ease, even pausing to check his eyes and how much fear is in them.
With the added bonus of a snow drenched back alley, slow motion, a sudden calmness and a powerful score, Evans serves up one of the greatest and most respectful character deaths of recent memory. No one wants to see Prakoso die after his kind words, and really no fan of The Raid believes that actor Ruhian deserves to die again, but that's the beauty of Evans' classic, he takes no prisoners and pushes things to the limits, even if it means breaking all the rules and boldly killing off characters many wanted to survive.
The eventual death is poetic, passionate and brilliantly realised for maximum effect. Check out the scene below, and remember that Prakoso had literally destroyed an army of thugs prior to this. The first video shows a brief look at how the thugs were dealt with.