Thursday 26th March 2015 marks the arrival of OUTLANDER, the brand new series streaming on Amazon Prime Instant Video in the UK. The remaining episodes will then launch weekly on Amazon Prime Instant Video from Sunday 5th April, each episode being released every Sunday.
Outlander follows the story of Claire Randall, a married combat nurse from 1945 who is mysteriously swept back in time to 1743 Scotland, where she is immediately thrown into an unknown world and her life is threatened. When she is forced to marry Jamie Fraser, a chivalrous and romantic young Scottish warrior, a passionate relationship is ignited that tears Claire's heart between two vastly different men in two irreconcilable lives.
Shot in Scotland, OUTLANDER has been much anticipated on both sides of the pond and now you can find out some fun facts about the making of the series below.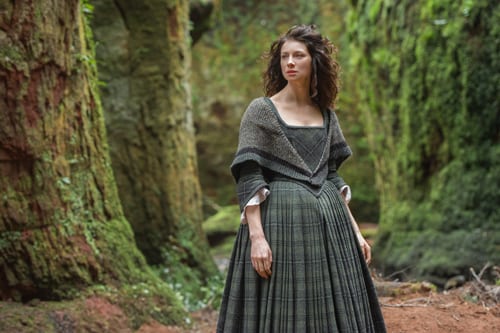 Costume 
In the 1740s, people had very few clothes. Dressmakers would travel from town to town with small swatches of material and people would have one or two outfits made in their lifetime.
Original tartan would have been passed from generation to generation starting as a kilt, before being made into a waistcoat and then a scarf as it passed down the generations.
Highly colored tartans are a Victorian invention and the actual Highlanders of the 18th century would have probably worn much more subdued, naturally dyed colors.
There were no zippers or Velcro fastenings during the 18th century, so all the costumes for Outlander have been made as faithfully as possible with methods from the era.
Highlanders would have walked around the highlands with bare feet. Despite the rough terrain, it was better than wearing wet boots that kept the water in and gave them trench foot.
One of Claire's outfits was inspired by a twig that costume designer Terry Dresbach saw at the side of the road, covered in moss. Simple things in nature often inspired the looks behind the outfits.
Once perfect recreations of period outfits are made, they are attacked with a cheese grater to give them a worn, lived-in look!
Clothes are also aged in a specially created hot room where wet clothes are screwed up, tied up with string and baked to age them.
British soldiers' red coats are burned with blowtorches to create the effects of war and gunpowder. One was accidentally incinerated!
Ironically 1940s clothes are also in very short supply – even though it was only 70 years ago, most vintage stores have now run out.
Sam is the fastest of all the actors at putting his kilt on.
Herbal Remedies
Poor transportation and remote settings in the 18th century meant few trained medical professionals ventured out of the main towns and cities. Patients were heavily reliant on local herbal remedies.
This knowledge was passed down from generation to generation, mainly from mother to daughter. Hence why people would search out the village wise-woman, healer or witch.
Common remedies:

Nettles – Used to give arthritic joints relief by whipping the affected area with the stinging plant. The stings encourage blood supply to the area and the polysaccharides were known to have an anti-inflammatory effect. Not for the faint hearted! They're still used today, though often taken as a tea or tincture internally.
Garlic or onion – small pieces were inserted into the ear canal for earaches. The antibiotic properties can counteract an infection, but there was a risk of it becoming lodged in and creating other problems!

Stranger remedies:

Licking the warm liver of a recently killed otter would give the participant the power to heal burns and scalds.
Cow's dung was used to clear scabs or blotches on the face.
Drinking water from a skull of someone who committed suicide was a known treatment for epilepsy.
Snails were used as a cosmetic. Often crushed, they'd be used to relieve skin inflammations. Today, snail slime is still used. It's thought to encourage the formation of collagen, elastin and dermal components that repair sun damage and skin aging.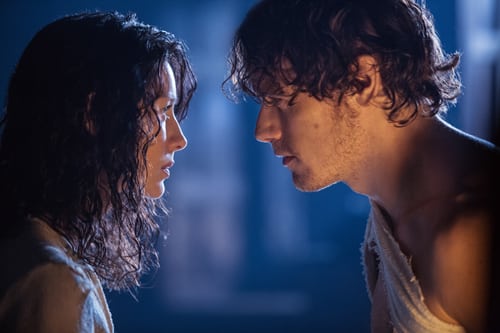 Medical
Outlander had an emergency doctor on staff to make sure Outlander's medical scenes were authentic. Claire (Caitriona Balfe) had to learn how to dress wounds, deliver babies and even how to properly clamp an artery.
One of the biggest differences between medicine in the 18th century and today is lack of anesthetic. Fixing a dislocated shoulder or amputating would have been incredibly painful. Patients would have as little as alcohol and a piece of wood to bite on to deal with the pain.
Claire's knowledge and skills from the 1940s would have been very useful in the 18th century. For example, forceps would have just been invented in the 1700s, but she would have been familiar with them. Tricky thing was finding out how Claire would have found a pair.
Language/Dialect 
Few of the characters in Outlander would have spoken English. Gaelic was the language of choice for Highlanders at the time and they may have understood a little bit of Scots.
Colum, a man of eclectic taste, and Jamie, who traveled away from home, would have been the only characters with a touch of English.
Today, Scottish Gaelic is spoken by about 58,000 people in Scotland, although those that speak it habitually are more likely around 15,000.
Scottish Gaelic is an Indo-European language and part of the Celtic branch of this group which also contains Slavic, Finno-Ugric, Germanic, Romances and other branches.
Scottish Gaelic spoken in the 18th century would not have been drastically different from what it is today. It's also given rise to many cultural items associated with Scotland: bagpipes, black pudding, kilts, etc.
The cast had to get used to their mouths and throats using a whole different set of sounds. Men often struggle with loosening their throats.
The Outlander Gaelic coach consulted a real Gaelic-speaking MacKenzie man, the modern equivalent of the characters from the past!
The other key language component in Outlander was the Scots dialect. Spoken in the Lowlands, while Gaelic was adopted by the Highlanders, Scots was the dialect of the king and the courts at the time.
Scots is a rhotic accent, which means if you see an "r" you say it!
For many years, it was regarded as the language of slang, but there's since been a proud revival.
Gaelic phrases:
"Sassenach" [Sass-un-nak]         (Outlander)
"Mo chridhe" [mo cree or mo kri-e]     (My heart)
"Mo nighean donn" [mo nee-an down]     (My brown-haired lass)
Scots phrases:
"Mony a mickle maks a muckle"      (Lots of wee things make a lot)
"Guid gear gaes in sma' bulk"          (Small is beautiful)
"Lang may yer lum reek"          (May you always have fire to warm you)
Armory
The production currently has 70 muskets, 14 pistols, 60 background swords and scabbards, and five hero handmade swords for the main cast.
Much of the weaponry for Outlander has been handmade in the U.K. including Glasgow, Derby, Milton Keynes and London.
Our armory carries up to five kilograms of live loose gunpowder (under lock and key), and have used one kilogram so far on the series.
All weapons have to be aged significantly before use on screen.
The clansmen carry Scottish basket hilt swords, flintlock pistols, Scottish dirks, targes, and wear sword baldrics.
Black Jack would carry his personal sword and sword belt, a heavy dragoon pistol and a concealed knife.
Black Jack's unique sword was based on a picture armorer Jim Elliott showed to Ron Moore from a sword book he sourced. It is a one-off which was handmade on commission by Outlander.
Outlander Fun Facts and Trivia
122 costumes were made in five weeks.
Doune Castle, which we use as Castle Leoch, was also used for Monty Python and the Holy Grail and the internal pilot for Game of Thrones.
Caitriona Balfe and Claire Beauchamp have the same initials.
First block director John Dahl has both English and Scottish ancestry on his mother's side.
240 people work on set.
Studio A is 17,000 square feet and is fully soundproofed.
Studio B is 10,000 square feet and is fully soundproofed.
Caitriona Balfe is born in October (the 4th) and so is Claire (the 20th).
Sam Heughan grew up on a farm and so did Jamie Fraser.
Glasgow means "Dear Green Place" in Gaelic.
The Independence Referendum, which takes place in September 2014, marks the 700th anniversary of the Battle of Bannockburn, which was when Scotland first claimed independence from the U.K. Bannockburn is a 15-minute drive from the studios.
The production created twelve different tartans and plan on having them registered.
It took 12 tons of plaster to build the studios.
Twelve kilometers of timber were used to build the interior castle walls.
There are five chandeliers in the Great Hall.
There are ten different horses used in the production.
Sixty umbrellas have been ordered so far.
Tink is an 18-month-old Irish Wolfhound. Her father, Jack, stands eight feet tall.